Honey Cake is a traditional dessert for Rosh Hashanah (the Jewish New Year), & it's great for brunch or afternoon tea. Give this delicious Fall cake a try!
Autumn holidays and foods
You know it's Fall when you start seeing the words "Pumpkin Spice" applied to almost any foods imaginable.
I love Autumn recipes that feature the warm spices of cinnamon, nutmeg, and cloves (a divine trinity if ever I heard one, and typically found in bourbon).
In the Jewish tradition, this is also the time of year when we celebrate Rosh Hashanah, the Jewish New Year. Food is an obvious way to celebrate a holiday (Christmas dinner, anyone?), and we Jews have a slew of traditional foods to serve at our Rosh Hashanah gatherings (don't ask me how many a "slew" is...).
Customarily, dishes that are sweet (both entrées and desserts) are served at Rosh Hashanah, culinarily symbolizing the wish for a sweet New Year. Roast chicken with apples and almonds is one example of a sweet, savory entrée, while the ubiquitous brisket usually makes an appearance at the holiday table.
Apples and honey are the traditional symbolic foods for Rosh Hashanah, so desserts that feature one or both of those ingredients are usually on the dessert tray.
Jump to:
Honey Cake...a tried & true recipe
Honey Cake is a popular choice for dessert on Rosh Hashanah. Unfortunately, it has a reputation like that of the Christmas fruit cake, i.e. something traditionally made but not always made well.
My go-to homemade Honey Cake recipe, that I've been making since 1993, is nothing like that.
This version is sweet without being cloying, studded with pecans, and definitely not the dry, tasteless versions to which I've sometimes been subjected.
I've improved on the original recipe by topping my Honey Cake with Trader Joes' Apple Cider Jam. It's made with apples, apple cider, and all the warm baking spices that epitomize Fall baking.
You might call this Honey Cake v2.0.
Apples...check! Honey...check! We're ready to bake!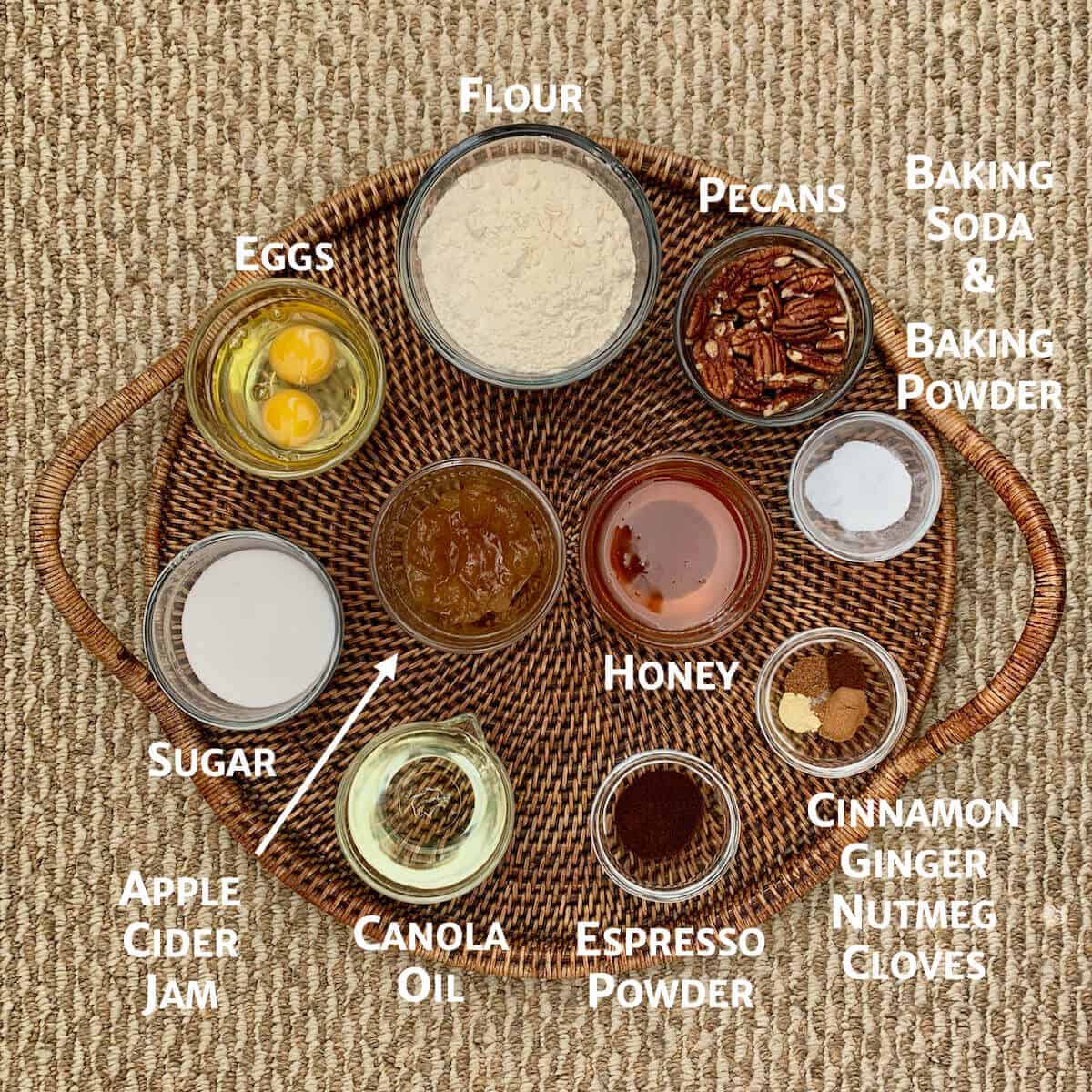 A quick cake to make
There's nothing too complicated to making a Honey Cake recipe, since it's considered a quick bread (like my Limoncello Cake).
Start by coarsely chopping pecans, then setting aside some to finely chop.
As with all quick breads, next it's simply mixing the dry and wet ingredients separately, then mixing them together.
Bake in a standard loaf pan that's been well sprayed with baking spray and lined with parchment paper.
After the cake has cooled, we're going to glaze it with that warmed Apple Cider Jam and then sprinkle on those finely chopped pecans.
If you don't have Apple Cider Jam available to you, try using Apple Butter. Otherwise, apricot jam will work as well.
This cake tastes even better when it's made one or two days ahead, but you can also serve it the same day it's baked. And like most cakes it freezes well.
It also doubles easily so you'll have one for you and one to give as a gift. Or one for now, one for later.
I won't judge!
Celebrating the season
The combination of the honey cake with the chunky cinnamon apples and finely chopped pecans produces a flavor that is bold and nutty. The jam adds that extra oomph to take it beyond any ordinary Honey Cake.
It's a wonderful finish to a holiday meal, or really any meal for that matter.
Whether you celebrate Rosh Hashanah or not, I wish you a happy, healthy, prosperous, and sweet next 12 months.
Slainté! L'chaim! Cheers!
Tammy
Recipe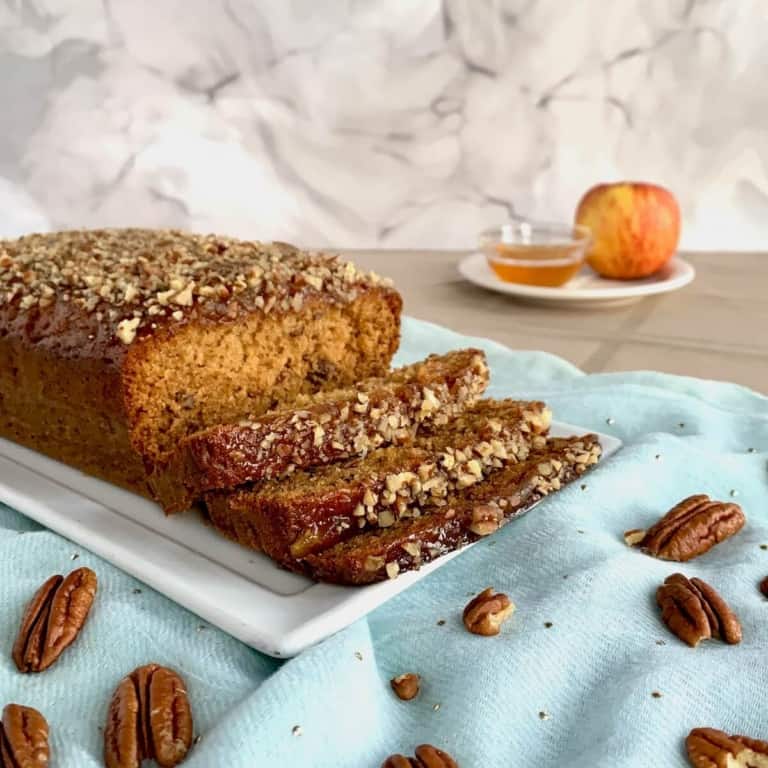 Honey Cake with Pecans & Jam
Honey Cake is a traditional dessert for Rosh Hashanah (the Jewish New Year), & it's great for brunch or afternoon tea. Give this delicious Fall cake a try!
From the Los Angeles Times Food section, September 9, 1993
Ingredients
¾

cup

pecans

,

coarsely chopped, divided

1½

teaspoon

espresso powder

6

Tablespoons

water

,

hot

1½

cups

all-purpose flour

1

teaspoon

baking powder

½

teaspoon

baking soda

½

teaspoon

ground cinnamon

¼

teaspoon

ground ginger

¼

teaspoon

ground nutmeg

⅛

teaspoon

ground cloves

2

large eggs

,

at room temperature

½

cup

granulated sugar

½

cup

honey

⅓

cup

canola oil

½

cup

Apple Cider Jam,

or enough to cover the top cake when warmed, see Recipe Notes
Instructions
Preheat oven to 325°F. Spray a standard loaf pan with baking spray and line with parchment paper, leaving an overhang on the two long sides.

Take ¼ cup (30g) of the pecans and chop them finely. Set aside for topping.

Dissolve the espresso powder in the hot water. Let cool.

In a medium bowl, whisk together the flour, baking powder, baking soda, cinnamon, ginger, nutmeg, and cloves.

In the bowl of a stand mixer fitted with the paddle attachment (or hand mixer), beat the eggs lightly on low speed. Add the sugar and honey to the eggs and beat on medium speed until the mixture is very smooth and lightened in color. Gradually add the oil and beat until blended.

Mix in the flour mixture and espresso in 2 batches with the mixer on low. Stir in the remaining coarsely chopped pecans.

Pour the batter into the prepared pan and bake for 50 to 55 minutes, or until cake tester inserted in cake comes out clean. 

Cool the cake in the pan for 15 minutes, then lift out of the pan onto a wire rack using the parchment paper as a sling. Remove the parchment paper, and cool cake completely.

After the cake has cooled, warm the jam in a microwave safe dish on HIGH for 30 seconds.

Spread the jam onto the cooled cake, allowing it to drip off the sides (you can place a paper towel under the cooling rack to catch the drips). Sprinkle the reserved finely chopped pecans over the top of the cake. Serve & enjoy!
Notes
If you don't have Apple Cider Jam available to you, try using Apple Butter. Otherwise, apricot jam will work as well.
Your Notes
Nutrition
Serving:
1
slice
Calories:
196
kcal
Carbohydrates:
28
g
Protein:
2
g
Fat:
9
g
Saturated Fat:
1
g
Polyunsaturated Fat:
1
g
Monounsaturated Fat:
1
g
Trans Fat:
1
g
Cholesterol:
20
mg
Sodium:
84
mg
Potassium:
48
mg
Fiber:
1
g
Sugar:
19
g
Vitamin A:
30
IU
Vitamin C:
1
mg
Calcium:
26
mg
Iron:
1
mg