ImpEx Beverage scotch whisky lineup offer samples from all over Scotland and a couple from Ireland. Each one is distinctive, showing that regionality and distillation process are just as important as the ingredients and the cask finish.
I've been talking to a lot of people who have been very generous with their advice.
One in particular is Joshua Hatton of Single Cask Nation and the One Nation Under Whisky podcast. I've spoken about Joshua before, but I wanted to highlight his help, patiently answering my questions and helping me make a connection. You see, Joshua also is the Regional Sales Executive for ImpEx Beverages, the importer of Kilchoman and Tamdhu scotch, Tipperary Irish Whiskey, and their Exclusive Malts lineup.
It pays to ask for help
Joshua encouraged me to contact ImpEx and ask for samples to review for Scotch & Scones. Not being shy about approaching (my family would say accosting) strangers, I did.
Next thing I know I'm getting an email from Sam Filmus, president of ImpEx, asking what I'd like to sample! Wow! I then had a wonderful email exchange with Vlad Metrik, Marketing Manager for JVS Imports (which Sam also founded) finalizing the shipment and my thanking him (but more about that later).
ImpEx Beverages Scotch
I had a previous post about the Chieftain's tasting that spanned Scotland, and this tasting also reminded me that a lineup doesn't have to focus on one region, especially if you're tasting expressions from independent bottlings.
The Impex sample lineup comes from distillers all over Scotland, and 2 are from Ireland.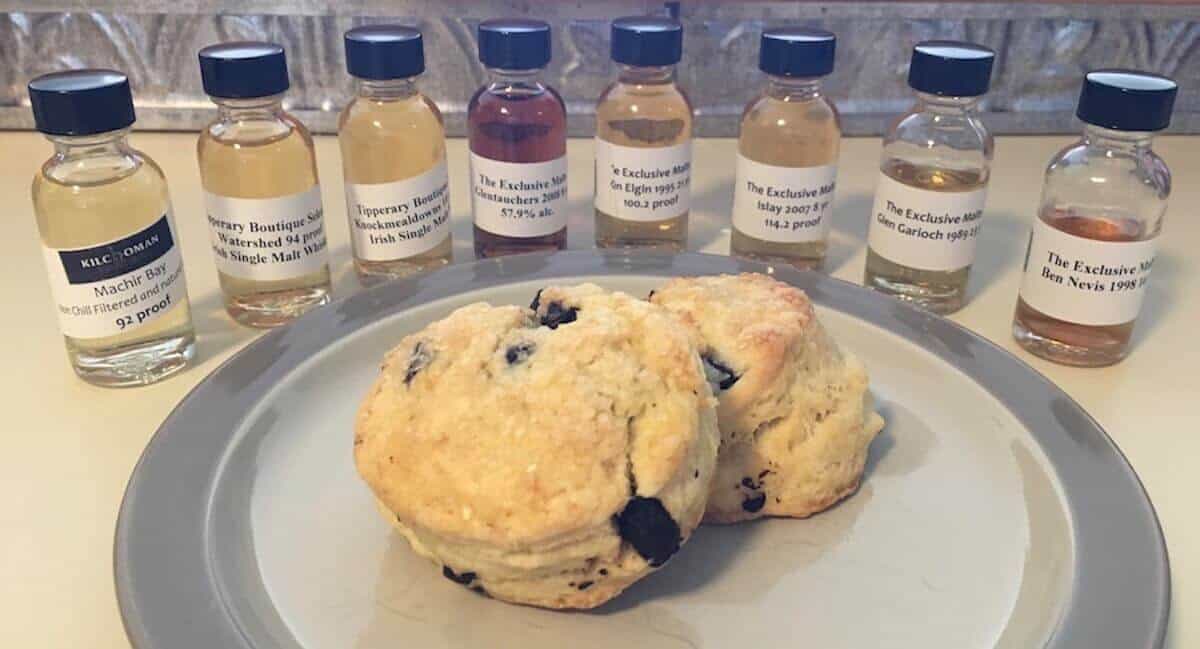 Impex Beverage samples tasting
At home, July 25, 2017
Kilchoman Machir Bay
46%ABV
Nose: Soft cooked fruits with strong peaty aromas.
Palate: Soft mixed fruits and vanilla with an intense sweetness.
Finish: A Classic islay malt now showing the benefit of additional ageing. A long lingering finish.
Tasting Notes
Nose: Sniffing campfire that's been out a few hours, musty, old Colonial house

Taste: Very soft, peat not predominate (more on the nose), leather bound books

Finish: Struck match flavor lives long

Comments: Wow, that's good! Peat is present but syncs with the greater presence of flavors. This is a scotch I'd definitely buy; with water, a nose full of ash, peat devolves into mushrooms, and fades to black. Excellent!
Exclusive Malts Islay '07 8yr [Batch#10]
57.1%ABV
This cask of Islay Malt Whisky was distilled on the South shore, otherwise known as the Kildalton side of Islay. The Isle of Islay is home to many great and fantastic whiskies and this one is as luxurious as any of the others. At cask strength, this whisky will tame most malt whisky fanatics, but a drop or two of water will show some real inner-beauty. Cask type: refill American barrel
Tasting Notes
Nose: cooked fruit, wood

Taste: oily, chewy, pepper rises fast, but initially a hit of prunes

Finish: no peat really present, just hints of leather and plums

Comments: this has complexity and really surprises for an Islay; with water, the peat shows up (some deep smoke tones), the pepper is suppressed, burnt toast quality shows up; the smoke lingers
Tipperary Watershed
47%ABV
The nose opens with strong vanilla and sweet fruit notes, followed by hints of grain. Black pepper rises on the palate, overtaken by vanilla fudge and just a trace of raisins. The smooth finish is warm and comforting, honey on hot buttered toast.
Tasting Notes
Nose: honey

Taste: earthy, med body, oily, straw in the sunshine, white chocolate

Finish: cinnamon spice lasts

Comments: very straightforward, light in texture; with water, nose becomes flowery perfume, more hay, butterscotch, taste becomes sharper, flavor almost suppressed, summer sunshine finishes
Tipperary Knockmealdowns 10yr
47%ABV
The nose opens with fresh oak, developing into hot caramel sauce with notes of chocolate and vanilla. The palate is smooth and light, sweet honey cut through with citrus notes, then becoming savoury, peppery and round in the mouth. The finish lingers, oak with drying tannins and just a touch of ginger spice.
Tasting Notes
Nose: flowers immediate (soft peach), then hay

Taste: pepper rises really fast, hops-like bitterness gives a tang to it, softer body

Finish: bitterness, almost astringent, releases slowly

Comments: I like this one a lot…more complex, lots of character for an Irish whiskey; with water, the nose gets very fragrant with flowers & vanilla, the taste really shines with vanilla fudge, finishes with a straw note, much sweeter
Exclusive Malts Glentauchers '08 8yr [Batch#11]
57.9%ABV
Hard to pronounce and hard to find, Glentauchers (try Glen-TOCK-ers) whisky is almost entirely used for blending being owned by one of the world's largest distilling groups. This whisky has spent eight years in European oak previously used for the maturation of Sherry from Jerez, Spain. Expect rich fruitcake and chocolate in this mighty dram. Cask type: First Fill Ex-Sherry Butt
Tasting Notes
Nose: cooked fruit, plums, vanilla sneaks in

Taste: spiced plums, white pepper, soft chocolate

Finish: fruit takes hold, pepper stays a while

Comments: a fruity delight; with water, the milk chocolate and fruit has a candy like quality. Lots of flavor and quite approachable
Exclusive Malts Glen Elgin '95 21yr
50.1%ABV
Glen Elgin is situated a few miles south of the town of the same name. The whisky from the distillery is almost exclusively used for blending, but occasionally the odd cask surfaces and like this one aged for over 20 years, demonstrates why it is so highly sought after by blenders. Being a typical Speyside whisky, this whisky is full of fruits with light spice. Cask type: Refill Hogshead
Tasting Notes
Nose: grass, hay, sunshine, white chocolate

Taste: pears and sweet light vanilla, subtle oak, soft and light

Finish: fruit lingers pleasantly, sweetness

Comments: Wow! This dram is so soft and tasty, no water needed, I'd want this bottle in my house.
Exclusive Malts Glen Garioch '95 19yr [Batch #9]
56%ABV
The closest distillery to the ancient city of Aberdeen is Glen Garioch distillery (pronounced 'Gearie'). This small Highland malt whisky was often overlooked in the past couple of decades as more attention was given to its sister distilleries in Glasgow and on Islay. This meant there were few offerings from this exceptional distillery. Thankfully this is changing as more and more attention are given to malts. This cask had previously held Rum from Guyana which has imparted a sweet and fruity character to the spirit.
Tasting Notes
Nose: smoke at first, then honey and apricots

Taste: smoke: oily, hard pepper

Finish: burn continues pleasantly, slight anise

Comments: the soft peatiness gives away what's to come, doesn't surprise, but does satisfy; with water, there's piney sweet flowers and honey on the nose, and for the taste the ashy campfire dominates, ash & peat lasts
Exclusive Malts Ben Nevis '96 17yr [Batch#9]
51.2%ABV
Ben Nevis Distillery, situated at the foot of, and named after, the highest mountain in Scotland, is a rather unique Highland Scotch Whisky. Brimming with thick malt and dense fruit flavours, it has long been sought after by blenders as their backbone for a high-class Scotch Whisky. This refill ex-Sherry butt has been maturing next to the distillery, untouched since 1996 and is a classy example of what this distillery can offer.
Tasting Notes
Nose: raisins to start, some vanilla

Taste: hit with spice, then softens into cinnamon, a bit of menthol, hint of plums

Finish: a woody spice lingers, the burn stays at the back of the throat

Comments: has a character that's intriguing, the sherry presence is mainly in the nose, subtler in the taste; with water, alcohol prickle is suppressed so a stronger woodland presence rises, slightly evergreen, the last taste is of grassy hillsides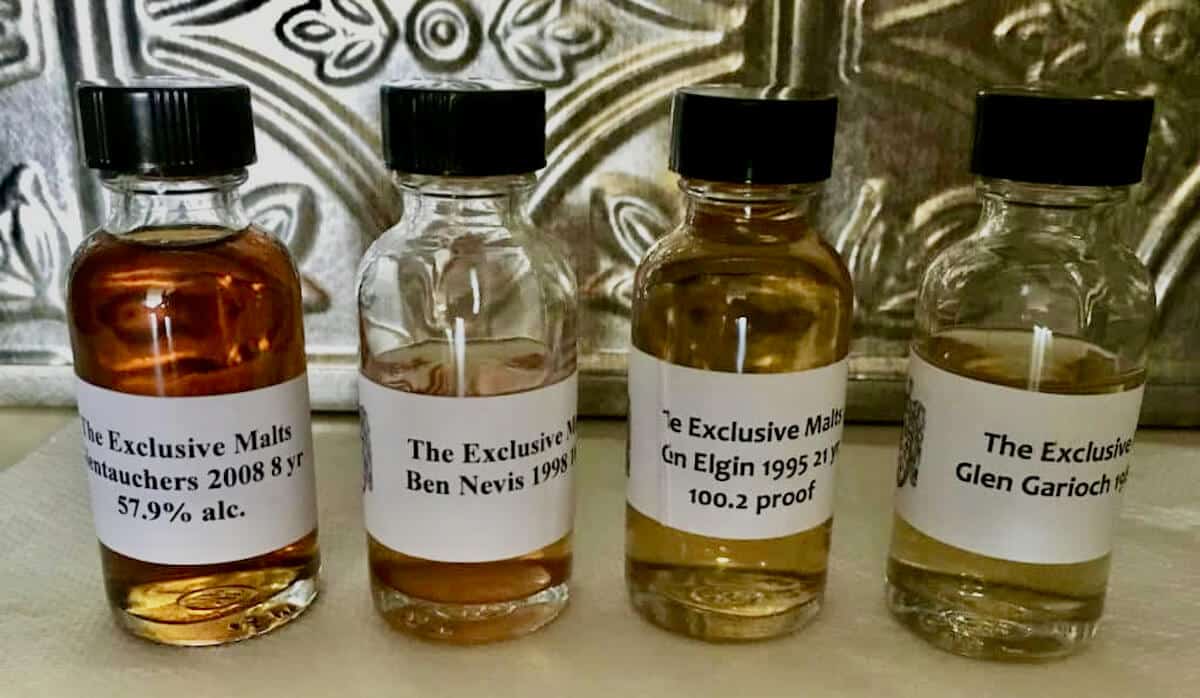 Final thoughts
So many wonderful drams! Each one is so distinctive, and really shows that regionality and distillation process are just as important as the ingredients and the cask finish. That fact is why I truly like scotch, each expressive is its own experience.
As I was thanking Vlad for his help, he mentioned that if they were ever out in Boston, maybe they could sample some scones (well, this blog is Scotch & Scones after all!). Of course I offered to ship scones to his office. When Vlad accepted the offer, he cheekily asked that I write "tasting notes" for them, so I did! You will be able to read my (and his) tasting notes for Chocolate Chunk Cream Scones on the ImpEx website.
And you'll certainly be able to tell that Vlad is very good at marketing judging by the poetic descriptions in his review.
Many thanks to Sam Filmus and Vlad Metrik. I hope you enjoyed the scones). And to Joshua Hatton, I'll bake for you anytime!
Slainté! L'chaim! Cheers!
Tammy