I may not have a favorite scotch, but I know that if Glenmorangie and Ardbeg are in the lineup, I'm going to like it just fine.
I don't have a favorite child. Both my girls are my favorite.
My daughters are unique and wonderful, and that's not just because I'm their mom. Just ask anyone and they'll tell you the same.
I love them fiercely and equally, and I'm quite the Mama Bear when required (don't mess with a red-headed mama is my only warning to you).
In fact, it's their uniqueness that allows me to distinguish between what I love about them. By not playing favorites I can appreciate their individual traits and talents and cherish both my girls to the fullest extent a heart will allow.
That's infinity-plus if you're counting.
Familiarity breeds confidence
It's not too hard to extend the thought of valuing the individuality to other things I like. Take scotch, for instance.
(Wow, we didn't see that transition coming at all [rolling eyes] ).
I'm lucky enough to have tried many different brands and expressions since I've started paying attention to whisky. While I'm quite willing to try unfamiliar drams (how else do you get familiar with them, after all?), I do know that when a known quantity comes along I'm willing to set aside impartiality and just savor the sip.
Such is the case with Glenmorangie and Ardbeg. I just know that I'll like what I'm going to try. It's just a matter of degrees as to how much.
Glenmorangie is a Highland scotch (as in sweet, heathery, and pine). Ardbeg is an Islay scotch (think beachy), so the qualities of both those regions are well represented by their lineups.
At a recent tasting at Gordons DTX, I was not only treated to the standards, I was able to sample some new releases as well. Boy, were they good!
Time to sip!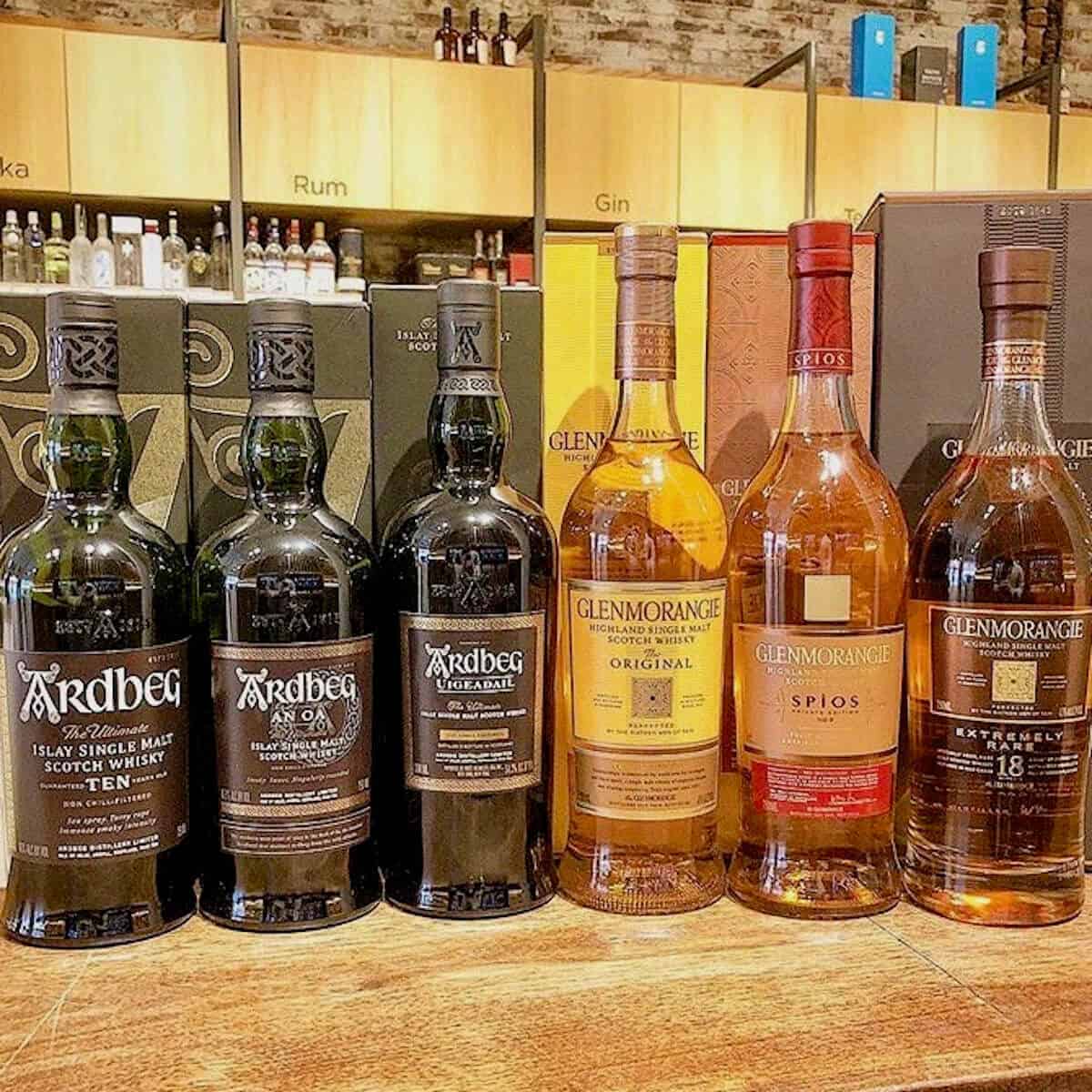 Glenmorangie and Ardbeg tasting
At Gordon's DTX, March 28, 2018
Glenmorangie Original
43%ABV
Tasting Notes
Nose: honey, peaches, brown sugar, vanilla

Taste: pepper, cinnamon and honey, oranges

Finish: slides into cloves and long caramel

Comments: the spice is balanced by the sweet, a solid Highland sip
Glenmorangie Spios
46%ABV
Tasting Notes
Nose: caramel candy, fresh bread, citrus, slightly toasted pecans

Taste: soft entry, oily, navel oranges, cayenne and cloves

Finish: baking spices linger at the back of the throat

Comments: rye finishing really gives a unique flavor profile, it's sublime and very interesting!
Glenmorangie Extremely Rare Aged 18
43%ABV
Tasting Notes
Nose: peaches, grilled pineapple, soft vanilla

Taste: light body, cinnamon and white pepper rises quickly, menthol and white chocolate, oak overtones

Finish: fades to mint and oak

Comments: for an 18yr it's not as soft as I'd thought, but it's nice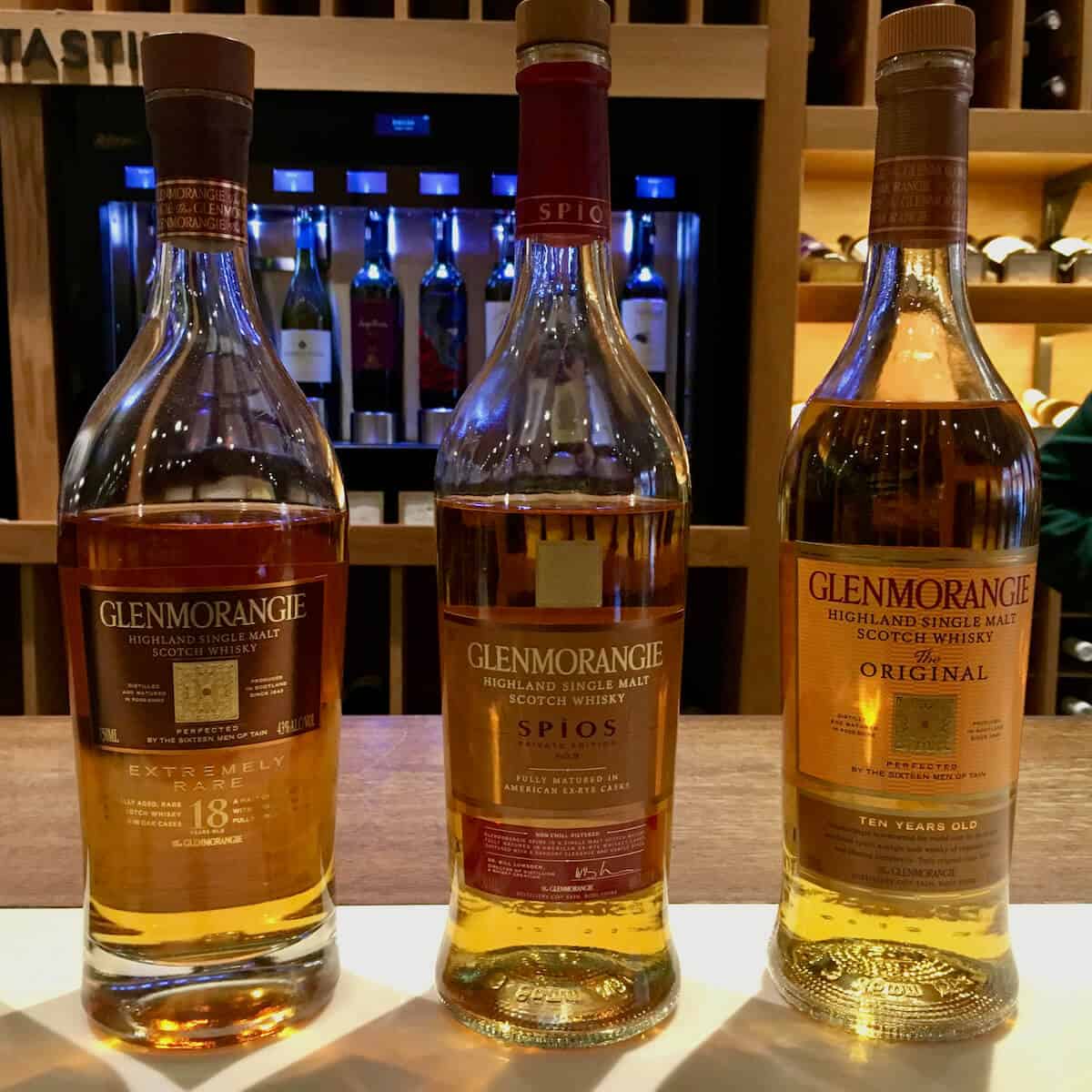 Ardbeg Ten
46%ABV
Tasting Notes
Nose: minty smoke, light beach smoke, seaweed

Taste: medium body, oily, bonfire flavors are thick and heavy, almost lemony

Finish: the medicinal iodine lasts long and fades slowly

Comments: a good smoky dram, and a good entry to the line
Ardbeg An Oa
46.6%ABV
Tasting Notes
Nose: beachy, slightly sulphurous, driftwood

Taste: thick body, oily, ashy

Finish: ends on eucalyptus

Comments: such an easy sip to savor
Ardbeg Uigeadail
54.2%ABV
Pronounced "Oog-a-dal"
Tasting Notes
Nose: standing over the bonfire, inhaling the smoke

Taste: big smoke, thick and rich, citrus and smoke, chewy

Finish: thick smoke and lemon rests on the tongue

Comments: big bold peat predominates, wonderful!
Ardbeg Grooves
46%ABV
Tasting Notes
Nose: light nose, faint smoke

Taste: thick, oily, the smoke climbs up and takes hold, lemon curd tartness underneath

Finish: lemon curd and campfire, fades to ash

Comments: like a campfire in the distance, then you approach...climbs and holds on, no-nose all-flavor, not an official part of the tasting (hence no picture), but I was lucky enough to get a sample before heading home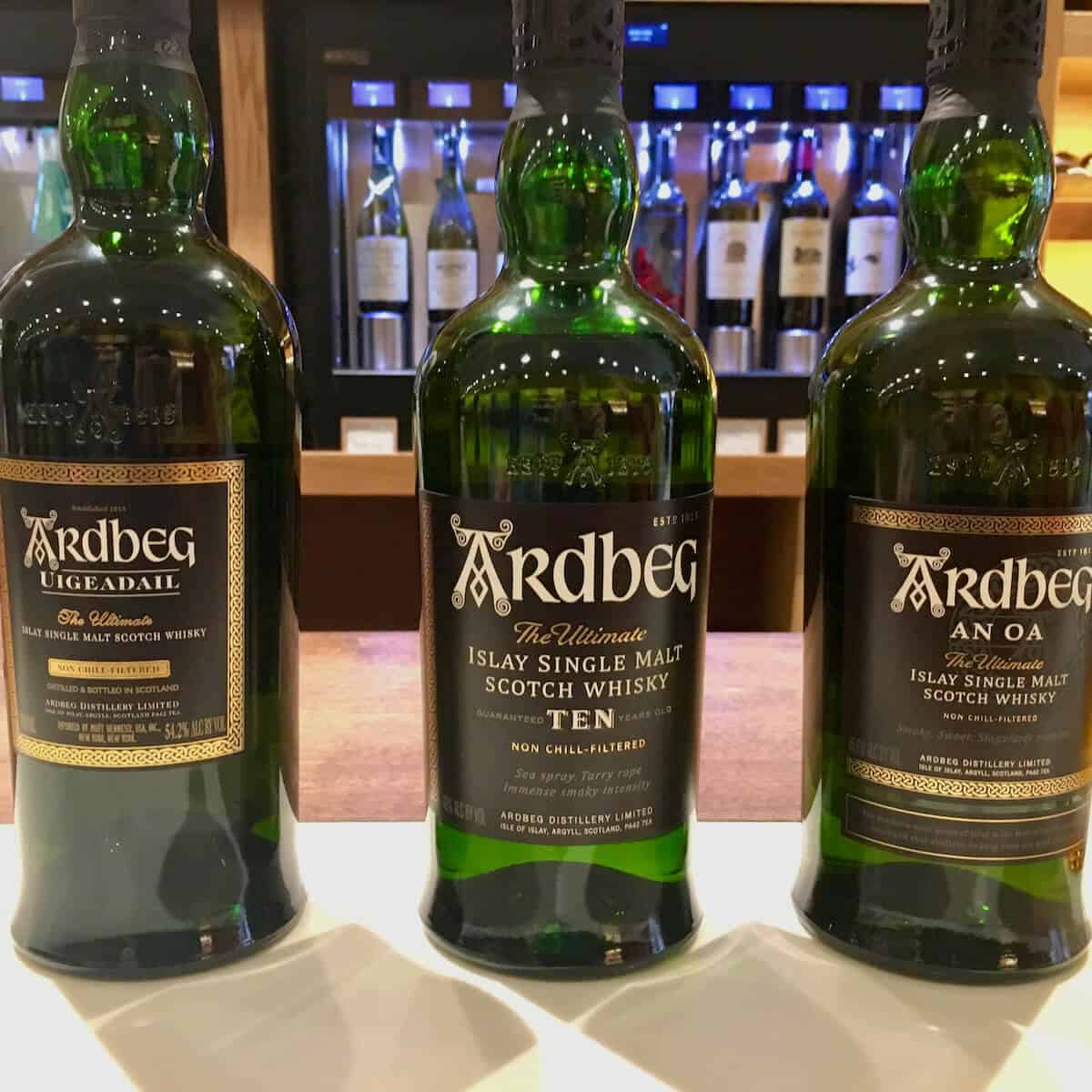 Final thoughts
I don't have a favorite whisky brand, but I do gravitate to the ones I know and love line Glenmorangie and Ardbeg. Familiarity is comfort, like wearing your sheepskin slippers after a day of trying on shoes.
Familiarity also allows me to savor the individual qualities of a lineup from a tried and true brand without hesitation or bias.
I don't think I'll ever be able to point to one distiller, one scotch, one expression and say that's my favorite because they're all unique. And that's a notion I can cherish.
Slainté! L'chaim! Cheers!
Tammy