Elevate basic cheesecake with subtle notes of white wine. Smooth, creamy, rich, & slightly tangy, this White Wine cheesecake is a sure hit!
It's time to wrap up my series about baking with the wine and wine jelly samples I received as a gift from Plymouth Bay Winery.
So far I've made Hamantaschen using Bad Newz Raspberry Bay wine jelly and a Cranberry Wine Babka featuring a Cranberry Bay cranberry table wine reduction.
The last items left in my gift basket were the Widow's Walk white table wine and the What'ta Pair wine jelly.
I decided that the green apple and citrus notes of this wine lent itself to a White Wine Cheesecake, and I'd use the cinnamon-accented wine jelly to drizzle on another layer of flavor.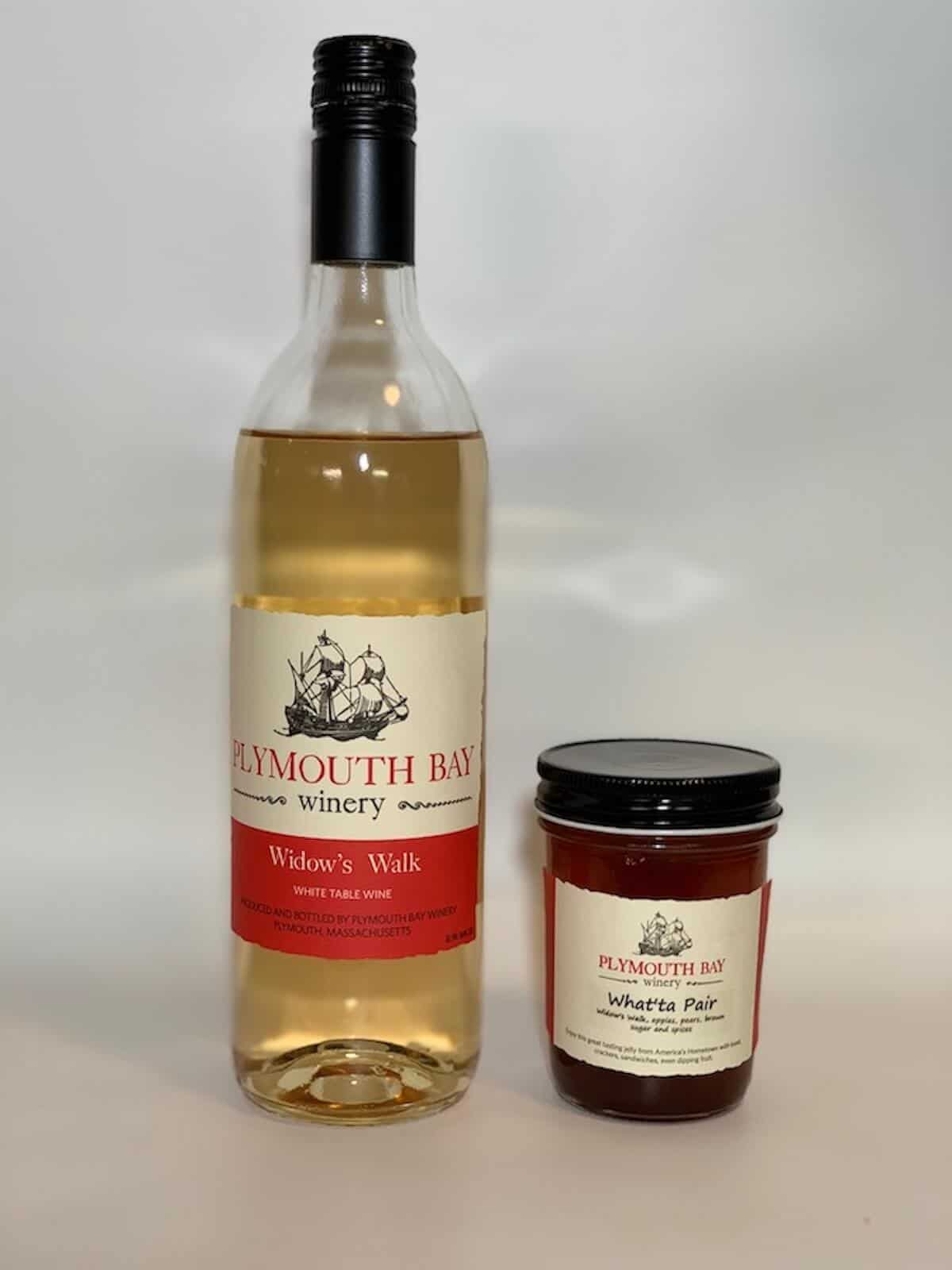 Jump to:
Let's cobble a recipe together
Looking online for wine cheesecake recipes, I came across a few ideas, but none that completely suited me.
Some had flour in the recipe (which would make the cheesecake have a more cake-like texture, and I wanted a creamy-style cheesecake), and some had so much sugar that I thought the delicate wine flavor would be drowned out.
I also wanted a sure-fire technique and tips and tricks for success.
In the end, I decided to combine the best of several recipes (as I am wont to do) and see what would happen. I cobbled together my "franken-recipe" from the following sources:
(Whoa...that's a lot of recipes!)
Two parts to make a whole (cheesecake)
Use a food processor to crush up the graham crackers to make quick work for the crust. Here you want fine crumbs, so have at it.
When you go to make the filling, mix only until the ingredients are incorporated. You don't want to add air into the mix or the filling will crack or bubble during baking.
Does cheesecake need a water bath or not?
The reason to use a water bath is that the water acts as an insulator, protecting the sides of the cheesecake from over-browning while the filling sets. Interestingly enough, only two of my sources mentioned using a water bath, but I still thought it was prudent advice.
Unfortunately, I didn't have a roasting pan large enough to fit my springform pan, so I opted to try a substitute trick by placing a large pan of water on a lower rack in the oven to create steam.
My mistake was not using a large roasting pan (like a 9- x 13-inch baking pan) filled with 1-inch of hot water, opting for an 8-inch sauté pan with about a cup of water instead.
Result...I didn't have enough water to do its job and the sides of my cheesecake were over-browned (sadness).
[Side note: I discussed making Egg Custard on my Outlander Cast blog post this month, and there was a neat trick to creating a water bath. You might want to check it out!]
So how was our Franken-recipe?
Despite the sides (and some unsightly air bubbles), the cheesecake itself was wonderful…creamy, rich, slightly tangy, with light notes of green grapes faintly peeking out at the finish from the wine.
It was maybe not quite sweet enough (¾ cup sugar might have been better), but the What'ta Pair jelly helped to add more depth to the wine flavor with cinnamon apples and pears.
In addition, the graham cracker crust added a buttery dimension and a nice contrasting texture to the finished dessert.
Needless to say, this White Wine cheesecake paired beautifully with the Widow's Walk wine itself. I couldn't stop eating the cheesecake, so I made sure to share it with friends.
I definitely didn't have it for breakfast and dessert the next day, no siree.
Many thanks to Gabrielle Sumner, Assistant Manager at Plymouth Bay Winery, for sending the gift basket so I could play with their wines and jellies. They have many more wines and jellies to try…the possibilities are endless!
Slainté! L'chaim! Cheers!
Tammy
Recipes for pie
Pies can be sweet or savory, and there are so many fillings from which to choose. From fruits to nuts and custards, there's bound to be a pie that catches your fancy! Here are a few choices to try.
Recipes for pie crust & more
Need a base for a recipe? No problem! Here are recipes for a basic pie crust, graham cracker crusts, and a shortcrust pastry. Plus how to make a lattice pie crust!
Recipe
Smooth & Creamy White Wine Cheesecake
Ingredients
For the crust
For the filling
4

cups

cream cheese

,

full fat, at room temperature, see Recipe Notes

¼

cup

sour cream

,

at room temperature

½

cup

granulated sugar

5

large eggs

,

at room temperature

⅓

cup

white wine

1½

tsp

pure vanilla extract
Instructions
For the crust: Adjust the oven rack to the lower-middle position and preheat oven to 350°F.

Bake for 10 minutes, then remove from oven and cool completely. Before adding batter, brush the top inside of the pan (above the crust line with melted butter to help keep any batter that rises above the crust from sticking to the pan.

For the filling: Using a stand mixer with paddle attachment or hand mixer, beat the cream cheese until light and fluffy. Add granulated sugar and beat on medium-high speed until the mixture is smooth and creamy, about 2 minutes. Add the sour cream, vanilla extract, and wine; beat on low speed until fully combined. On medium speed, add the eggs one at a time, beating after each addition until just blended. After the final egg is incorporated into the batter, stop mixing.

Pour the cheesecake batter on top of the crust. Use a rubber spatula or spoon to smooth it into an even layer.

Pour 1-inch of hot water into a 9- x 13-inch baking pan at the bottom of the oven (to simulate a water bath). Put cheesecake on rack above the water-filled pan. (see Recipe Notes).

Bake cheesecake for 55 to 70 minutes or until the center is almost set. When it's done, the center of the cheesecake will slightly wobble if you gently shake the pan.

Turn the oven off and open the oven door slightly. Let the cheesecake sit in the oven (with the water bath) as it cools down for 1 hour. Remove from the oven, then cool cheesecake completely at room temperature.

Refrigerate the cheesecake for at least 4 hours or overnight.

Use a knife to loosen the chilled cheesecake from the rim of the springform pan, then remove the rim. Using a clean sharp knife, cut into slices for serving. For neat slices, wipe the knife clean and dip into warm water between each slice.

Serve cheesecake with desired toppings. Cover and store leftover cheesecake in the refrigerator for up to 5 days.
Notes
Baking the crust sets it and keeps it from getting soggy or shifting when the cheesecake batter is added. Let the crust cool completely before adding the filling.
Now isn't the time for reduced fat or nonfat cream cheese…they contain fillers that might prevent the cheesecake from setting properly. Never substitute whipped cream cheese for the solid block.
It's important to bring all cold ingredients to room temperature before beginning…they'll combine quickly and evenly, so you won't risk over-mixing (beating cold ingredients together will result in a chunky cheesecake batter…who wants that?).
Regarding the water bath, I didn't have a baking pan large enough to fit my springform pan, so I used the method using a 9- x 13-inch baking pan described above. Alternatively, you can wrap outside of your springform pan in a double layer of foil, covering the underside and extending all the way to the top (although a good crust keeps filling from leaking out, the foil helps protect against water leaking in). Set the wrapped pan in a large roasting pan, and pour hot water into roasting pan—to a depth of 2 inches or about halfway up the sides of cheesecake pan. Carefully transfer to a preheated oven and bake accordingly.
To help prevent the cheesecake from deflating and cracking as it cools, avoid over-mixing the batter as best you can…you don't want air beaten into eggs because it causes them to inflate in the oven, then deflate when cooled and crack the cheesecake or form bubbles on the surface.
If you notice the cheesecake browning too quickly on top, tent it with aluminum foil halfway through baking.
Nutrition
Serving:
1
slice
Calories:
299
kcal
Carbohydrates:
18
g
Protein:
6
g
Fat:
22
g
Saturated Fat:
13
g
Cholesterol:
116
mg
Sodium:
262
mg
Potassium:
126
mg
Fiber:
1
g
Sugar:
14
g
Vitamin A:
866
IU
Calcium:
79
mg
Iron:
1
mg