Westland American Single Malt whiskey is to be savored. Their 5-component recipe of barley and air-dried oak barrels give each expression a backbone, and cask finishes add variety.
There is a romance about faraway places…a setting so different from the one you experience daily.
The Pacific Northwest is a dream-state for me, lush rain forests and natural rivers. So much green! And it is in the heart of the Pacific Northwest that Westland American Single Malt whiskey is produced utilizing their natural resources to produce an exceptional whiskey lineup.
The Westland distillery
For Westland's whiskey, the focus is not the aging in barrels, it's what goes into the mash tun that distinguishes them from other single malts.
Westland looks at barley the way a brewer does, namely that different barley varietals and roasting levels have a significant influence on the taste. They prides itself on the five-component recipe of barley that is the basis for all their expressions: unroasted, light roast, medium roasts, and dark and heavy roasted malted barleys. The dark roast especially gives Westland that distinctive dark chocolate and coffee flavors in their expressions.
In addition, Westland uses New American Oak barrels that have been air dried rather than kiln dried (the standard in the whiskey industry), thus reducing the woodiness and oiliness that can come from the latter type of barrels.
Okay, enough preaching about Westland…let's taste some whiskey!
Westland American Single Malt Whiskey
At Gordon's DTX, presented by Chris Riesback, August 16, 2017
Westland American Single Malt
46%ABV, the flagship expression, almost exclusively 5 malt blend, 2 different New American Oak casks
Tasting Notes
Nose: honey, oranges, ripe pineapple, dark chocolate

Taste: soft coffee, chocolate, hint of menthol

Finish: mocha coffee, dark chocolate fades to ash.

Comments: a mouthful of flavor, lovely, creamy dark ganache as a drink, very distinctive nothing added. Soft, showcases the 5-malt grain combo
Westland Sherry Wood American Single Malt
46%ABV, almost exclusively 5 malt blend with some pale barley distillate added; Aged in Oloroso and PX sherry casks along with New American Oak for balance
Tasting Notes
Nose: distinctive sherry cooked fruit, slightly menthol

Taste: full and thick (Oloroso), sweet (PX), the malty grain slinks in, then falls to dark coffee

Finish: sweetness lingers, some evergreen on the end

Comments: excellent! Not cloyingly sweet, is balanced with the deep mocha
Westland Peated American Single Malt
46%ABV, a combination of their 5 malt blend and pale malt along with peated malted barley from the Scottish Highlands
Tasting Notes
Nose: immediate peat, light grain, apricots

Taste: easy cream, nice texture with an oily body, peat isn't strong but pleasant

Finish: the smokiness is lingering, soft and easy (not like drinking a campfire)

Comments: such a nice easy peat, a good introduction for a new peat drinker
Westland American Single Malt - Single Cask #617 Cask Strength
53.7%ABV, their "Boston blend," so named because it was the 617th cask produced
Tasting Notes
Nose: lighter fruit, a little harsh alcohol note, slightly green

Taste: higher alcohol, sweeter but not cloying

Finish: fades to eucalyptus

Comments: very interesting! The more you sip the more you want, not many available anymore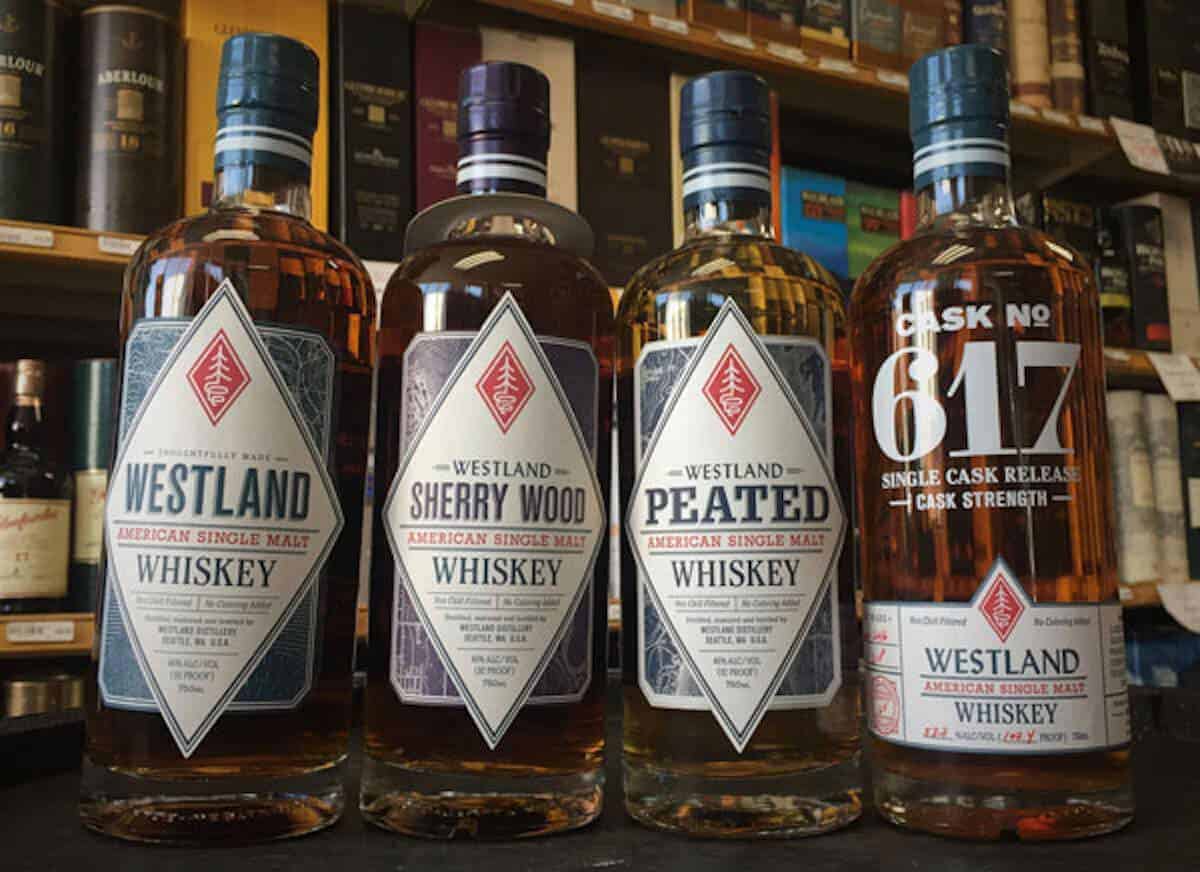 Final thoughts
Westland truly makes a lineup that shines. All these expressions are well balanced in each category, so for example in the sherry expression, the chocolate doesn't overshadow the sherry or the sherry to overshadow the cereal notes.
It's an approach that I appreciate as a whiskey drinker, allowing the different flavors in the dram to be savored. This Westland lineup is definitely one I would consider buying.
Maybe I can go visit the distillery one day, in the green and exotic Pacific Northwest?
Why not? Westward Ho!
Slainté! L'chaim! Cheers!
Tammy