Tasting the best of what Scotland's scotch regions had to offer through Douglas Liang & Co. Remarkable Regional Malts collection. Plus, a sip from a Gordon & Macphail's Craigellachie. What a way to travel!
It's not news that Scotland has many different scotch regions, and it's not news to say that those regions each have their own unique flavor signature.
What is interesting is when the scotch is blended to represent and highlight the best of what each region has to offer, and we get to taste all those regions in one lineup.
That's what I got to experience at a tasting event from the North Shore Whisky Club.
Tasting our way around Scotland
Joe Swanson presented the Remarkable Regional Malts collection from Douglas Laing & Co. It was a celebration of the map of Scotland.
Douglas Liang & Co gives a nice definition as to what they're trying to accomplish:
"Blended Malt Scotch Whisky: "Blended Malt" differs from simply "Blended" Whisky in that it contains no Grain Whisky, and is therefore widely considered a superior category.
Our Remarkable Regional Malts … are Blended Malt Scotch Whiskies, combining the spirit from some of the regions' finest Distilleries to produce the ultimate territorial tastes of Scotland. If a Single Malt is a violin, you might consider a Blended Malt an entire orchestra."
Mission accomplished, I would say.
Rather than my usual tasting notes list, let's look at the individual scotch regions as represented by each expression. Each description (in italics) is from Douglas Liang, but the tasting notes are mine.
As an added bonus, Joe brought us an offering from Gordon & Macphail, and it was a real treat, a cask strength Craigellachie 19yr. Yum!
Buckle up…here goes…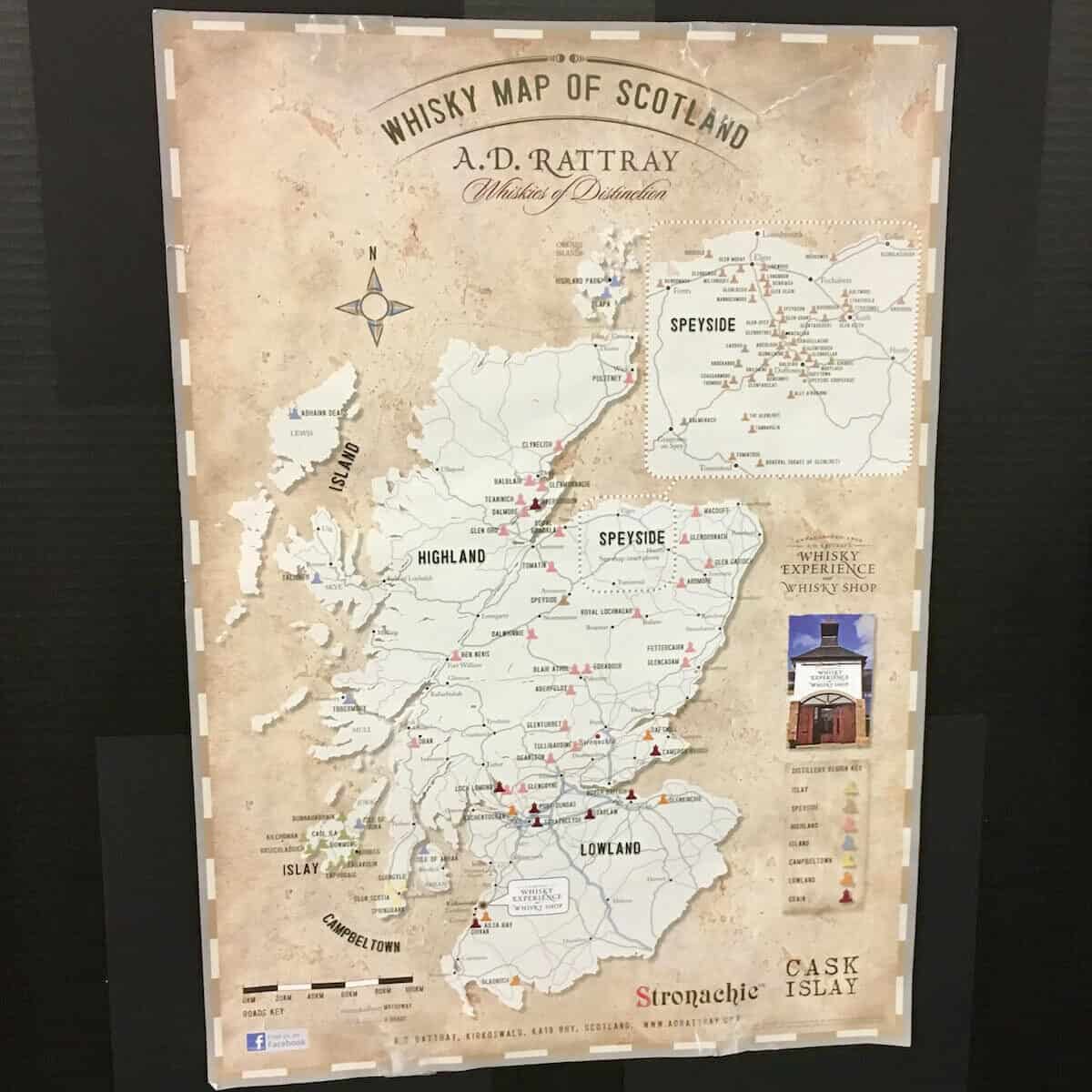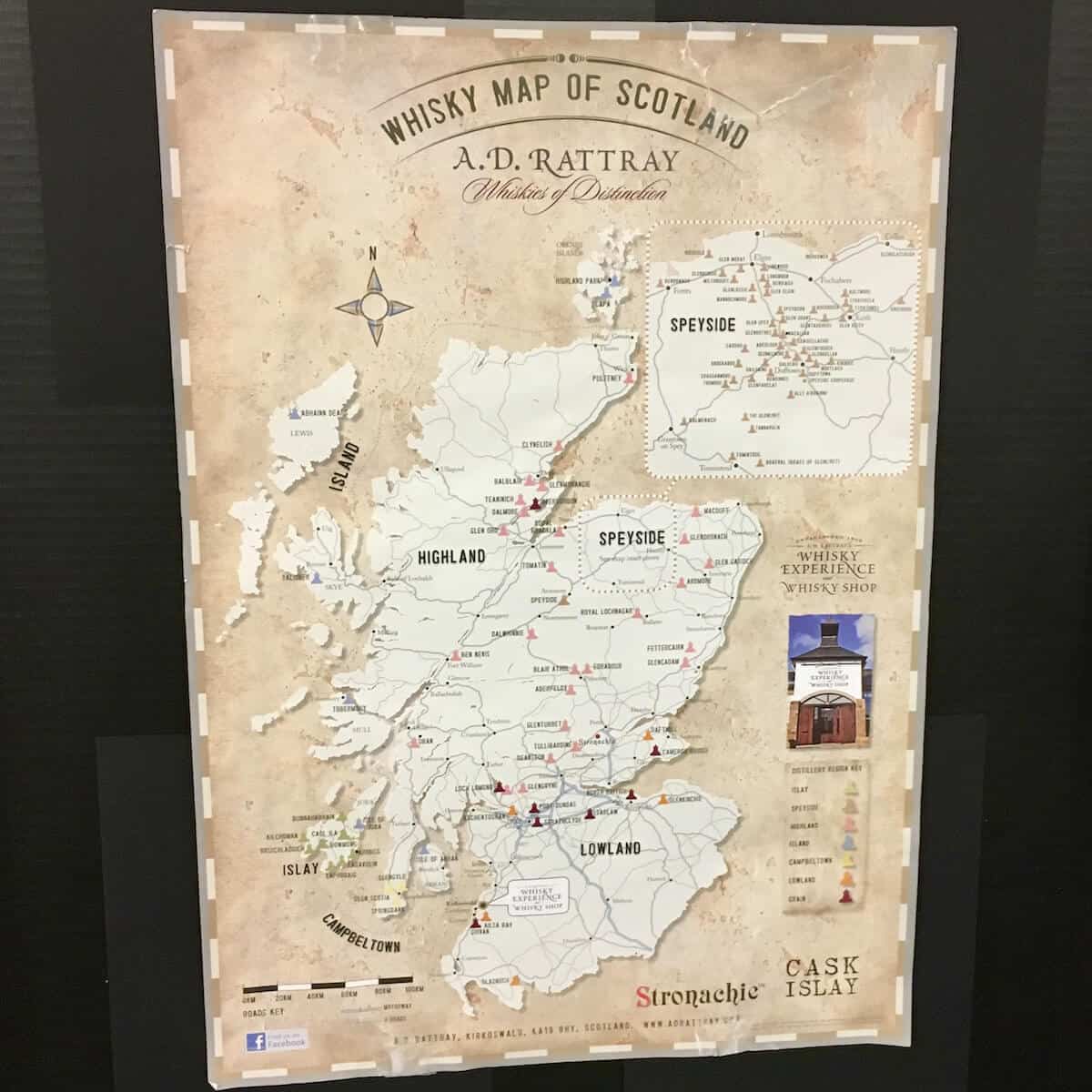 Douglas Liang & Co.'s Remarkable Regional Malts Scotch Whisky Tasting
Presented by the North Shore Whisky Club, hosted by Joe Swanson, March 9, 2018
Douglas Laing & Co. Epicurean
46.2% ABV
The Lowland region, encompassing the great cities of Edinburgh, Glasgow and the historic Kingdom of Fife, boasts a mild climate of miles of rolling flat farmland and neat woodlands, making The Lowlands an ideal region for growing barley, and, consequently, for producing Whisky. The Lowlands are famous for producing light, traditionally unpeated Whiskies that are renowned for their sweet, grassy notes and gentle style.
Tasting Notes
Nose: cotton candy, grassy, peaches, malt grain

Taste: grass, cardamom, pepper hits, green apple, light body

Finish: spice fades to herbal, mossy

Comments: light, bright, spring in a glass, very good
Douglas Laing & Co. Timorous Beastie
46.8% ABV
The Highland region is geographically the largest of Scotland's Whisky regions, stretching from just north of Glasgow up to Scotland's northern-most distillery in Orkney. Unsurprisingly, the vast area produces a diverse portfolio of malt whiskies, but the typically "Highland" whisky profile is lightly floral, and sweetly honeyed, with distinct notes of heather from the Highland landscape.
Tasting Notes
Nose: cooked fruit, raisins, toffee brittle, malted grains, lightly grassy

Taste: malted grain, oak, white pepper rises, coriander, oatmeal, medium body, slightly chewy, walnuts

Finish: the lemon-influence fades to oatmeal

Comments: the sweetness is balanced by oatmeal
Douglas Laing & Co. Scallywag
46% ABV
The Speyside region is home to over half of Scotland's Malt Whisky distilleries, more than Islay, the Highlands, the Lowlands and Campbeltown combined. Its rich, wet landscape creates a ripe environment for distilling and maturing Whisky, and Malt Whiskies produced in the Speyside region are typically sweet, sherried and elegant in character.
Tasting Notes
Nose: raisins, prunes, clover honey, vanilla, lightly cereal

Taste: malted grain, soft entry, buttery, mentholated, thick, pepper goes up the sinuses

Finish: menthol left after everything fades, a hint of sherry notes

Comments: misleading...starts cereal ends minty, the sherry is subtle
Douglas Laing & Co. Scallywag 13yr
46% ABV
Tasting Notes
Nose: vanilla fudge, slight raisin, oaky, pine

Taste: soft and silky, pine, light butterscotch, the nose stays clear

Finish: butter, cream, ends on herbs & flowers

Comments: this one is wonderful, so different than the Scallyway NAS
Douglas Laing & Co. Rock Oyster
46.8% ABV
The pedants among you might be aware that "The Islands" is not officially considered one of the Scotch Whisky Regions, as categorised by the Scotch Whisky Association. Whilst we won't dispute that, we do believe that Whisky from the Islands is unique, and so Rock Oyster was created in homage of the sea and its wonderful little pockets of Whisky-producing land. We believe Rock Oyster captures the spirit of Island Whisky in all its salty, citrus, sweet peat and peppery glory.
Tasting Notes
Nose: briny, little bit smoky, vanilla, beachy

Taste: spicy, seaweed, medium body, bonfire smoke in the distance, lemon

Finish: lemon and bone marrow gelatin quality

Comments: peat element, a savory gelatin with brine
Douglas Laing & Co. Rock Oyster 18yr
46.8% ABV
Tasting Notes
Nose: stronger brine & smoke, white grape, white chocolate

Taste: striking match, mint, sharp, chewy

Finish: long finish to brine and mint

Comments: the nose belies the taste, calls to attention
Douglas Laing & Co. Big Peat
46% ABV
Islay is home to 8 functioning distilleries, and affectionately known as Scotland's Whisky Island, it's been producing whisky for over 200 years. The flavour profile of Islay Whisky is known for its peaty smokiness, with some distilleries offering lightly peated malt and others a far more challenging, medicinal spirit.
Tasting Notes
Nose: all briny smoke, beach campfire,

Taste: strongly ash, eucalyptus, sooty, lime, medium body, oily, coats the mouth

Finish: ash lasts & lasts

Comments: all peat, all the time…tastes so good!
And the bonus…

Gordon & Macphail Craigellachie 19yr Cask Strength
Tasting Notes
Nose: raisins, heather, grass, barley

Taste: hits hard, clover honey, cut grass, oily, chocolate

Finish: fades to grass, lingers long and green

Comments: water mellows the hit and lets the greenness come forward, softly chocolate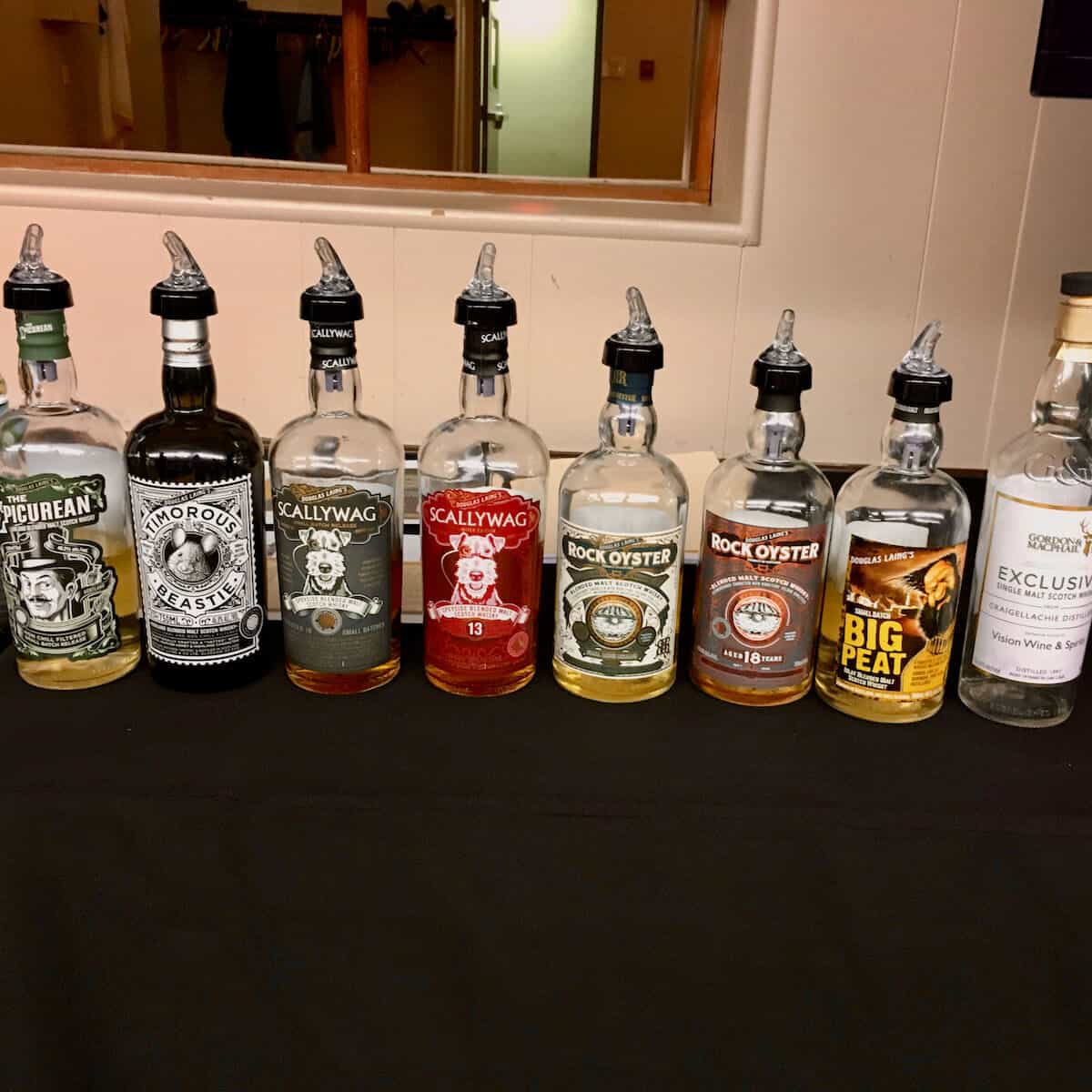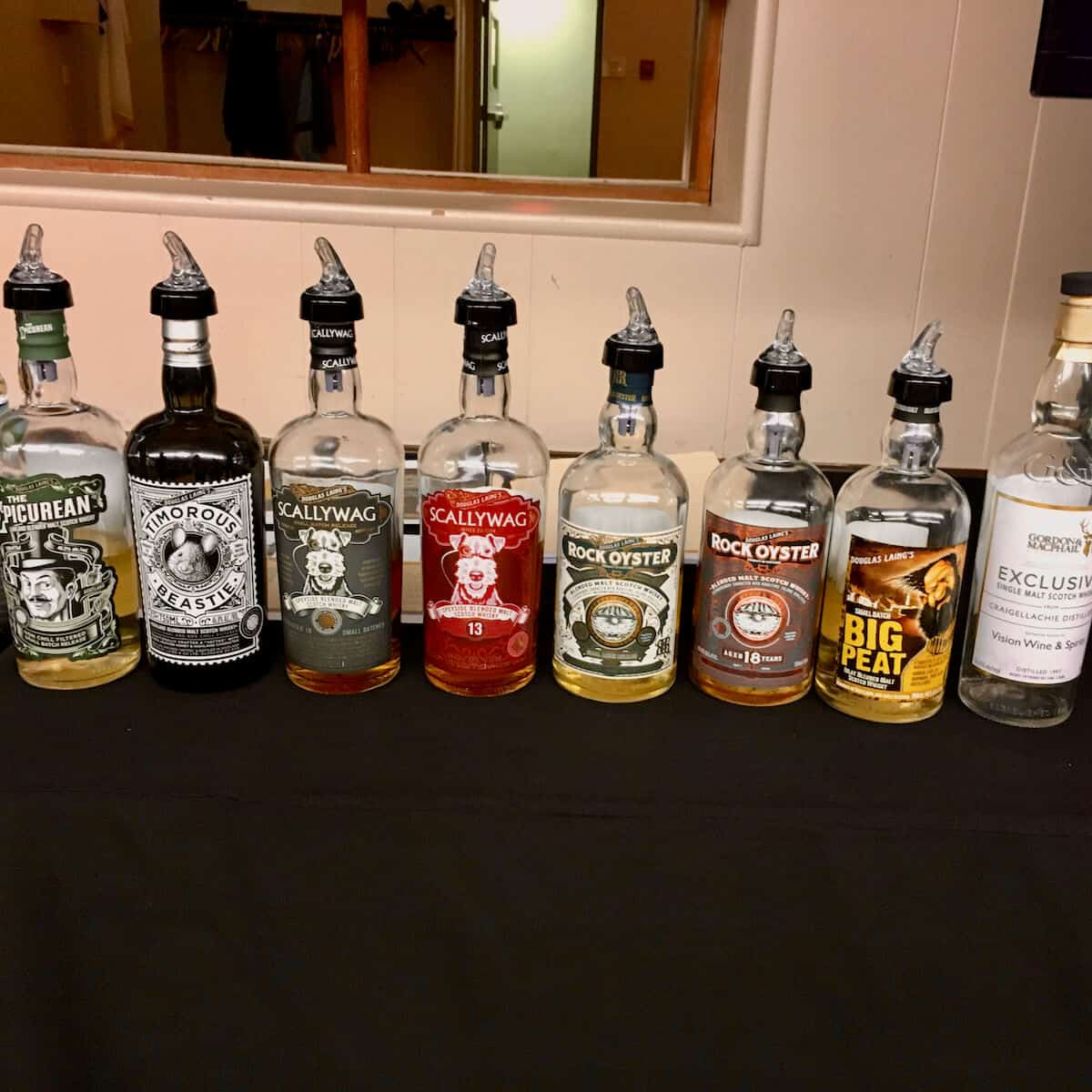 Another food pairing opportunity
Another added bonus was that I provided dessert for the group, Chocolate Cake Balls. They paired deliciously with that Craigellachie. The dark chocolate enhanced the yummy chocolate notes of the dram.
I've written previously about my pairing adventures. Check it out!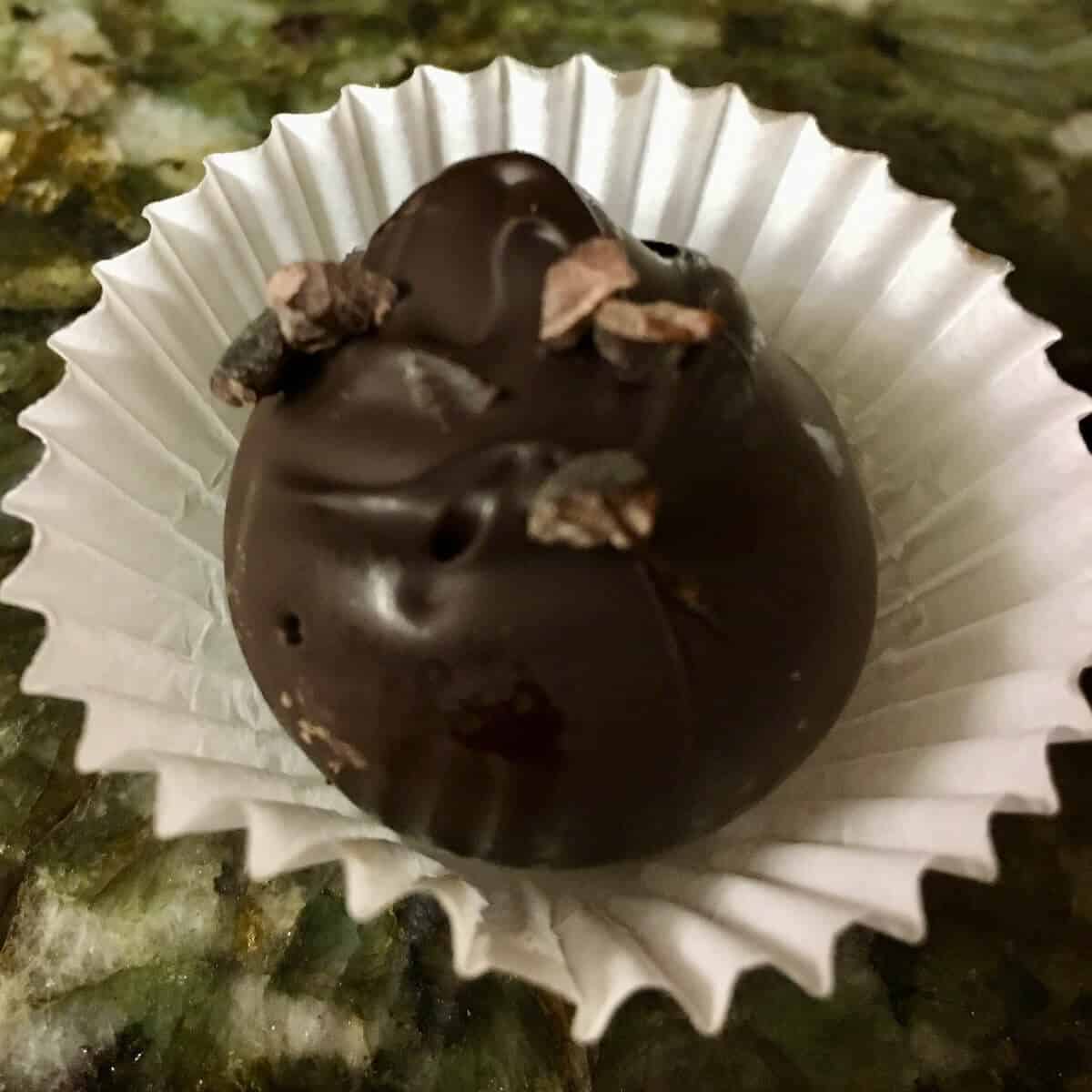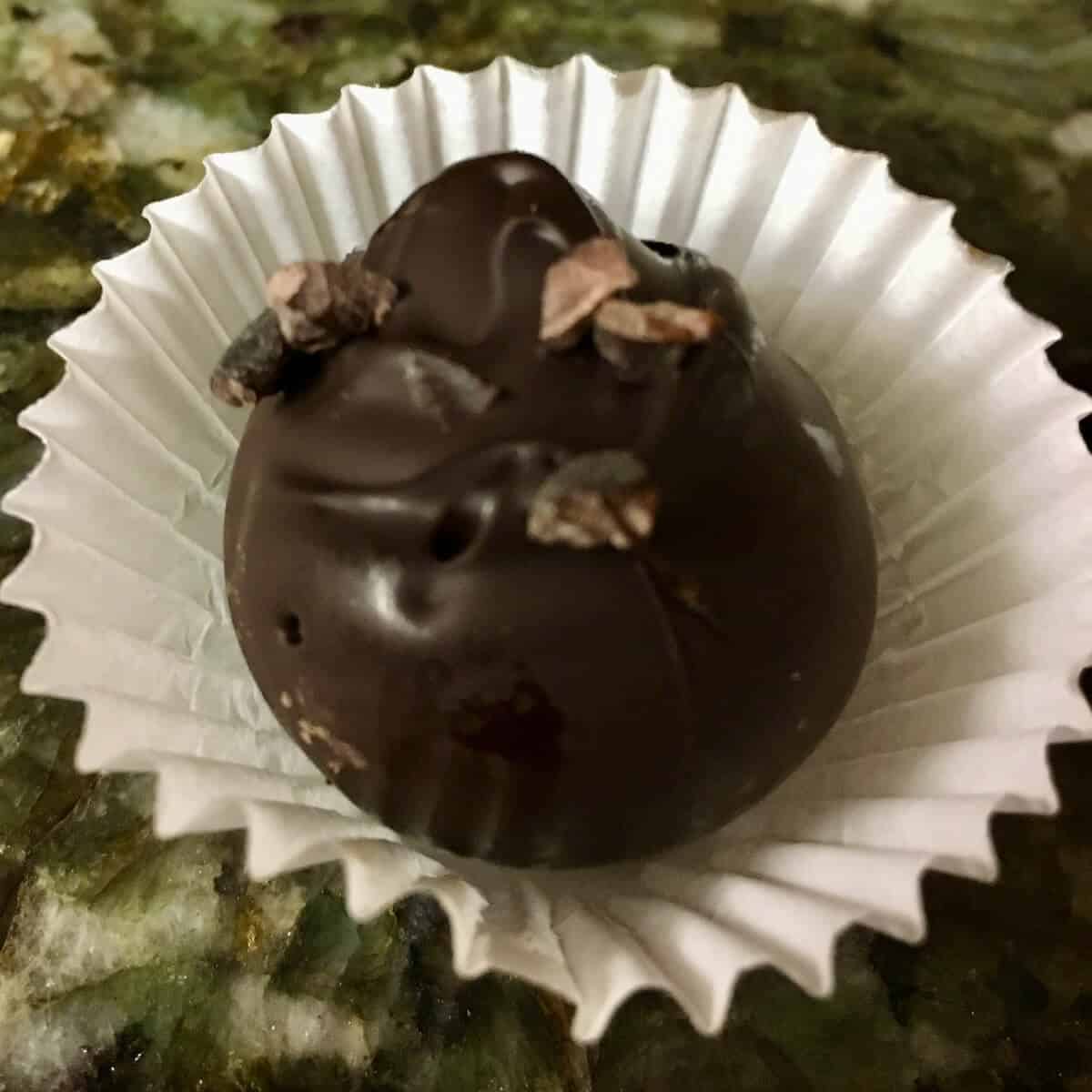 Final Thoughts
I really enjoyed exploring Scotland through its scotch regions in one sitting.
Kudos to Douglas Laing & Co. for their Remarkable Regional Malts collection, and many thanks to North Shore Whisky Club for presenting this lineup to us.
Tasting around Scotland...what a great way to travel!
Slainté! L'chaim! Cheers!
Tammy