Gordon's DTX, my friendly local liquor store, has the good fortune to be able to create Private Select Maker's Mark bourbon. Sampling that alongside the rest of the Maker's Mark Bourbon lineup is a treat!
Yesterday was Thanksgiving in America.
It's one of my favorite holidays, and not just because of the traditional dishes, all of which are my favorites. Turkey, cranberry sauce, pecan pie, pumpkin bread…
Ok, I'll stop because I'm drooling now.
No, it's because everyone, regardless of race, religion, color, or creed, has something for which they can be thankful. It's truly a universal holiday.
I won't go into all the things I'm personally thankful for (oh, good!), save one (oh…well, go on then).
If you're reading this, then I'm thankful for you, Dear Reader.
It's nice that I have a place to record my notes, thoughts, and experiences "in a glass and in the oven" (as my tagline says), but the fact that you're reading this means I can share the experience with you, and that makes me glad.
(Ah, you're makin' me blush…)
(sniff, sniff…) Let's move on then…
Your friendly neighborhood liquor store
One of the truly nice things about going to a neighborhood liquor store is the personalized service you receive from people who are experts in the field. Gordon's Fine Wine and Spirits is one such store.
That's not to say you can't get help in big-box retail stores, but knowing that you can ask a question, request an item, or attend fun whisky tastings and meet new people is a real perk.
Another perk is that at said tastings you can sample products that have been specially created just for that store. That's right, the owners and/or whisky specialists can go visit a distillery and choose how a specific barrel will be cask aged, thus creating something unique and special.
Ken Gordon (owner and manager of the Gordon's DTX location) and Holly Seidenwand (Gordon's current whisky specialist) have done just that many times, and their latest release was their Maker's Mark Private Select bourbon.
Flavor your own bourbon
Ken & Holly chose a specific Maker's Mark barrel, then combined the barrel staves (the wood that makes up a barrel) to create a unique flavor profile for the bourbon.
Gordon's Stave Choices
X 3 Baked American Pure 2
X 4 Seared French Cuvee
X 1 Maker's 46
X 1 Roasted French Mocha
X 1 Toasted French Spice
An interesting mix, no? Let's see how it came out…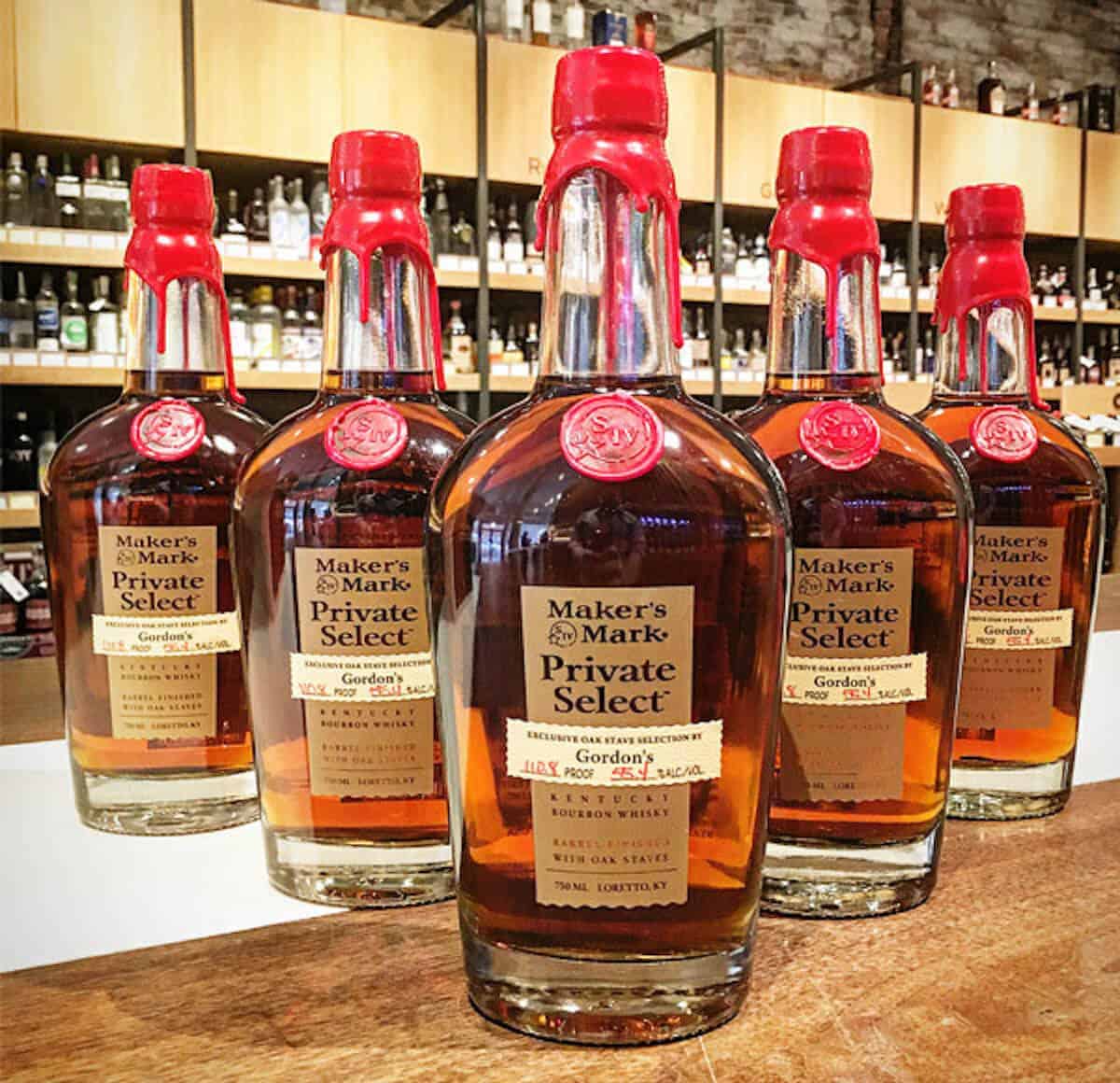 Gordon's Maker's Mark tasting event
At Gordon's DTX, November 1, 2017
Maker's Mark Original
45%ABV
Tasting Notes
Nose: bright, oak, burnt sugar

Taste: starts with sweetness, warm spice cinnamon,

Finish: a little astringent, lingers long with the soft spices

Comments: MM Original was one of the first bourbons I ever tried, and it's a solid favorite.
Maker's Mark Cask Strength
56.1%ABV
Tasting Notes
Nose: sharp cinnamon, corn more pronounced, slightly lemon

Taste: thick in body, heavier spiciness, more pine, the sweetness is balanced with the cloves

Finish: the burn on the back of the throat lingers with caramel & cloves

Comments: a more complex version of MM, character is present, the thick body stays in the mouth; my favorite of this pour list
Gordon's Private Select Maker's Mark Cask Strength
55.4%ABV
Tasting Notes
Nose: roses, vanilla, slight raisins, thick

Taste: the high proof dominates, but the body is thick, the sweet corn dissolves into a myriad cinnamon and oak

Finish: the finish goes up the nose, the warm spice lingers into a bit of darkness mocha and tobacco

Comments: it's got character & body...the rose scent was a nice surprise, a real treat; with water, get evergreen on the nose, softens it to a peppermints and sweetness, finishing piney and soft; I enjoyed this sample very much
Maker's Mark 46
47%ABV
Tasting Notes
Nose: vanilla and burnt sugar, not much else

Taste: vanilla and caramel, thick body, cloves

Finish: the taste doesn't last long, it's more a feeling in the roof of the mouth

Comments: not as impressed, doesn't have a lot of character so I was a bit let down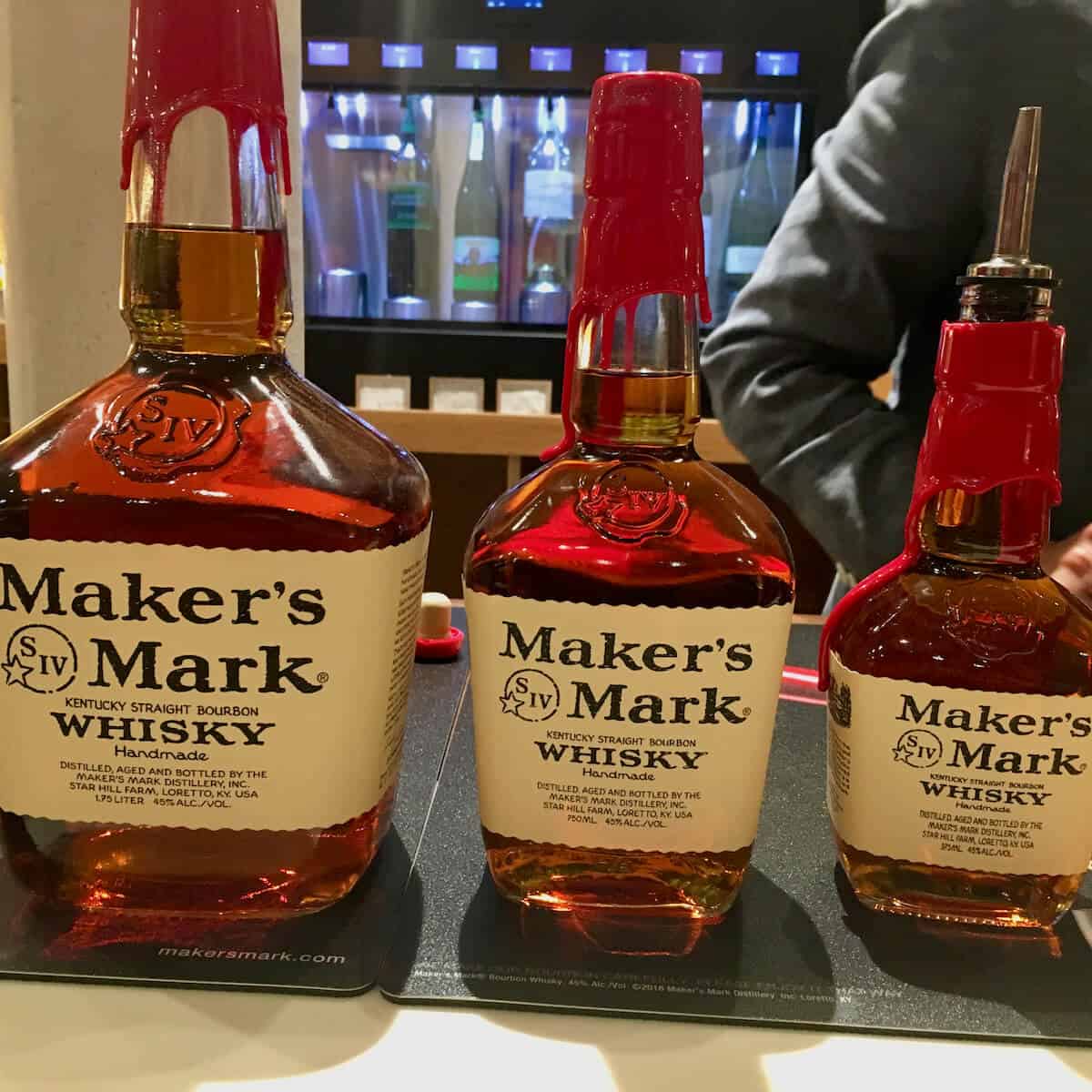 Final thoughts
The catch about Private Select barrels is that the supply is quite limited. Once they're gone, they're gone.
Usually there is a price premium to them as well that keeps me from purchasing as many as I would like, but I sometimes splurge on a bottle that really intrigues me. And because these bottlings are so unique, they make really interesting gifts for the whisky lover in your life (to my family…hint, hint).
If you have a local store that offers private bottlings, I highly encourage you to try them.
You'll be thankful, too!
Slainté! L'chaim! Cheers!
Tammy