The Kilbeggan Irish whiskey lineup has a great range of flavors, and not what you'd expect from Irish whiskey. With rye and cask finishes along with peated selections, there's something for every whiskey drinker to enjoy!

I've come a long way since the first time I had a triple-distilled Irish whiskey and was intrigued by the lightness of the spirit, only to have my preconceived notions upended when I had my first double-distilled Irish whiskey.
Since then I've had and enjoyed a number of expressions that are your classic Irish whiskey style, Midleton, for example.
So when I heard that Irish whiskey would be featured at Gordon DTX's Whisky Wednesday, I didn't think that the Kilbeggan Co. Irish whiskey lineup we were sampling would be unusual. Boy, was I wrong!
Expectations upended...again!
Just like the first time I had my expectations upended, I went into this tasting thinking I knew what was what. Light, easy drinking Irish whiskey, yada, yada, yada.
The first indication I was in for a treat was that I met Cathal O'Connor, the Regional Brand Ambassador for the Kilbeggan, the Tyrconnell, and the Connemara expressions we were sampling. I always like it when we can learn some interesting details about a lineup, and Cathal didn't disappoint (and was generous with his pours!).
One point he stressed was that the entire lineup from the Kilbeggan Distillery Co. were all double distilled (rather than the standard triple distilled). Very few Irish distilleries produce their whiskey that way. That was my second clue to this was going to be an interesting night.
The label doesn't tell the whole story
One by one as we went through the lineup, I noticed that what I thought that dram would taste like based on the label didn't match what I did taste.
For instance, a rye whiskey should have strong spicy, peppery notes, and flavored with anise, right? This one didn't for me.
For port cask finished samples I expected notes of plums and cooked fruit…wrong again! Each time, my expectations were upended. This was an interesting lineup indeed.
By the way, I had actually tried the Connemara Peated Single Malt Original previously as part of a greater peated whisky lineup. I liked it then, too.
Good times…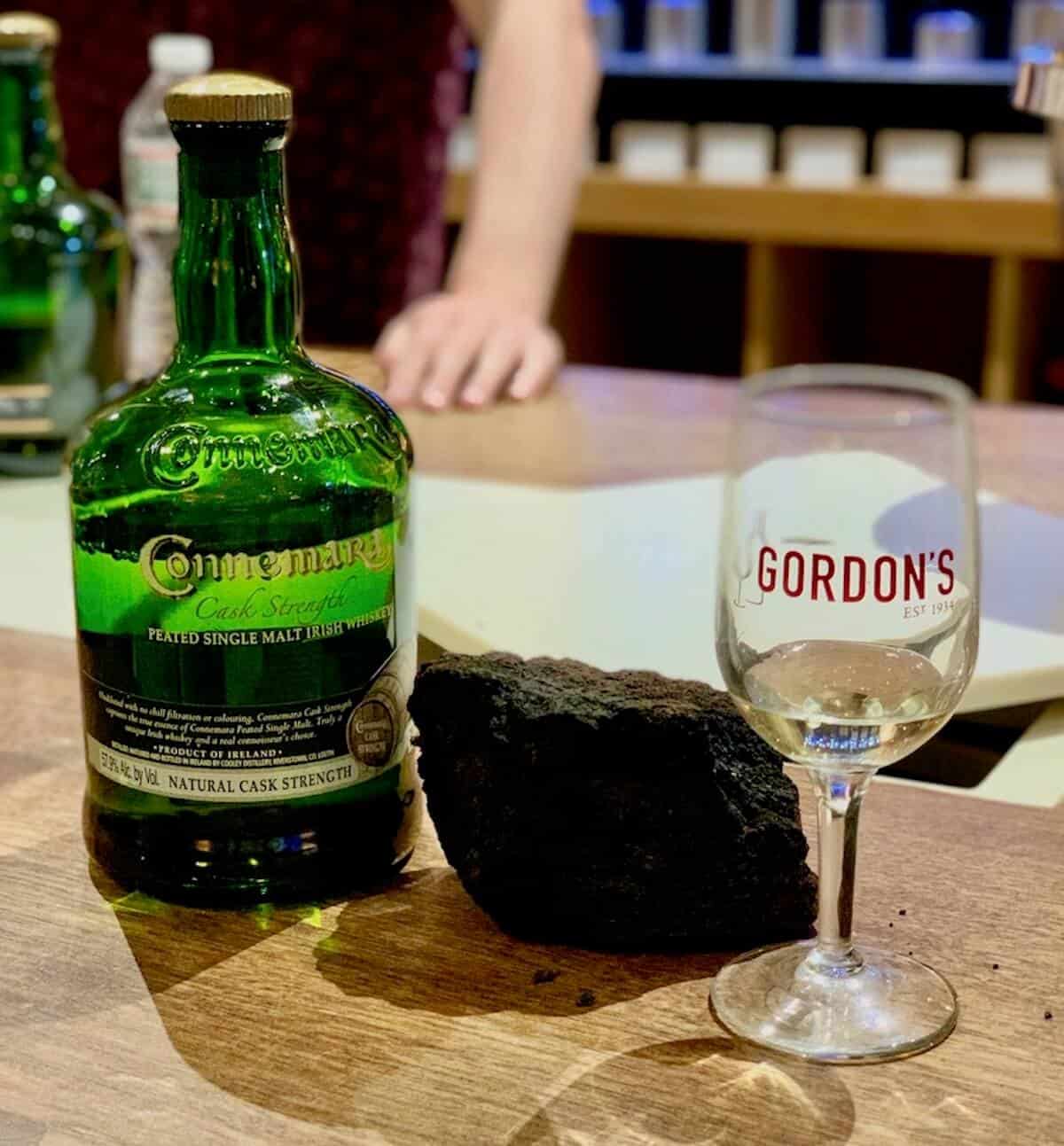 Kilbeggan Irish Whiskey Tasting
At Gordon's DTX, presented by Cathal O'Connor, June 12, 2019
Kilbeggan Single Grain
43%ABV
A fusion of Irish whiskey in the style of bourbon, 94% corn & 6% malted barley

Tasting Notes
Nose: honey, hay, sunshine, wheat

Taste: very soft entry, clover honey, thick and oily, chewy, ripe banana, creamed corn

Finish: very light baking spices and white pepper at the very end

Comments: very approachable, has depth of flavor, really appealing
Kilbeggan Small Batch Rye
43%ABV
30% rye & 70% malted and unmalted barley, it's the first modern Irish whiskey containing this amount of rye in almost 100 yrs
Tasting Notes
Nose: floral potpourri, cream, hay

Taste: starts soft then flavors rise, medium body, oatmeal, clover honey, rye rises up with softly spicy notes of white pepper and caraway

Finish: finishes with caraway and cardamom with a hint of corn sugar

Comments: lots of bread influence with a spicy kick at the end, not like a usual rye...really interesting, a sweet rye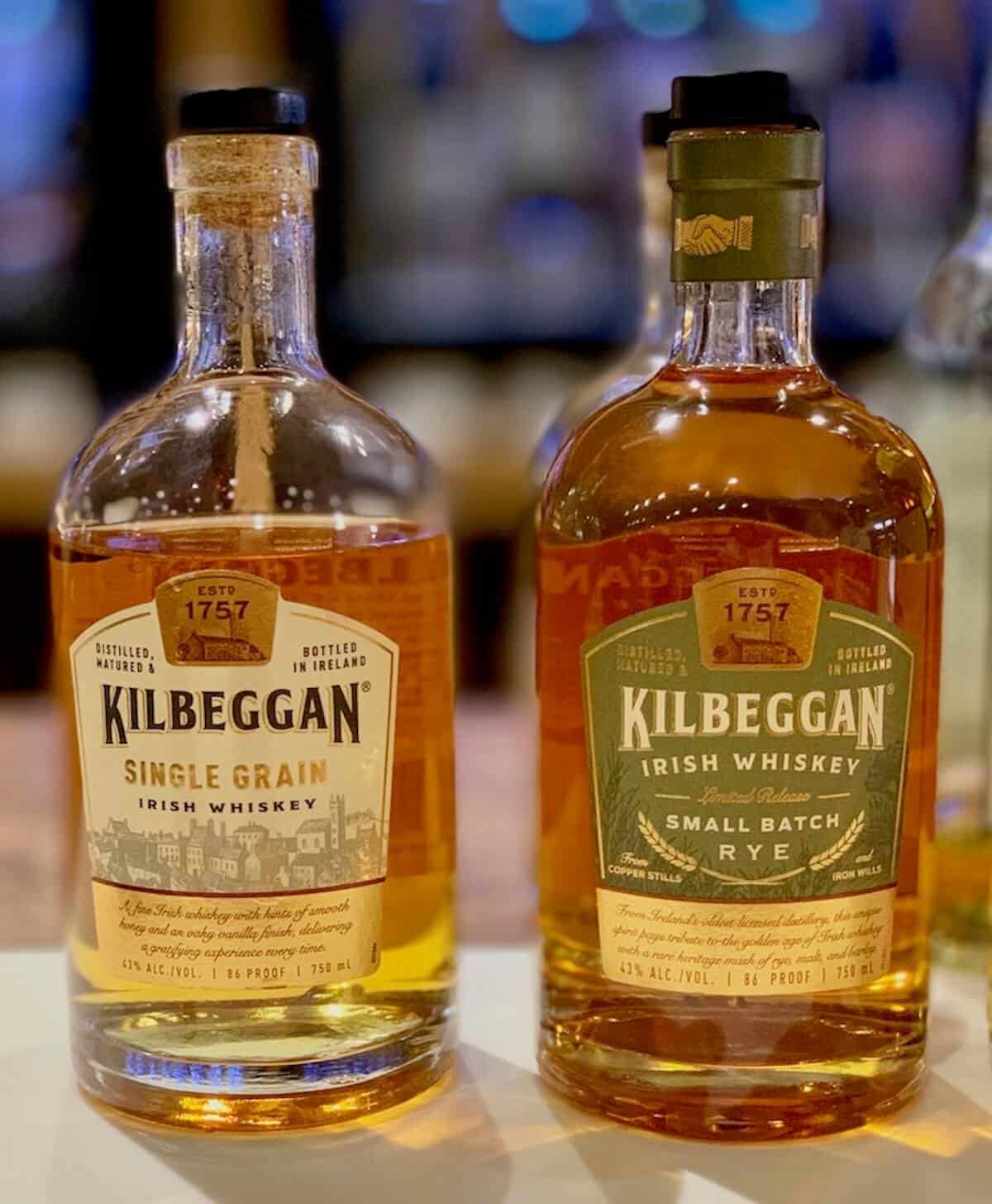 Tyrconnell Single Malt
Tasting Notes
Nose: peaches, cereal, cream

Taste: chewy, oak, medium body, coffee, cloves

Finish: coffee lingers, cloves

Comments: less sweet as is flavored with cloves and coffee, a different style from the previous batch and lovely in its own right
Tyrconnell Single Malt 10yr Port Cask Finished
Tasting Notes
Nose: light cream, pineapple

Taste: thick and oily, peaches and cream, vanilla fudge, nutmeg, green forest moss

Finish: creamy nutmeg, vanilla fudge

Comments: not your usual port cask…more tropical and creamy, excellent
Tyrconnell 16yr Oloroso & Moscatel Finished
Tasting Notes
Nose: corn, hint of mint, light peaches

Taste: thick, caramel, cinnamon

Finish: mint and brown sugar, prunes

Comments: competing flavors, very complex, not like any Irish whiskey that you'd expect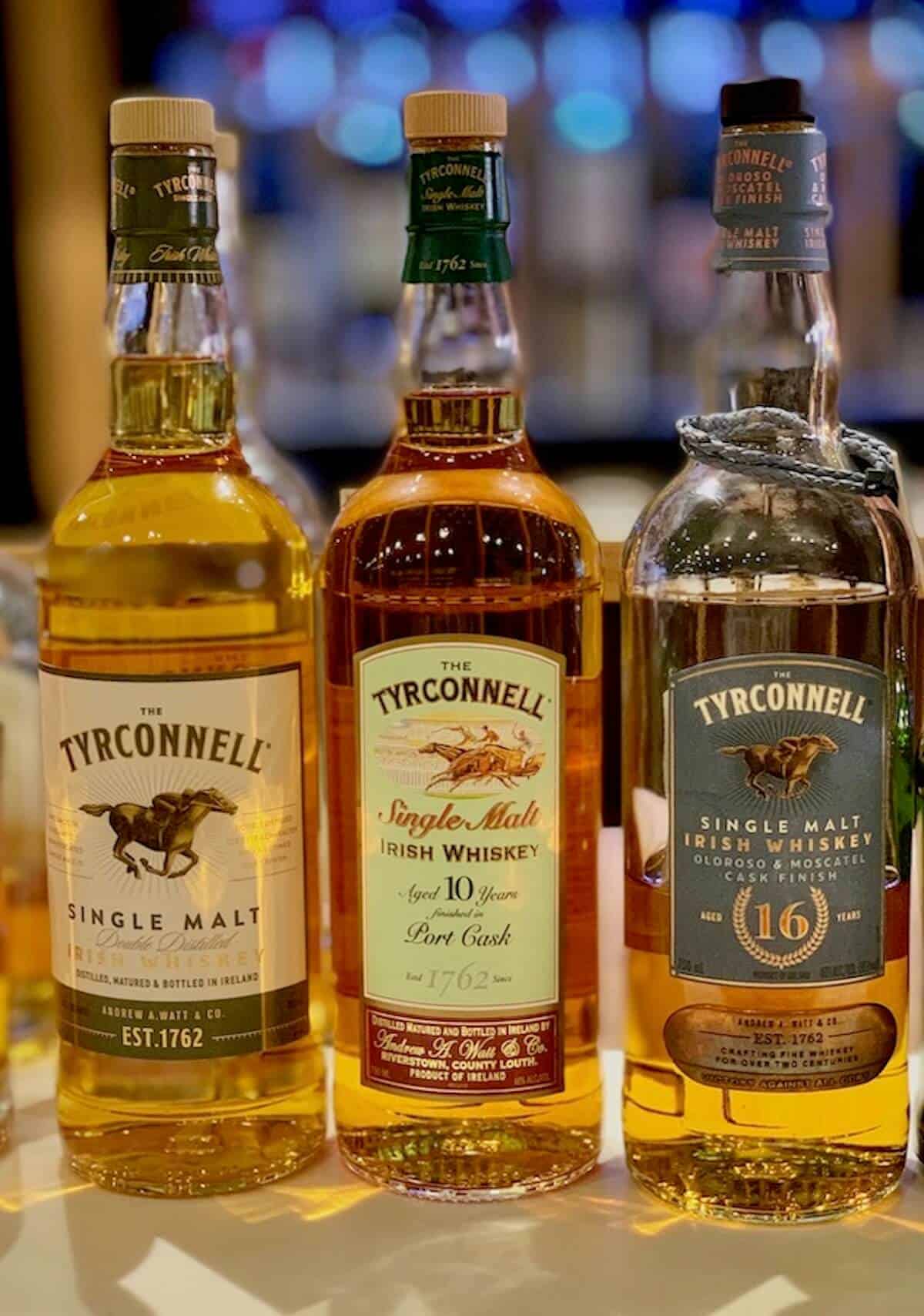 Connemara Peated Single Malt Original
40%ABV
This brand is the only peated single malt Irish whiskey currently available
Tasting Notes
Nose: easy ash, light wheat, oatmeal

Taste: smoke, menthol, leather

Finish: ashes, dryness, honey

Comments: an easy intro to peat, soft and pleasant
Connemara Peated Single Malt 12yr
40%ABV
This brand is the only peated single malt Irish whiskey currently available
Tasting Notes
Nose: very soft ash smoke, mossy, wheat

Taste: smoke forward, menthol, oak, soft sweetness

Finish: menthol lingers, smoke lurks behind

Comments: smoke forward
Connemara Peated Single Malt Cask Strength
57.9%ABV
Tasting Notes
Nose: peppermint candy, mossy

Taste: thick, oily, eucalyptus, mossy, campfire

Finish: ends with smoke, menthol

Comments: lots of green flavors, like wet smoke; this was an extra pour (not pictured)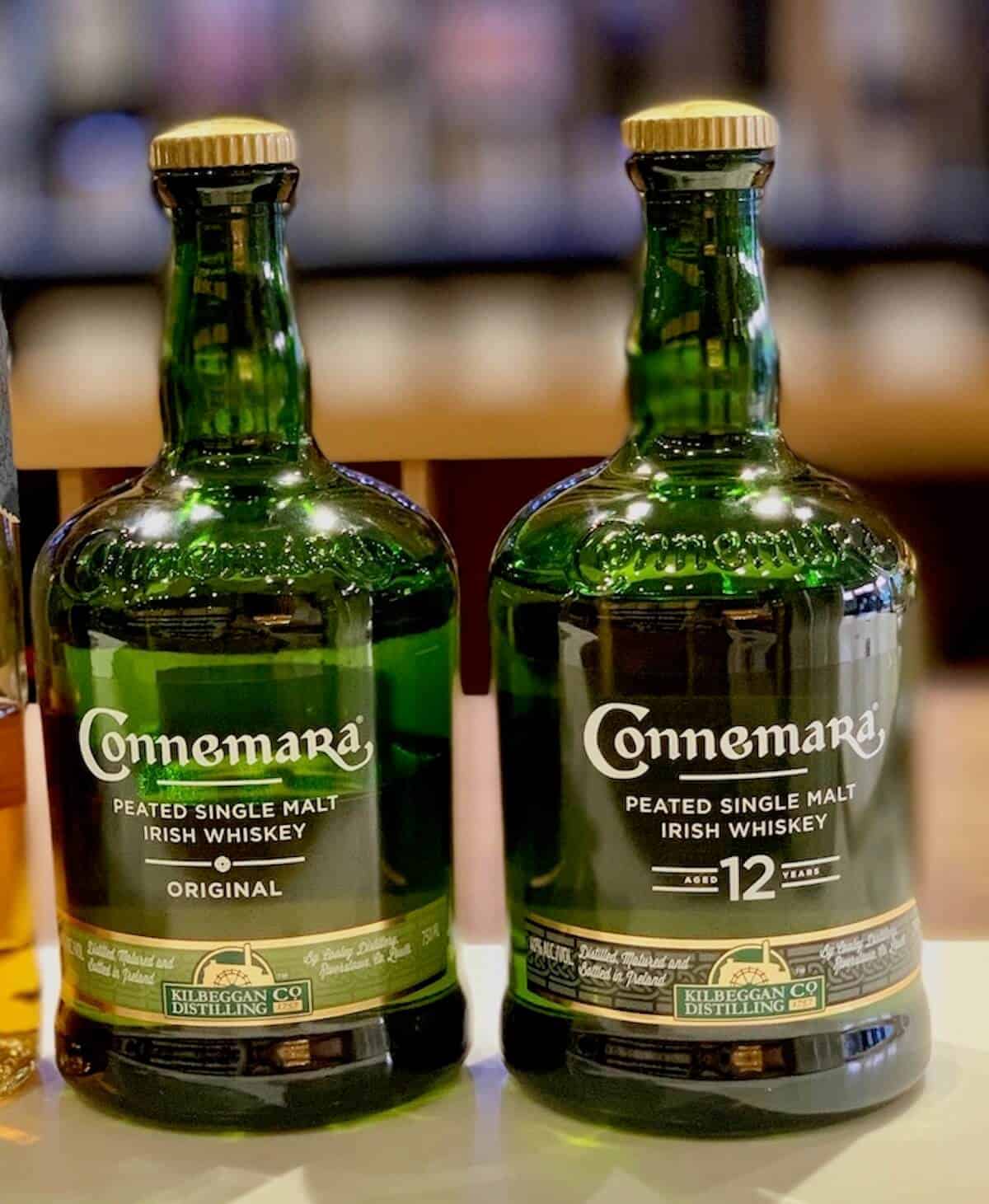 Final thoughts
I love to get my socks blown off when I go to a tasting, and since I wasn't wearing socks for this particular tasting, suffice it to say that I was really impressed.
Each one of these Kilbeggan Irish whiskey lineup expressions had its own story to tell, and that wasn't on the label.
If you get to have any of these lovely, tasty drams, open your mind and prepare to have your expectations about Irish whiskey upended.
Slainté! L'chaim! Cheers!
Tammy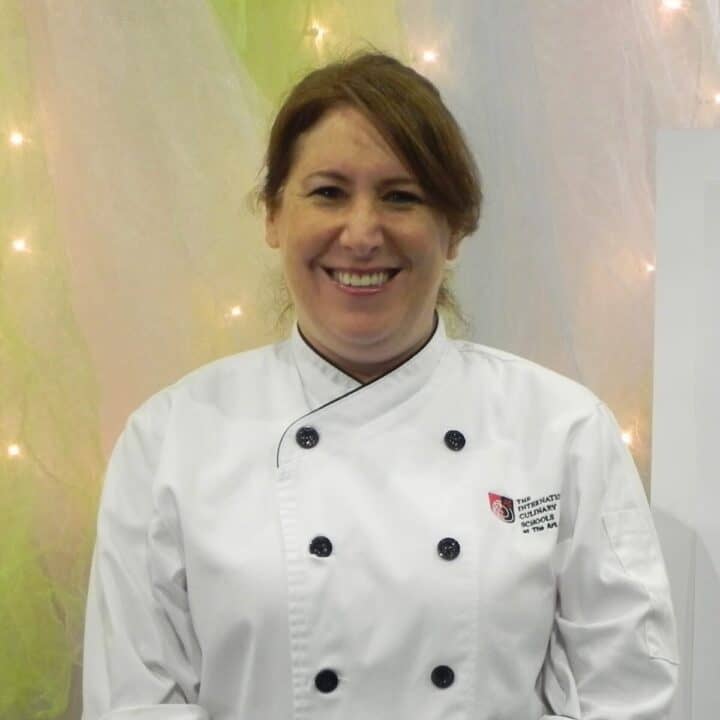 I hope you like this review! If you tried the expressions or have a question, I'd love for you to leave a comment below. Thanks!