It's Ireland vs. Scotland, where we pit Irish Single Pot Still Whiskey against Single Malt Whisky. The two styles are quite distinctive, so who will wins? We do!
Ireland versus Scotland. Who's whisk(e)y is better?
I know that both countries are beautiful and their people are friendly and welcoming. I'd really love to visit there someday.
I went to a tasting event hosted by the North Shore Whisky Club. This event pitted single pot still Irish whiskey against single malt scotch, and the two styles were quite distinctive.
Let the tasting battle begin!
Irish Single Sot still and Scottish Single Malt Distilling
The evening was presented by Alex Thibault, Brand Ambassador for Whiskeys of Midleton/Irish Distillers Ltd/Pernod Ricard. Alex gave us a lot of interesting tidibts to think about as we were imbibing, and a good time was had by all.
I've tasted and reviewed Irish whiskey before. Coincidentally, I tasted then some of the whiskey expressions below, and it's good to know that my current review isn't too far off from then. Go me!
In that post, I discussed how Irish whiskey is distilled differently than scotch, so I won't go into that topic here (good, we can read it ourselves, thanks). I also discussed the spelling of whisky vs. whiskey. Good times.
One interesting factoid that I want to note is that while scotch is made with just malted barley (that is, barley that has been partially germinated, then heated to stop the germination process), Irish whiskey uses either all or some unmalted barley.
This difference results in more grain or hay flavors in the expression. I really noticed this difference during the tasting, as reflected in my notes.
Let's go to the review, shall we?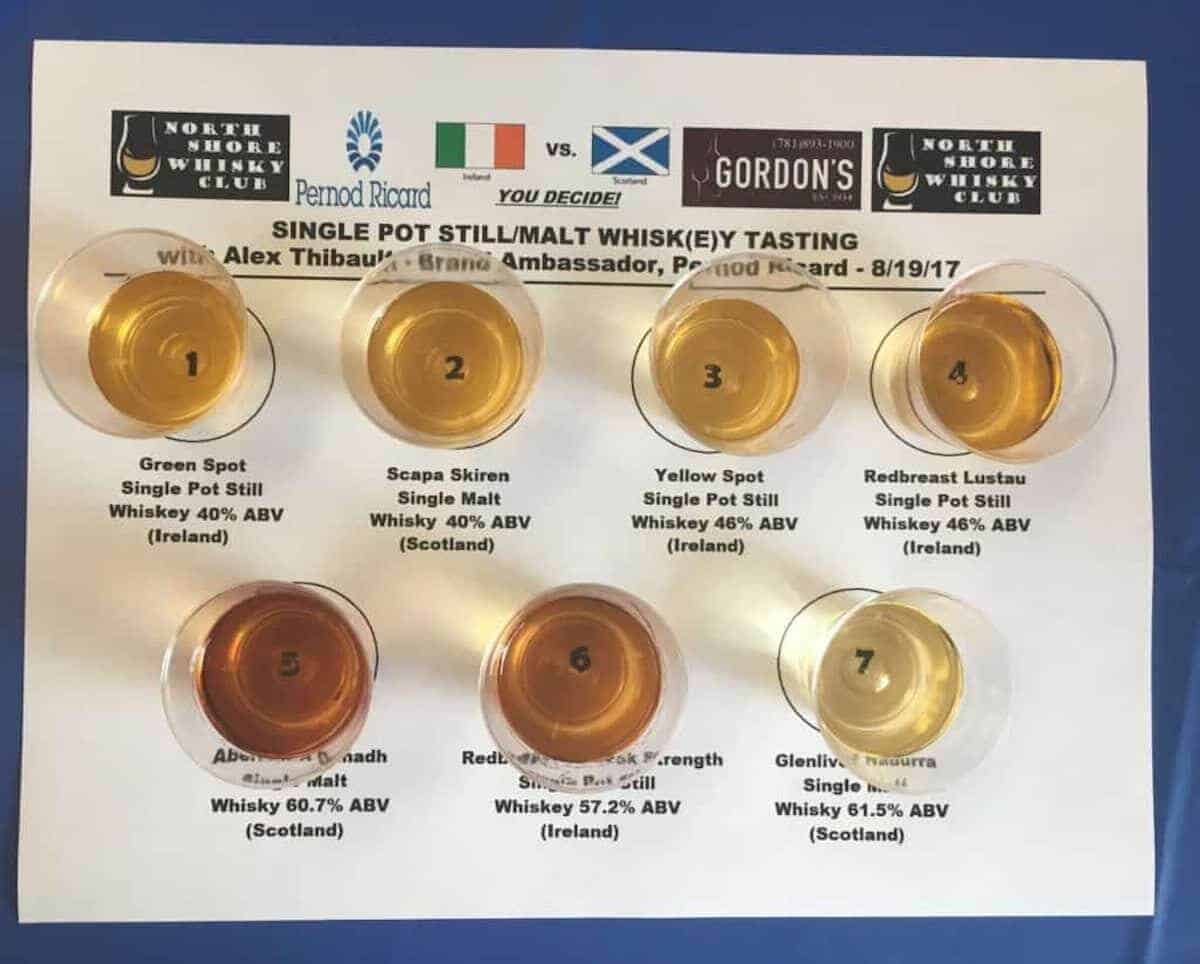 Irish Single Pot Still Whiskey vs. Scottish Single Malt Whisky tasting
Hosted by the North Shore Whiskey Club, presented by Alex Thibault, August 19, 2017
Green Spot
Tasting Notes
Nose: green apple, honey, white chocolate

Taste: enters softly, grains, green apple, white chocolate, lightly floral, lemon rind, light body

Finish: spice rises, pepper last on the back of the tongue

Comments: a soft, light sip, not harsh, easy and approachable
Scapa Skiren
Tasting Notes
Nose: oranges, clover honey, hay, salt

Taste: soft & light body, hay & floral orange blossoms

Finish: taste doesn't linger, some evergreen notes

Comments: very light and bright, another easy drink
Yellow Spot
Tasting Notes
Nose: heavier aroma, more caramel, vanilla, slight cooked fruit

Taste: creamier & oilier than Green Spot, pears, toffee

Finish: butter lasts after the pepper fades

Comments: more body & has interesting character
Redbreast Lustau
Tasting Notes
Nose: cooked fruit, hay underneath, burnt sugar

Taste: sneaks in with the cooked fruit, brown sugar candy, light body but more texture

Finish: exits sweetly, brown sugar, slight menthol at the end

Comments: sherry really adds character, still light in body, Very nice!
Aberlour A'Bunadh
Tasting Notes
Nose: sherry hit with deep ripe fruit, caramel, floral

Taste: bigger & bolder, chocolate oily, caramel

Finish: cinnamon & cloves last, heats the throat

Comments: definitely cask strength, excellent! w/ water: hoppiness, floral bitterness, sweet dark chocolate, heavy cream
Redbreast 12yr Cask Strength
Tasting Notes
Nose: green apple, light gran

Taste: medium body, honey & vanilla, toffee

Finish: toffee, cayenne, cloves, nutmeg

Comments: cask strength adds some bite; w/ water: grass notes, green apple, hops, more bitter
Glenlivet Nadurra
Tasting Notes
Nose: campfire smoke, white chocolate, pears

Taste: butter & clotted cream, sweet marshmallows

Finish: cream filled doughnuts, some ash on the tongue

Comments: aged in Laphroaig casks, even at cask strength it's not harsh, very drinkable…so good!! My favorite of the night; w/ water: green grass with some sweet cream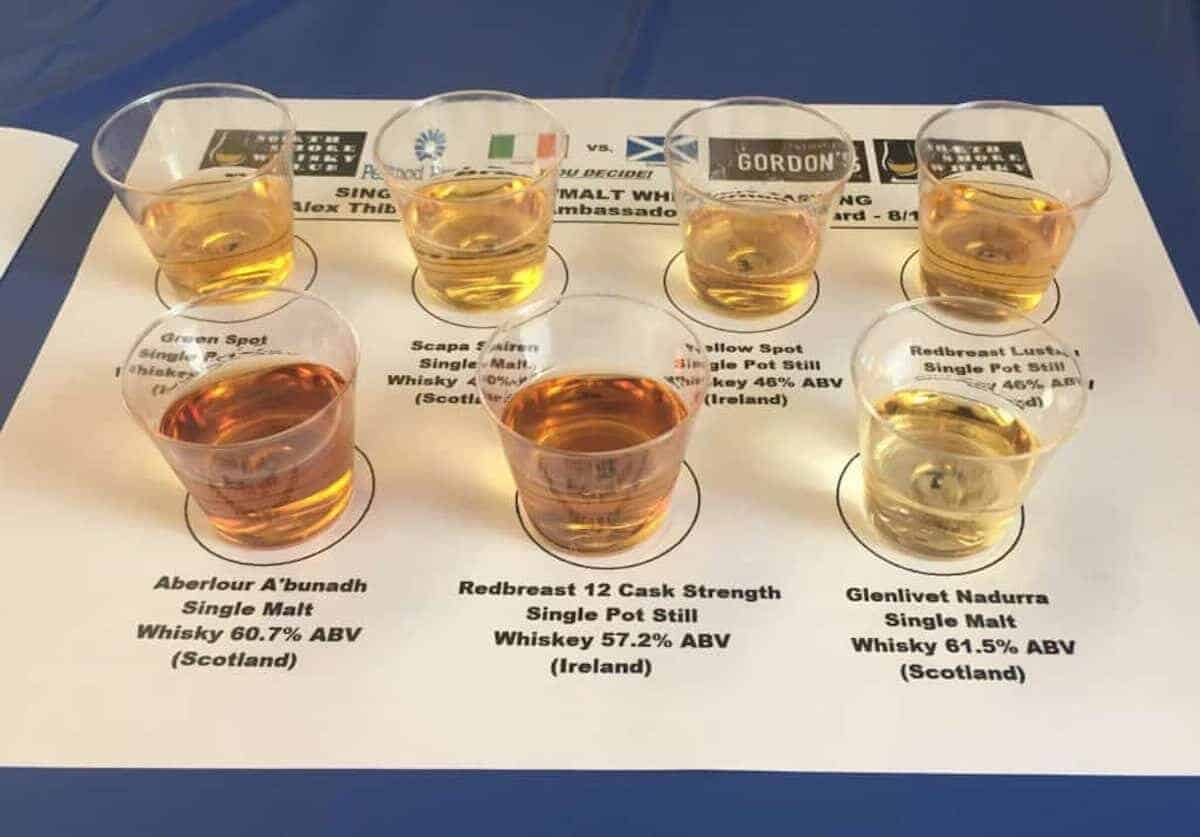 Final thoughts
For me, the Glenlivet and Aberlour scotches won the day over the Irish whiskey generally, but the Lustau rounded out my top three.
I really liked the Laphroaig-infused peatiness of the Nadurra that went along with the sweetness of that Speyside spirit. It had the most character of the lineup. And you can't beat the bold, sweet strength of the Aberlour. There's a lot going on in that glass.
I do like Irish whiskey as it's lighter in flavor and body, but I really enjoy a dram I can sink my teeth into (so to speak), and scotch generally provides that in spades (so much for not mixing metaphors).
So who wins this head-to-head matchup? We do!
Slainté! L'chaim! Cheers!
Tammy
Related Tasting Notes
Scotland's whisky regions have such a rich and diverse array of flavor profiles and distinct characteristics from which to choose. Here's where you can find a scotch I've reviewed based on its region. Slainté!