Tasting Laphroaig and Bowmore from Islay is a wonderful draw when attending the New Hampshire Highland Games and Festival. And when Simon Brooking is leading the tasting, you know it'll be fun and informative!
I've gone to the New Hampshire Highland Games and Festival now for the last several years.
The first year I convinced my husband to go because I had just discovered the TV series, Outlander, and was now fanatical of all things Scottish.
And before you ask, no, I'm not Scottish by birth. I'm an "Honorary Scot" by virtue of the fact that I have red hair and freckles and because I decided to be (so there!).
It was at the Games that I first tasted scotch, and I've been hooked ever since.
Heading to the Highland Games for the scotch
Each year I've signed up to go to the Highland Games scotch tasting hosted by the wonderful Simon Brooking, Brand Ambassador for Laphroaig, and I've yet to be disappointed at one of his presentations.
Funny, dynamic, and highly informative are just a few of the adjectives I could use to describe Simon.
Above all, he's a proud Scot and a thoroughly entertaining Laphroaig Ambassador who's love of the "uisge beatha" (that's Gaelic for "Water of Life" and is pronounced "ooska-veha") shines through.
There were 2 old favorites and 2 new pours in this year's lineup. I had tried the Laphroaig Quarter Cask and the Laphroaig Lore before and enjoyed them both. The Bowmore 15 was a surprise, and I was eager to try the Laphroaig Cairdeas 2017. The distillery's descriptions are presented in the italics.
Let's go to the notes!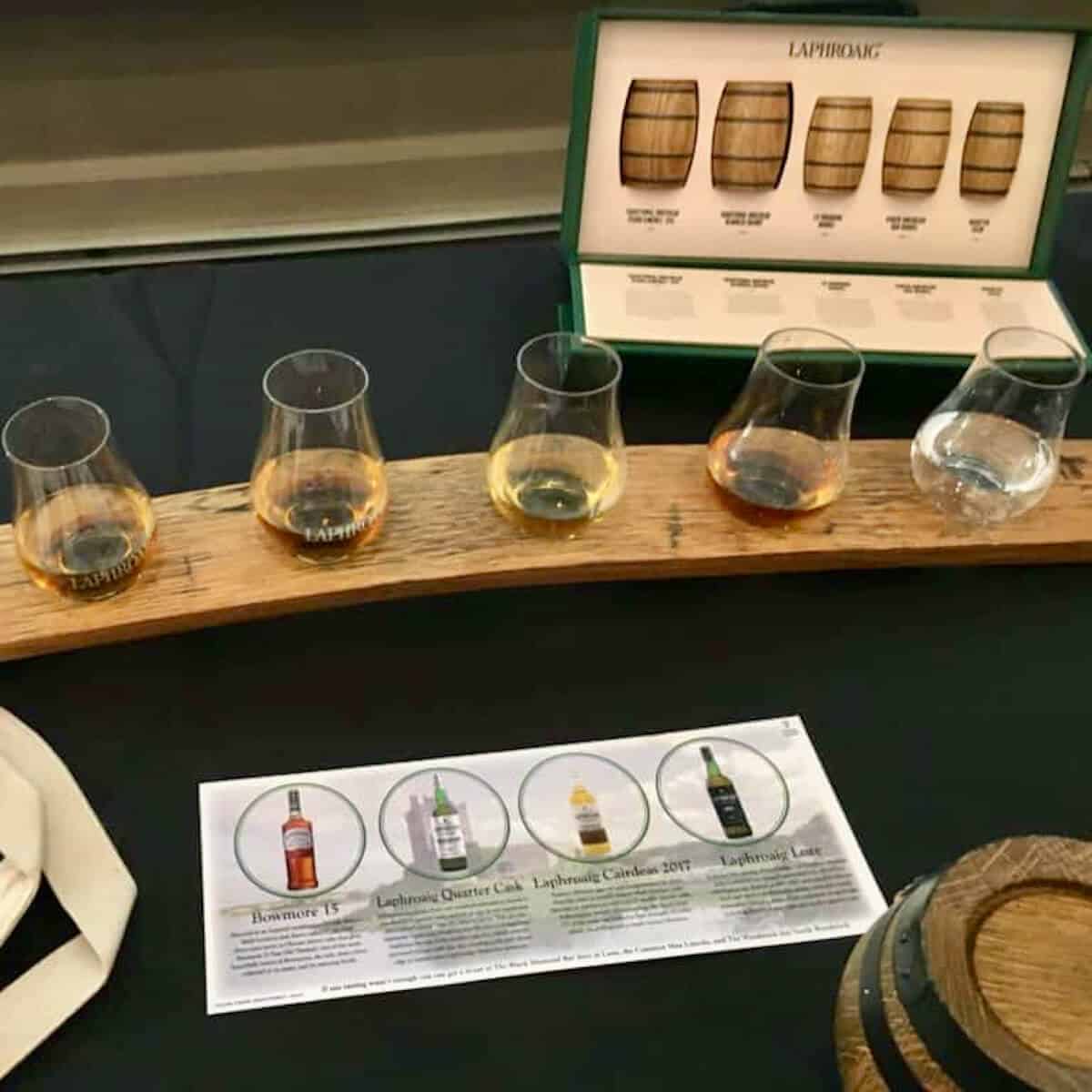 Laphroaig and Bowmore Highland Games Scotch Tasting
At the New Hampshire Highland Games and Festival, presented by Simon Brooking, Sept 16, 2017
Bowmore Darkest 15
43% ABV Rich raisins and gentle smoke lead the way to a delicious chocolaty centre. Matured in an inspired combination of both Marker Mark bourbon and sherry cases, it's the final three years spent in Oloroso sherry casks that gives Bowmore 15-year-old "Darkest", one of the most beautifully balanced Bowmores, the rich, deep colour reflected in its name, and its warming finish.
Tasting Notes
Nose: Primarily peat, light deep fruit, slight caramel and white chocolate, maple sugar

Taste: Medium body, chewy, oily, sweet butter, raisins, low smoke, some cinnamon

Finish: Smoke lasts subtly, some sweet dried apricots, lightly cinnamon

Comments: Very approachable, the smoke is not a slap but a lovely entry; with water: butter comes through, chewier, smoke more prevalent, sweet lingers to the last
Laphroaig Quarter Cask
48% ABV
Still-maturing whisky from our standard ex-bourbon barrels is transferred to quarter casks and left to rest in our warehouse just a stone's throw from the Atlantic shore. This process represents Laphroaig breathing new life into a once-defunct tradition: the use of the smaller cask size, which ensures increased contact with the oak, creating a soft and velvety edge to complement Laphroaig's distinctive peatiness.
Tasting Notes
Nose: Medium smoke, iodine, matches, dried hay or cereal

Taste: Burst of smoke, sweet brown sugar, yellow hay, light oily body

Finish: Tannic dryness, ends in beach bonfire ash and maple candy

Comments: Quintessential Laphroaig – smoke with sweet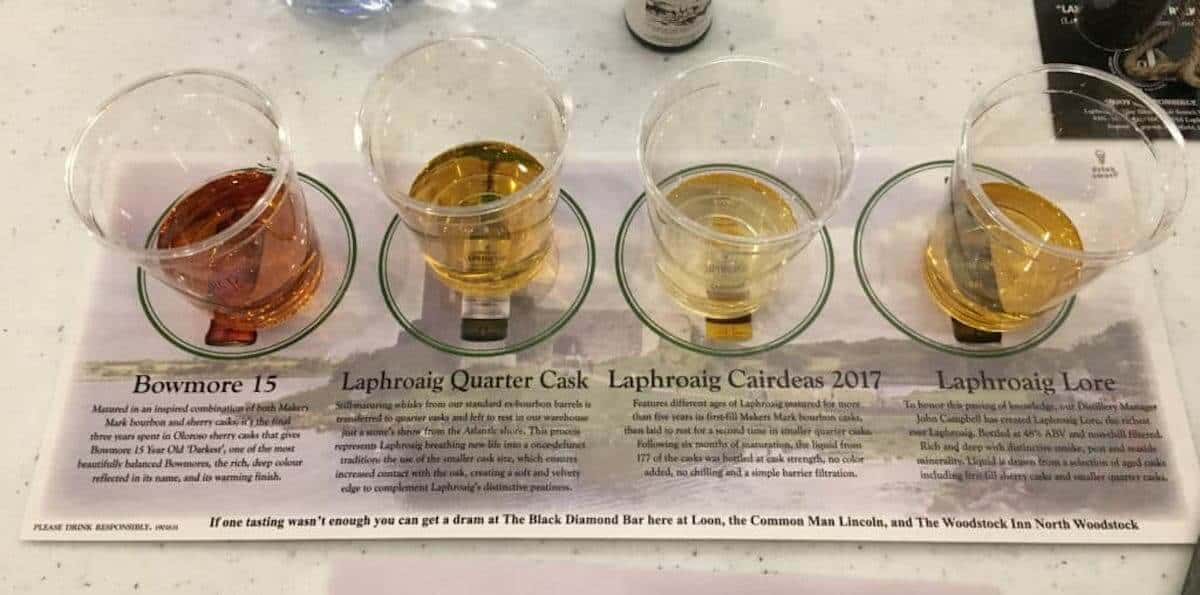 Laphroaig Cairdeas 2017
57.2% ABV
Cairdeas (Gaelic for "friendship") is a yearly limited-issue bottling produced for the annual Féis Islay celebration. The 2017 expression is a Cask Strength version of the popular Laphroaig Quarter Cask. Features different ages of Laphroaig matured for more than five years in first-fill Makers Mark bourbon casks, then laid to rest for a second time in smaller quarter casks. Following six month of maturation, the liquid from 177 of the casks was bottled at casks strength, no color added, no chilling and a simple barrier filtration.
Tasting Notes
Nose: Butter! Strong white chocolate

Taste: Creamy then bonfire, still oily but lighter in body than the Quarter Cask

Finish: Oily fat on the tongue, tobacco aromas

Comments: Lighter than the Quarter Cask, seems less flavor but is easy to drink
Laphroaig Lore
48% ABV
To honor this passing of knowledge, our distillery Manager John Campbell has created Laphroaig Lore, the richest ever Laphroaig. Bottled at 48% ABV and non-chill filtered. Rich and deep with distinctive smoke, peat and seaside minerality. Liquid is drawn from a selection of aged casks including first-fill sherry casks and smaller quarter casks.

Tasting Notes
Taste: thick body that ushers in a beachy ashy smoke, tropical fruit is subtle

Finish: the thickness continues, spicy cloves and sweet caramel sugar, a burn at the back of the throat provides a pleasant memory

Comments: the character of this dram resides in the taste…not a slap of beachy peat smoke but creamy oiliness that lures you in. This expression is designed to represent the basic components of Laphroaig: smoky, peaty, floral, spicy, sweet, and dry.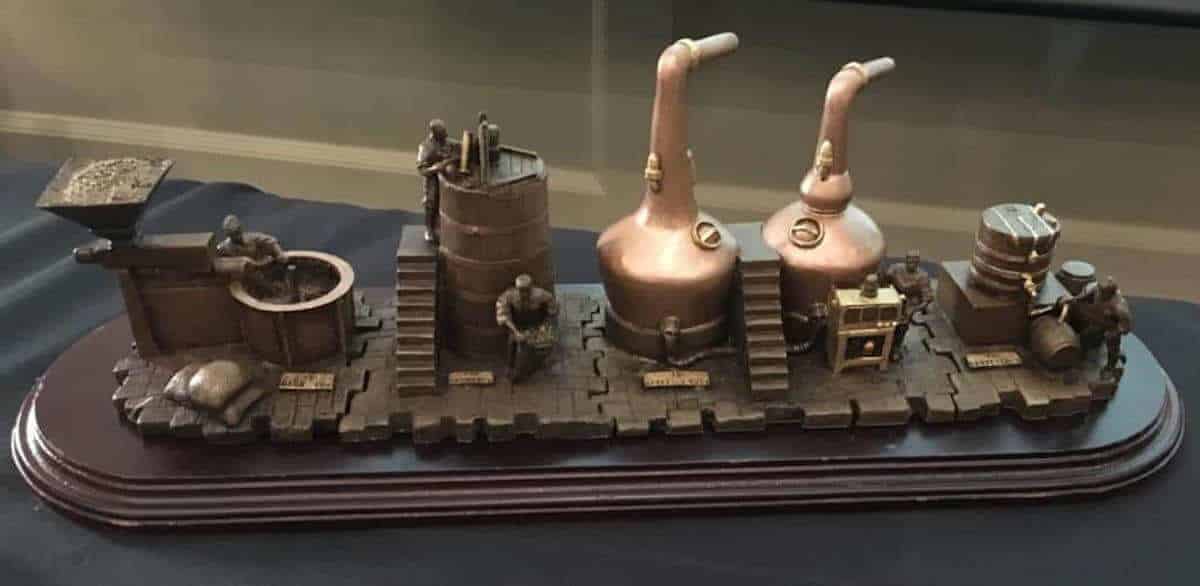 Final thoughts
The Bowmore was a pleasant surprise. Having never tried one of their expressions before, I thoroughly enjoyed this dram and will definitely keep my eye out for it. The Lore is always a treat, one of those unicorn sips that I don't get to sample that often.
Interestingly enough, I wasn't as taken with this year's Cairdeas bottling, preferring the regular Quarter Cask to it. I loved the Cairdeas 2016 and should probably run out and get more while I still can!
I left the tasting feeling energized and informed. No matter how many times I attend a tasting led by Simon (and the number is growing!), I learn something new.
It may have been Outlander than started me on this journey of all things Scottish, but Laphroaig and Simon have been able tour guides!
Slainté! L'chaim! Cheers!
Tammy