It's nice to be able to support a local Boston distillery, and Bully Boy makes it easy. Tasting their American Whiskey, Boston Rum, and an Old Fashioned bottled cocktail is just a small sample of their lineup.
We celebrated Mother's Day a couple of Sundays ago, and my family treated me to something I hadn't done before...we toured a whiskey distillery.
Oh, I'd visited breweries and wineries, but I'd yet to see in person how whisky was made.
And since my dream trip to Scotland and Ireland hasn't yet fallen into place, I was pleased that my daughter arranged for us to visit to Bully Boy, a local Boston distillery.
My whisky-geek's heart went pitter-patter!
Rum history in New England
Massachusetts, like many other areas around the world, has a growing distilling industry. The region boasts many breweries and wineries, and distilling spirits is coming back.
(Why coming back?)
Well, for those that remember their US history, New England was one part in the (shameful) triangle trade of humans from Africa, molasses from the Caribbean, and rum from Boston.
At its heyday in 1770, New England had almost 160 distilleries using millions of gallons of Caribbean molasses. Think of old-fashioned molasses cookies and gingerbread, and you'll get a sense of the importance of this sweetener.
Distilling rum declined steeply through the 19thcentury, and Prohibition pretty much ended it, though not completely.
(Ok, enough with the depressing history lesson!)
On a happier note then, with the resurgence of demand for rum, gin, vodka, and whiskey, we're seeing many new distilleries open in New England in general, and Boston in particular.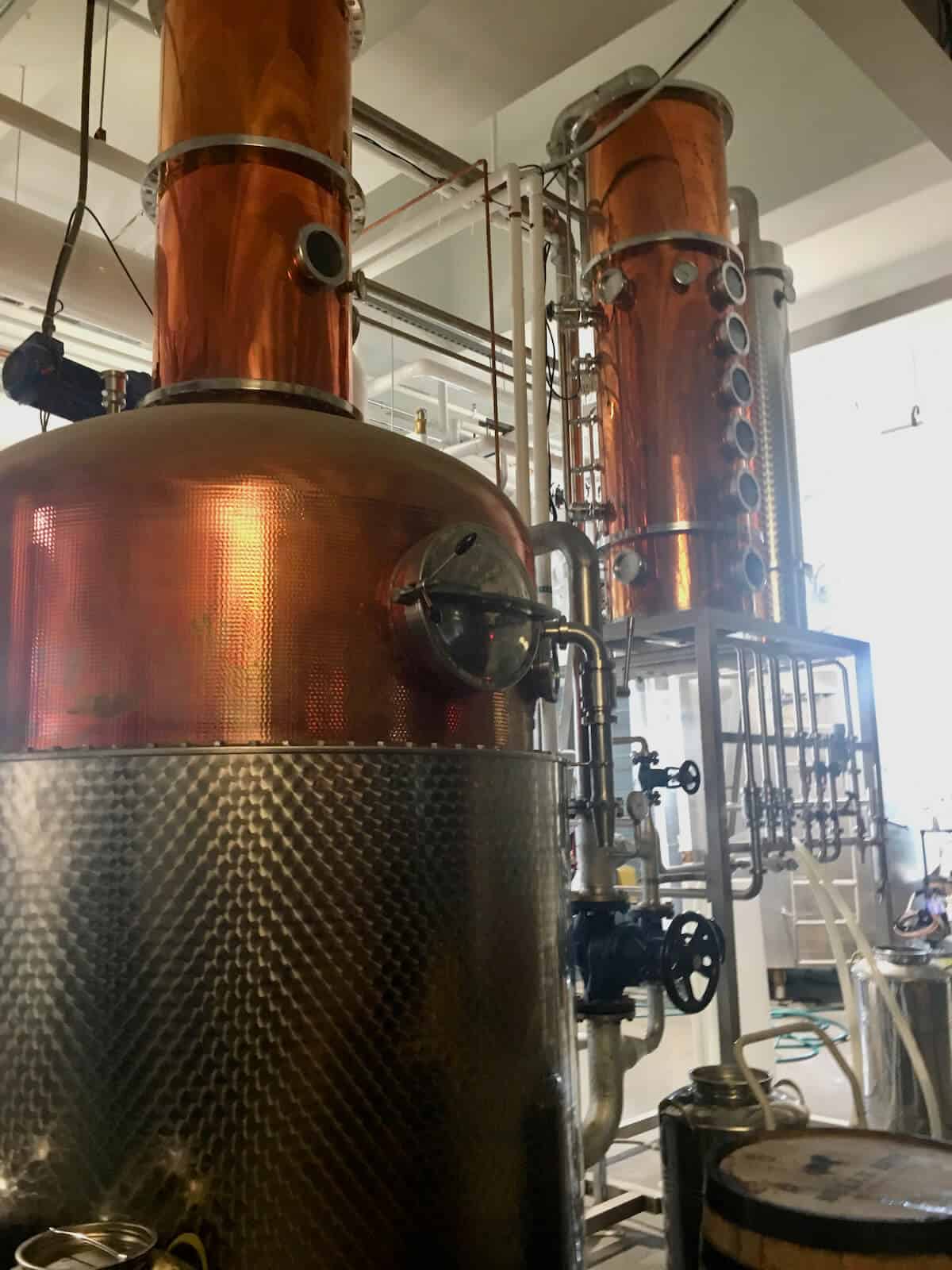 The local whiskey scene
Bully Boy is housed in a non-descript building in Boston's Roxbury neighborhood. The entire distilling production takes place in one large room, and the barrels are aged across the street.
There is a charming tasting room separated from the production floor by a large glass window…you can sip some pretty interesting cocktails that feature Bully Boy's line up of whiskey, rum, vodka, and gin while watching the going's on at the still.
Since we toured on a Sunday, their production line wasn't running, but I could imagine what the smell would be like, a mixture of grain, alcohol, and label glue.
And the noise from the bottling machine must be deafening!
Anyway, our tour guide, Adrian (who doubles at the lead bartender), gave us a detailed look into the distilling process and patiently answered all my questions.
His counterpart Riley tended bar that day, and she gave us great suggestions as to what to try off the menu. I had "The Dark Stuff" spirit flight, a nice line up of some of Bully Boy's offerings, including their bottled Old-Fashioned cocktail. Premixed premium cocktails are gaining popularity, so it's not surprising to see this on the menu.
To read more of Bully Boy's interesting origin story, head to their website.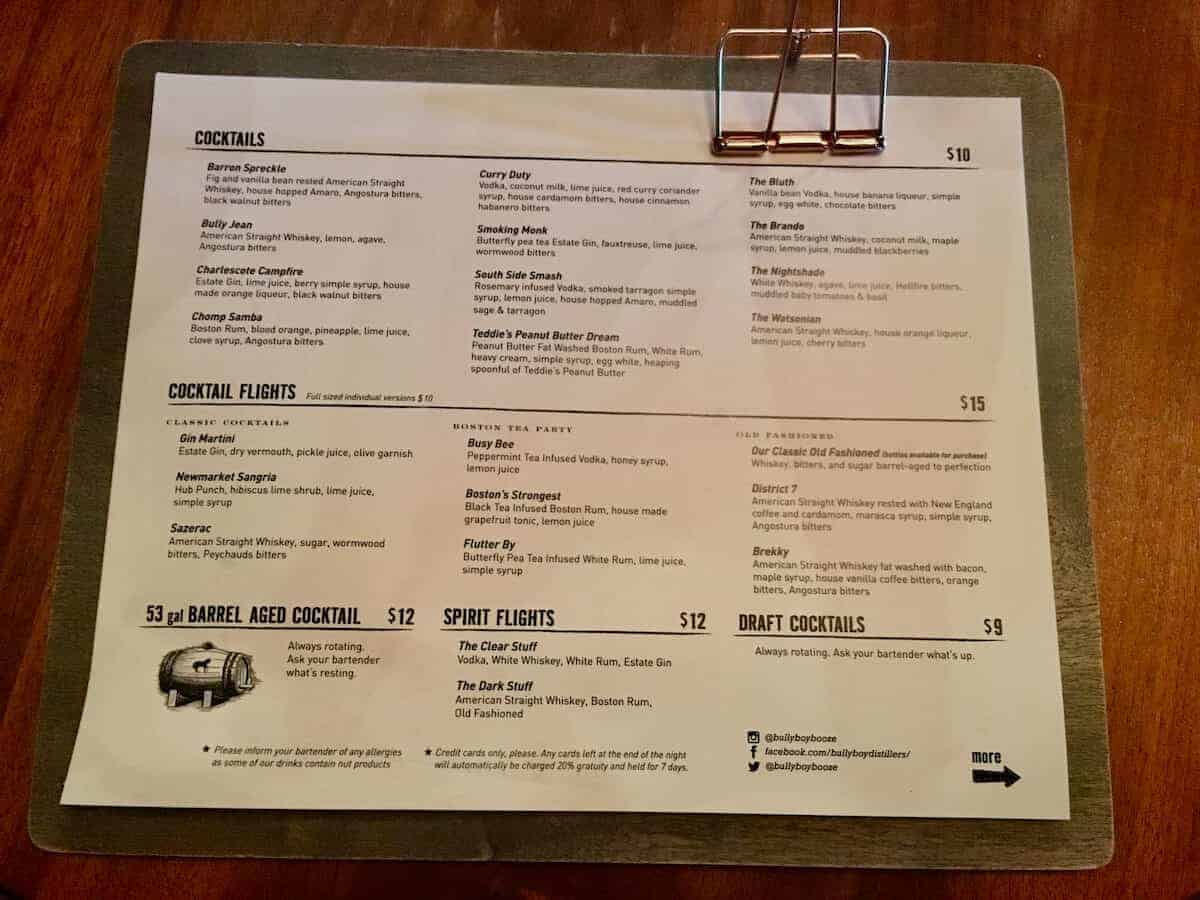 Bully Boy "The Dark Stuff" spirit flight
At the Bully Boy Tasting Room, May 13, 2018
American Straight Whiskey
42%ABV
Tasting Notes
Nose: corn, caramel, vanilla fudge, caraway, soft baking spices

Taste: cloves, nutmeg, white pepper, rye nuttiness

Finish: fades to herbal notes from the rye, sweetness lingers

Comments: an easy sip of whiskey, soft and approachable, no harshness, quite fine, my favorite of the lot
Bully Boy Boston Rum
40%ABV
Tasting Notes
Nose: herbal, deep molasses, licorice

Taste: dark molasses, sweet gingerbread, caramel candy, slightly herbal, almost like a burnt coffee note

Finish: fades to black licorice, dark and sweet

Comments: much deeper flavor than most rums, distinctive, strong burnt sugar accents, like drinking a molasses cookie
Bully Boy Classic Old Fashioned
37%ABV
Made from whiskey, bitters, sugar, and is barrel aged
Tasting Notes
Nose: caramel toffee sugar, orange citrus, lightly pine

Taste: brown sugar candy, vanilla fudge, med body, basil underneath

Finish: the caramel sweetness lasts long, herbs at the tail end

Comments: all sugar, all the time; great if you like whiskey balanced with sugar, the bitters give a slight medicinal quality that counteracts the sugar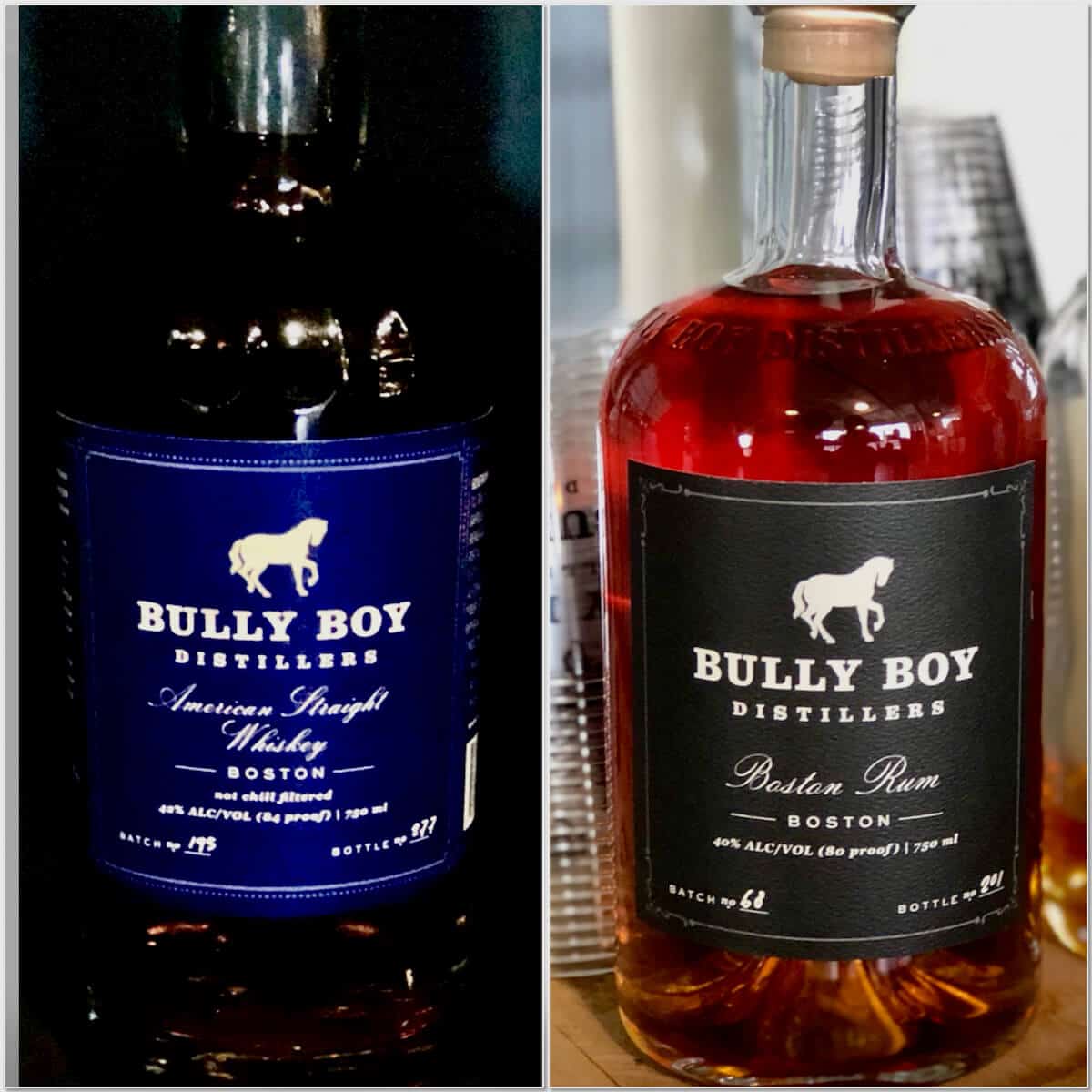 Final thoughts
Aside from being a whisky geek wanting to see the process up close, I really like the fact that I can support a local craft distillery. I've seen Bully Boy on retail shelves and cocktail menus, and I'm glad that they're developing a following.
I may not have made it to Scotland & Ireland yet, but it's nice to know that there are Boston local distilleries that I can go, have a dram, and geek out!
Slainté! L'chaim! Cheers!
Tammy