Exploring the effects that oak casks have on aging scotch and exploring how well food can pair with scotch both are worthy activities. The Springbank Single Cask Oak Exploration provides the perfect setting on both counts.
Food and drink…it kind of rolls off the tongue, doesn't it? Or rather, it rolls back across your tongue and down your gullet, but that's not the point.
It's nice to sip on something, but it's even nicer to have something to chew on as well, and especially with scotch, something that completes the picture of the dram by enhancing or contrasting a certain flavor characteristic.
Today for show and tell I'm going to share with the class the tasting notes of a Springbank Single Cask Oak Exploration Seminar that I not only attended, but created a snack for each pour.
Chew on that!
Pairing food & spirits
Coming up with what food to pair with what whisky takes a bit of creativity. My knowledge of how the dram sits on my palate informs me on what flavor I want to highlight.
Here is the rub…usually when trying to figure out what to highlight for a particular expression, I get to sample the product and see for myself what flavors shine or peek out.
For this tasting lineup, I wasn't able to have this advanced taste, so I was flying blind. Well, not quite blind, as all the expressions had a particular cask finish…that I could work with.
Exploring oak cast finishes
Here's how Holly Seidewand, Gordon's whisky specialist, introduced the pour list: "Enjoy the beauty of the Springbank spirit, in all of its layers and qualities, and see how it's showcased with each style of oak cask. All are limited edition, single cask releases."
So the challenge then was to draw on my experience with my palate to identify a flavor profile for a particular type of cask finish and apply those impressions to what food would enhance or contrast said profile.
Challenge accepted!
[cue some appropriate ninja-style music here, perhaps "Eye of the Tiger"?]
So without further ado (Good…we're about done with all your ado!), here are the tasting notes for each pour along with a description of what food I paired with it (in italics).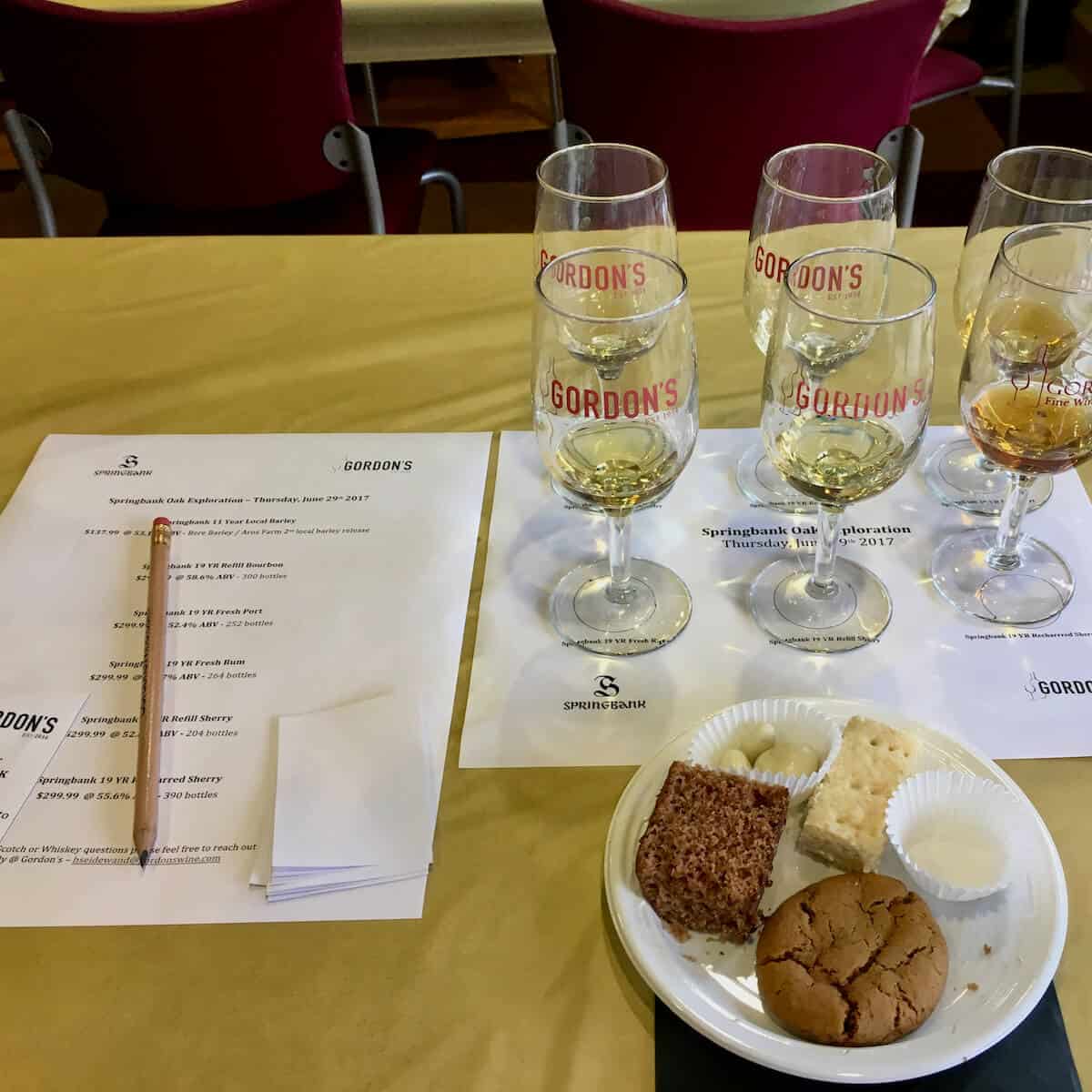 Springbank Single Cask Oak Exploration Seminar
At Gordon's Main St, presented by Holly Seidenwand, June 29, 2017
Springbank Single Cask 19yr Refill Bourbon
58.6% ABV
300 bottles released
Spice cake…notes of ginger, cardamom, and cloves give this spice cake a bright taste
Tasting Notes
Nose: grass & honey

Taste: licorice initially, oily, bolder, chewy

Finish: pepper comes up and stays on the back of the tongue

Comments: the high spice stays and stays; against the cake the spice is highlighted with sugar
Springbank Single Cask 19yr Refill Sherry
52.8% ABV
204 bottles released
Yogurt covered raisins...plump raisins dipped in sweet yogurt enhance the dried fruit tones of this sherry-finished scotch
Tasting Notes
Nose: just get the cooked fruit

Taste: cream starts, caramel, dances around the sherry, has a body but not heavy

Finish: spice and butter lingers, not long

Comments: really good with the raisins, quite pleasant...brings out the sweetness
Springbank Single Cask 19yr Fresh Port
52.4% ABV
252 bottles released
Banana slices topped with milk chocolate lend the flavor of the tropics to this port finished dram

Tasting Notes
Nose: bananas, sweet burnt sugar

Taste: slow start of cream, cooked fruit comes on strong, thick but fun

Finish: that fruit competes with the pepper in a pleasant way

Comments: I really like this one...excellent!
Springbank Single Cask 19yr Fresh Rum
55.7% ABV
264 bottles released
Molasses cookies...the deep flavors of brown sugar, molasses, and warm spices are combined in this cookie, then dusted with powdered sugar for a rich treat
Tasting Notes
Nose: butter and cooked fruit

Taste: sweetness starts but grass sneaks in, light in body

Finish: a bit of grass & tropical fruit

Comments: really works with the molasses cookie, 2nd favorite
Springbank Single Cask 19yr Re-charred Sherry
55.6% ABV
390 bottles released
Shortbread doesn't have to be sweet! Here Parmesan cheese gives a salty tang to traditional shortbread for a savory take on an old favorite
Tasting Notes
Nose: vanilla, bright, fruity

Taste: smoky banana, char comes through, almost get some quick menthol

Finish: a lasting pleasant smoke

Comments: while it's cask strength, it's not strong, nice with the shortbread
Springbank Single Cask 11yr Local Barley
53.1% ABV
A limited release that came to the state 3 weeks ago (we decided not to pair this one)
Tasting Notes
Nose: bright, sweet fruit - peaches, apricots

Taste: smoke surprises, not sweet as the nose, some astringency, the fruit enters at the back end, medium body

Finish: smoke lingers long

Comments: nose doesn't match so it makes for an interesting taste, I would drink this in the spring or summer - tastes like sunshine and campfires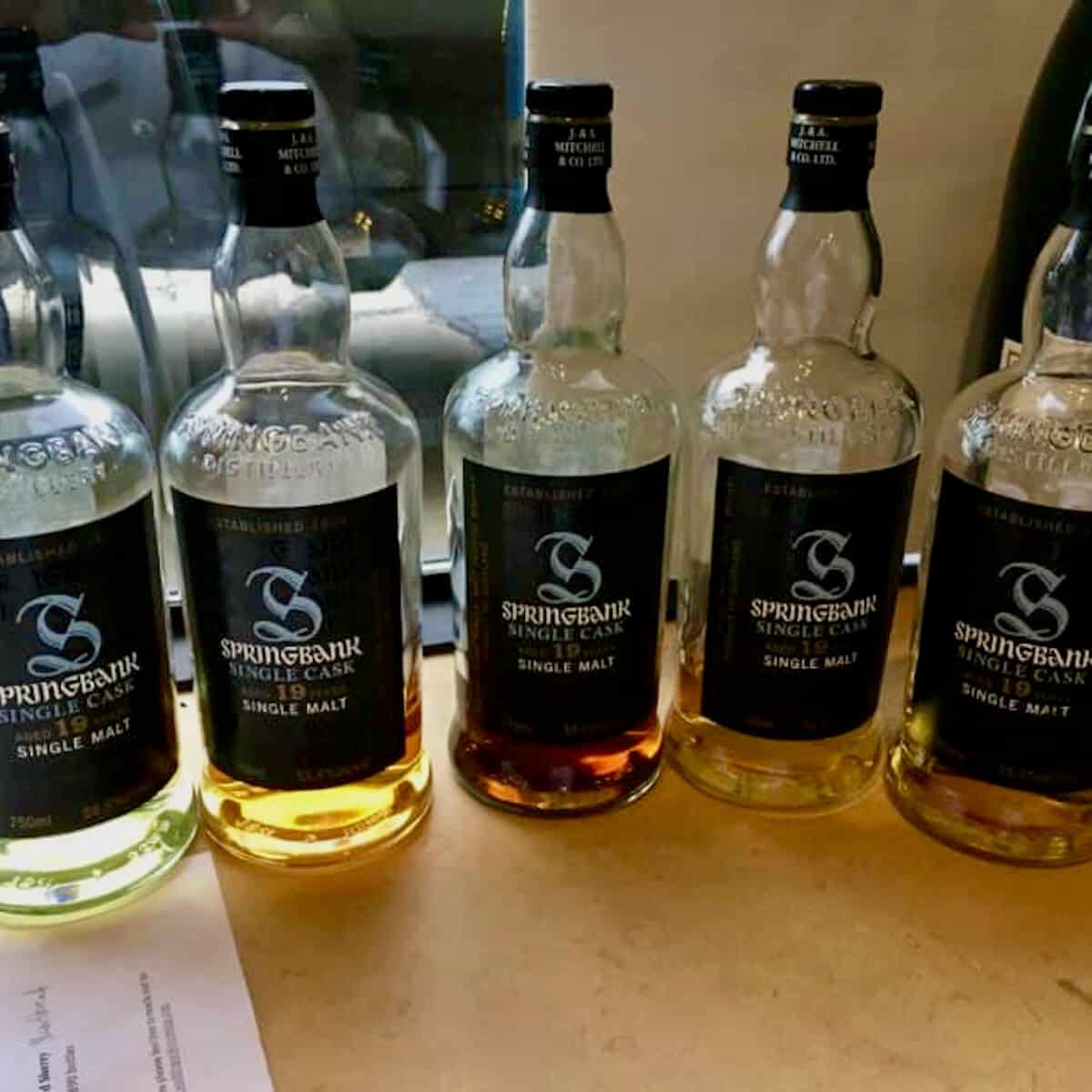 Final thoughts
The attendees gave me kudos for the snack match-ups. I had that little thrill of victory ("the eye of the Ti-i-i-i-gerrrrr") knowing that I had chosen…wisely.
Ok, now the Indiana Jones theme is running through my head.
This event was only the second time I had fully paired a line up (the first I catered but wasn't able to attend), and I don't want to stop now!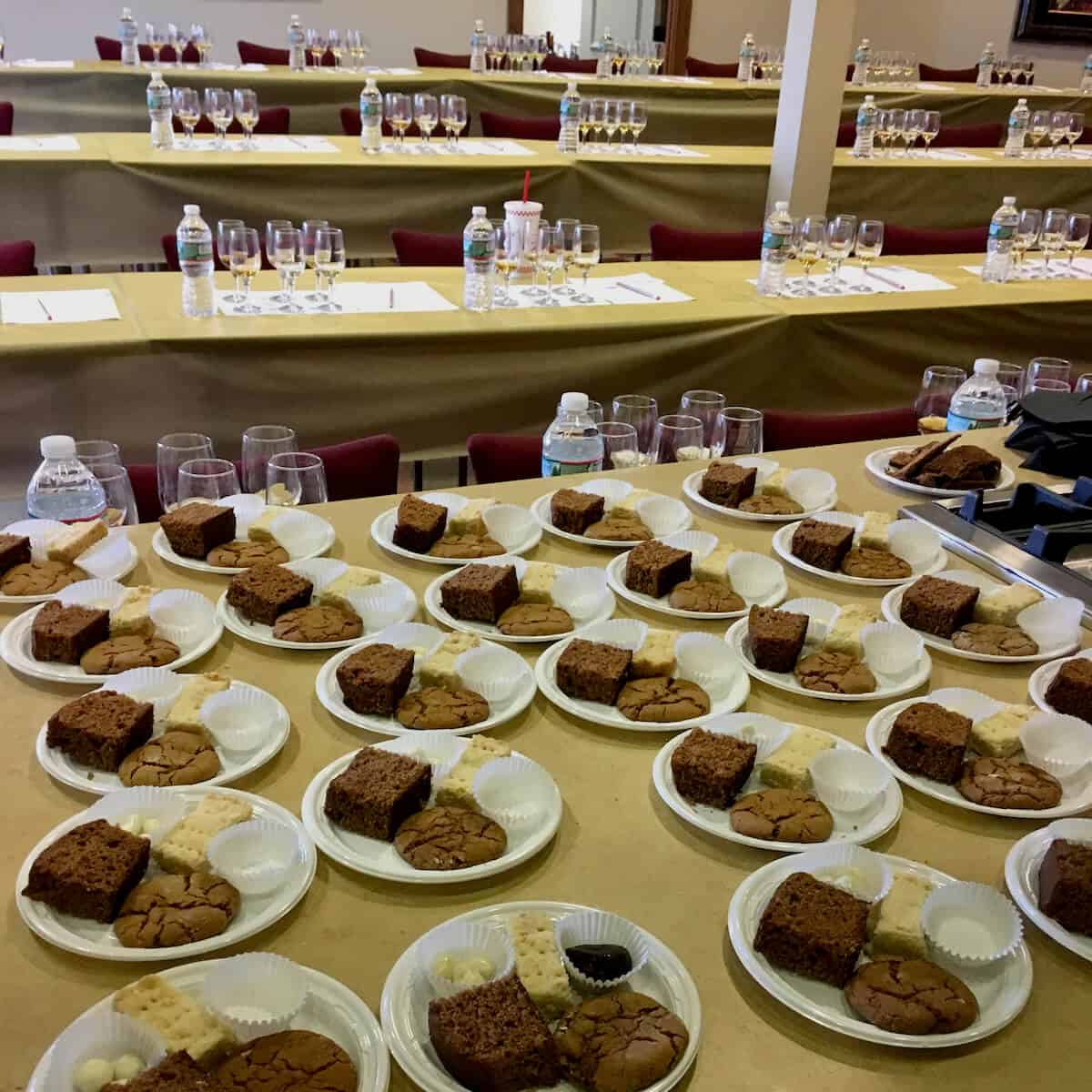 Further to the point, now when I taste something new, I not only try to identify its tasting notes but a nice pairing as well.
It's a fun challenge!
Slainté! L'chaim! Cheers!
Tammy