Sampling a wide array of single malt scotch from 375 Park Avenue Spirits extensive lineup is special. Sampling with friends from Whisky Wednesday scotch tastings at Gordon's DTX makes it extra special.
Scotch tasting events are more than just trying out a lineup of samples.
They're about learning things about the brand, the production process, and the expression itself. I've learned so much, from how whisky is made, to the importance of cask influence, to the difference between the regions of Scotland.
However, there is one aspect of whisky tastings that so much more important than education, that is sharing the tasting experience with others. Those others start out as strangers, but if you go to enough Whisky Wednesdays or brand presentations, these like-minded people start to become acquaintances, then friends.
And that's where the real joy of tasting events lies.
Sipping with friends
I've been going to Whisky Wednesday at Gordon's DTX since I first discovered there was such a thing.
It was here that I discovered people can come and taste whisky and bourbon for free each week. And that first time I met the "regulars"…people who had been coming to the tastings since the program began.
These people were so welcoming, and they began to serve as mentors as I started navigating the Wide World of Whisky. By the way, shouldn't that be a TV show on Saturday afternoons? Just sayin'…
I learned to be patient as I developed my palate, that what I tasted could be different from others (and to be OK with it). I started looking forward to Wednesday afternoons not just for the whisky, but for the camaraderie.
For the friends.
375 Park Avenue Spirits tasting
It was because of this crew that I found myself out one evening at a single malt scotch tasting. It was hosted by the North Shore Whisky Club (a group I found out about from my Whisky Wednesday friends) and presented by Erik Greenstein, Brand Ambassador for 375 Park Avenue Spirits.
I sat a table completely filled by my friends from Gordon's, and, as they say, a good time was had by all.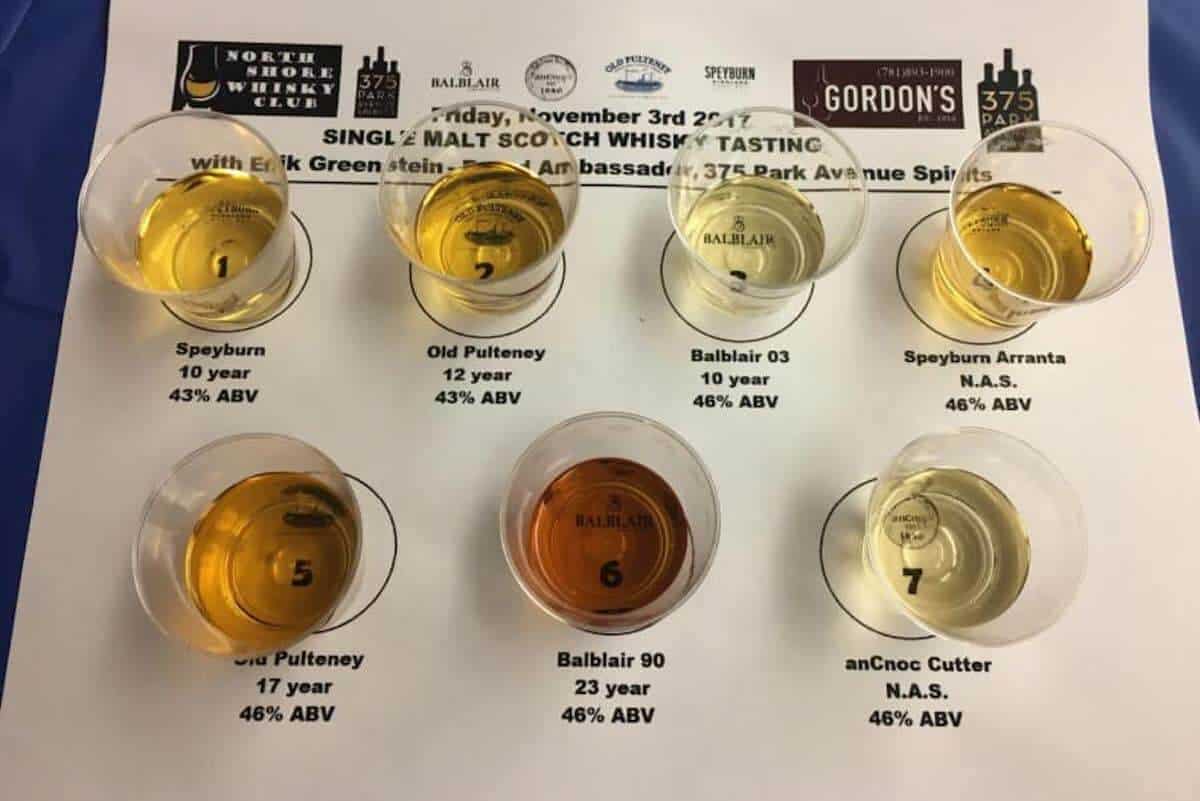 And now for some background info...
Here's some brief information into the 375 Park Avenue Spirits lineup:
Balblair

established in 1790, the oldest distillery in the Highlands
Edderton, Highlands
"Balblair" means "battle"

Old Pulteney

located in the maritime community of Wick, Highlands
a wide portfolio of various age expression and styles, including maritime theme exclusives

anCnoc

distillery sits directly on the border of Speyside & Highland regions, uniquely reflected in the whisky style (noses like a Speyside, tastes more like a Highland)
Knock-Banffshire, Highlands
"anCnoc" (pronounced an-knock) means "the hill"

Speyburn

smooth and fruity in style with broad, easy drinking appeal
Rothes, Speyside
And now…to the glasses!
375 Park Ave Spirits Single Malt Scotch Tasting
Hosted by North Shore Whisky Club, presented by Erik Greenstein, November 3, 2017
Speyburn 10yr
43%ABV
Tasting Notes
Nose: honey, white chocolate, light citrus, cotton candy, hay

Taste: light body, honey sweetness, white pepper rises, hay and grass notes

Finish: lasts softly, clover honey on the back of the tongue, menthol at the end, fades out to heat

Comments: nice & light, tasted like summer, easy to drink…some heat, some sweet
Old Pulteney 12yr
43%ABV
Tasting Notes
Nose: raisins, cooked fruit, cover honey, a little bit of mocha

Taste: creamy, thick, sweet plums, rich and spicy

Finish: the raisin/chocolate flavor lingers, fades to roof of mouth warmth, flavor fades quickly

Comments: not a sherry bomb or cloying, pleasantly balanced, is chill-filtered (when so many other single malts aren't)
Balblair 03 10yr
46%ABV
Tasting Notes
Nose: prunes, burnt sugar, slightly floral, butter

Taste: soft entry, pine rises, light body, vanilla fudge sweetness

Finish: fades to soft black pepper then slightly sweet

Comments: the nose doesn't match the taste…my expectations were surprised, nicely approachable, not a spice hit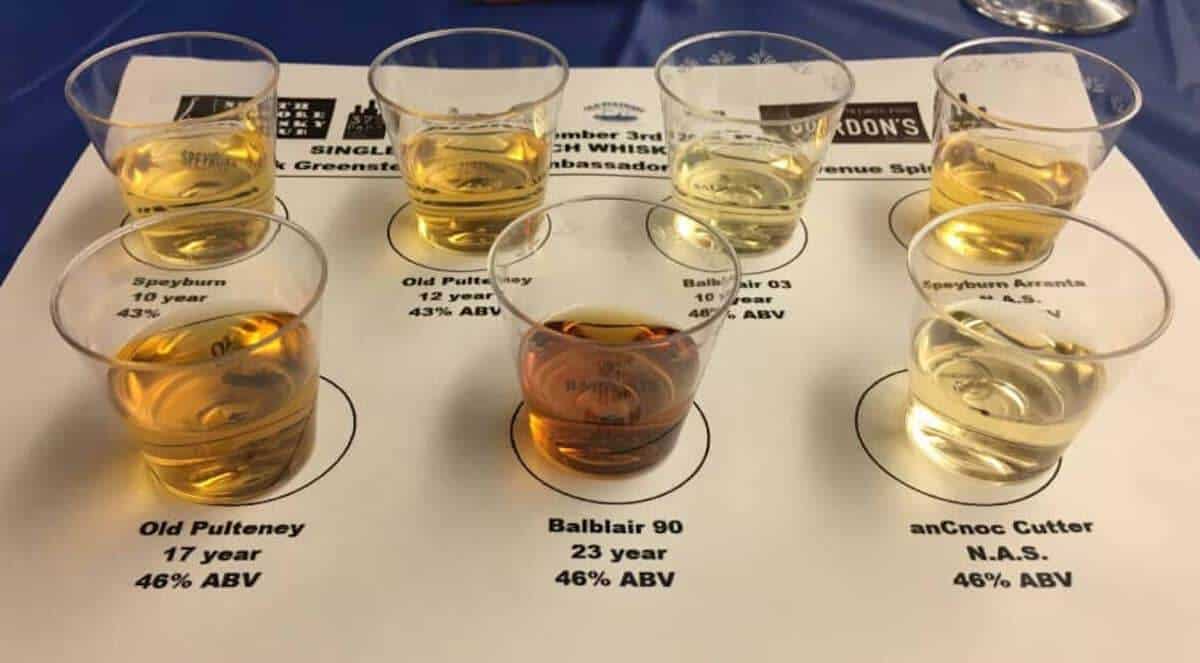 Speyburn Arranta NAS
46%ABV
Tasting Notes
Nose: honey, light and sunshine, grass, butterscotch

Taste: oily, thick body, brown sugar, nutmeg-topped egg custard

Finish: cinnamon kicks in, fades to creamy custard

Comments: excellent, like melted vanilla ice cream
Old Pulteney 17yr
46%ABV
Tasting Notes
Nose: coffee, molasses, rum distillery

Taste: dark chocolate, banana, medium body with oil, white pepper

Finish: fades quickly, vanilla cream lingers, no burn or heat

Comments: dark & stormy with lots of character, good scotch for beginners to try, really quite good
Balblair 90 25yr
46%ABV
Tasting Notes
Nose: raisins and cooked plums, deep caramel, dark chocolate

Taste: medium body, pumpkin pie spices, vanilla bean ice cream custard

Finish: fades to light caramel, very lightly astringent at the tail end

Comments: deep color, but not a sherry bomb, I liked it very much
[Side note: If you go to enough tasting events, you sometimes get to taste an expression you've had before. One such occurrance was with Balblair and Old Pulteney. It's fun to compare tasting notes from one time to the next.]
anCnoc Cutter
Tasting Notes
Nose: mountain campfire, pine, menthol, oak and prunes peek out

Taste: smoke dominated, sweet floral notes rise, thick body, oily

Finish: the sulfer and ash returns, lasts long on the mid tongue

Comments: peated to 22.5ppm, this was my favorite of the lot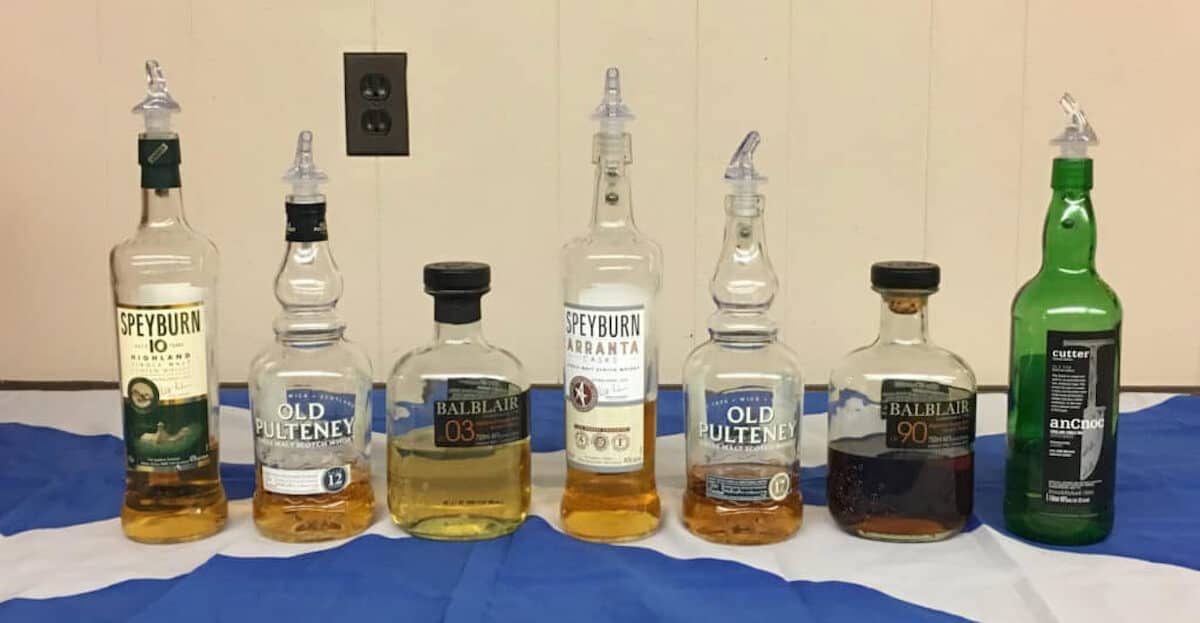 A generous friend
One of the wonderful things about going to these tastings with friends that are experts and collectors is that sometimes one will bring something from home for us to try.
My friend, Norm Simonton, is one such generous soul, and he brought two wonderful bottles for us to try.
Glen Grant 32yr
Tasting Notes
Nose: molasses, coffee, cooked fruit underneath

Taste: light spice, pine, currants, ginger, liquid molasses

Finish: fades to black licorice

Comments: absolutely fabulous with lots of taste! Like a liquid gingerbread cookie
Signatory Vintage Macallan 1990
Tasting Notes
Nose: butter, pineapple, green grass, citrus

Taste: butterscotch, bright hay, apple tart with flaky butter crust

Finish: pine at the end, some spiciness, candy corn

Comments: so soft but extremely bright, lots of flavor layers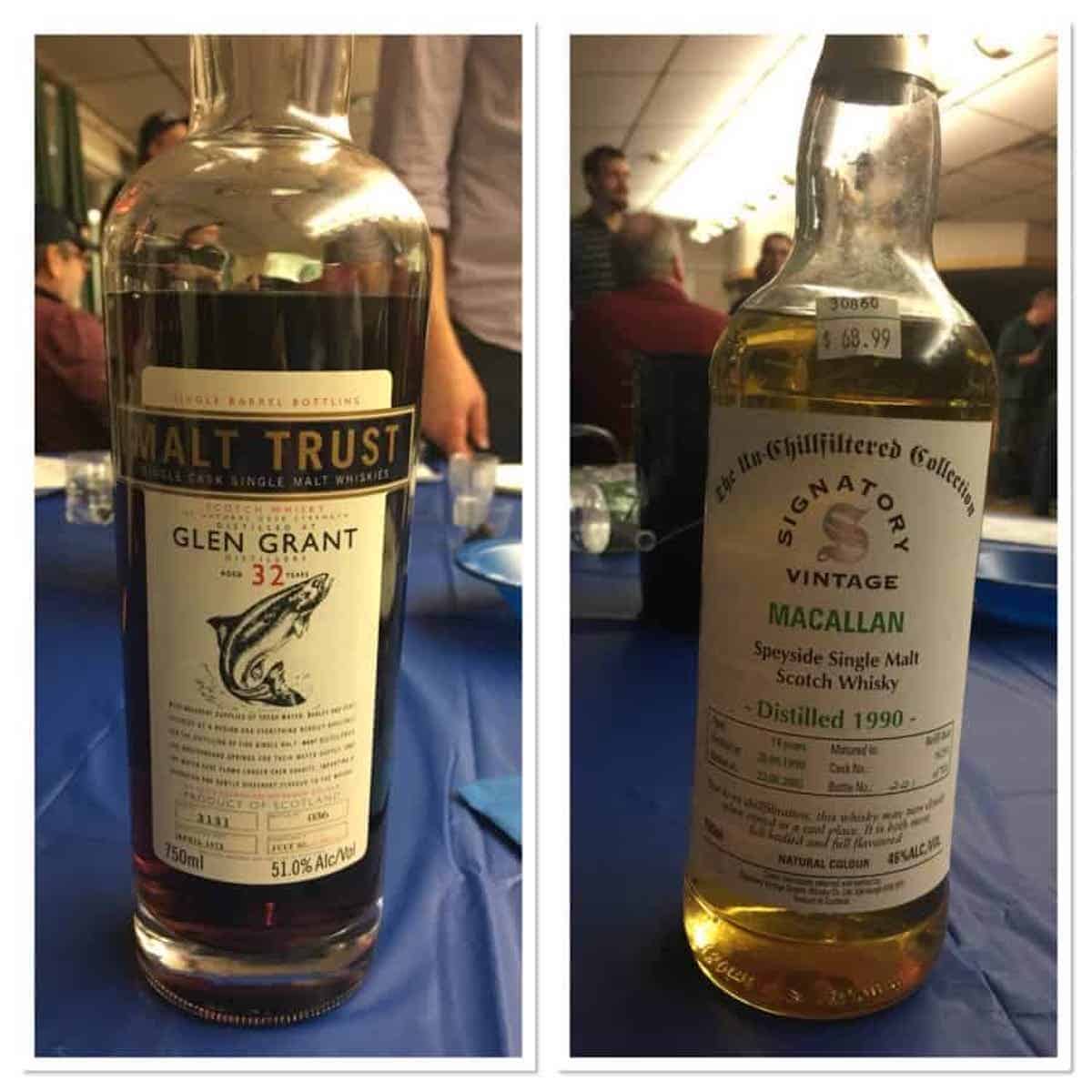 Final Thoughts
Now when I go to Whisky Wednesday, I try to welcome and engage with the new people I see at the tastings.
I introduce myself (and hand out my card for this website, a bit of shameless self-promotion), then ask about their thoughts on what we've tried. I usually ask their names again, and before they leave I tell them I hope to see them again next week.
Because it's nice for the crew to grow.
Slainté! L'chaim! Cheers!
Tammy