So easy and fluffy with a slight sourdough tangy, these soft sourdough dinner rolls will be a welcome addition to your meal!

Looking for sourdough starter discard ideas
In my never-ending quest to find ways to use my weekly sourdough starter discard, I'm slowly building up quite a repertoire of recipes...pretzels, bagels, spice cake, focaccia, banana bread, and more. So when I see recipes for unfed sourdough starter, I immediately stop to take a look.
Case in point, King Arthur Flour's weekly Sunday roundup email had a recipe for Sourdough Dinner Rolls. Then Sally's Baking Addiction's Baking Challenge was announced as…wait for it…Soft Dinner Rolls.
I've participated in those monthly baking challenges with my versions of chocolate cake pops, cheesecake, and dark chocolate truffles, so I thought it a sign from the baking gods that I should make sourdough dinner rolls.
(Exactly how do you sacrifice a dinner roll, by the way?).
Jump to:
Going a third way...soft sourdough rolls
Then I thought, "what if I could merge the two recipes into a tasty third?" I'd have another sourdough starter discard recipe to add to my bag of tools…er…recipes. Yes, let's do it!
To begin, the two recipes were slightly different. King Arthur Flour's version called for using (fed) sourdough starter (not discard) and added in potato flour with the all purpose flour. Sally's recipe called for an egg but no potato flour (and no sourdough starter, of course). How'd my "franken-recipe" for soft sourdough rolls turn out? We'll get to that...
What you'll need
As with most bread recipes, you don't need a lot of ingredients...
Milk: This softens the dough
Yeast: How bread gets its rise
Sugar: A little bit of sugar adds to the overall flavor
Egg: Adds richness and structure to the dough
Butter: More richness (this is really a soft and yummy roll)
Salt: Without salt the roll would taste flat, even with the sourdough starter discard
Sourdough starter discard: Adds a tanginess to the roll. Since I usually have some, I'll use it
All-purpose flour: Flour is the all important ingredients for bread (next to yeast, course). It provides the carbs for the yeast to feast on
Potato flour: Like milk, potato flour softens the dough and adds a lightness to the roll
Using sourdough starter discard
I had to see if using unfed sourdough starter discard was going to make a difference (spoiler alert…it didn't). Also, I added more all-purpose flour to my dough to compensate for the increased liquid from the egg, but not much (again, about an ounce).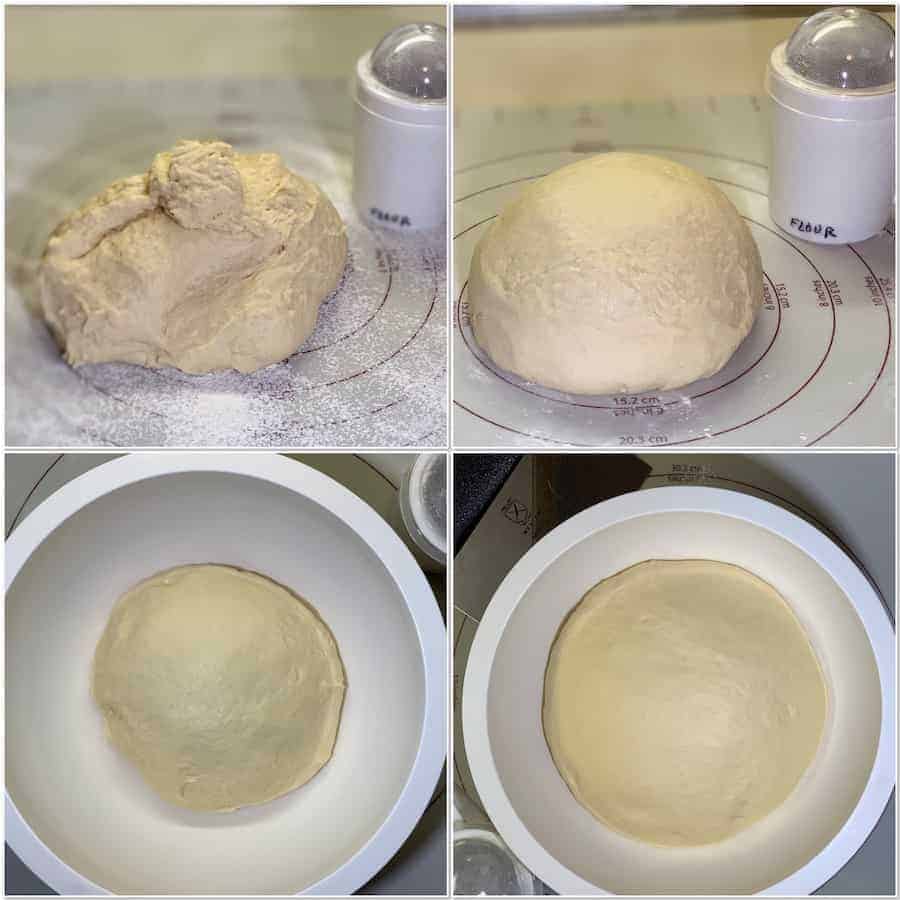 The result was a soft, silky dough, easy to shape into balls. After shaping, I baked half the rolls in a 9-inch round pan and putting the other round pan in the freezer so I could have fresh-baked rolls another night.
(They're always better freshly baked!)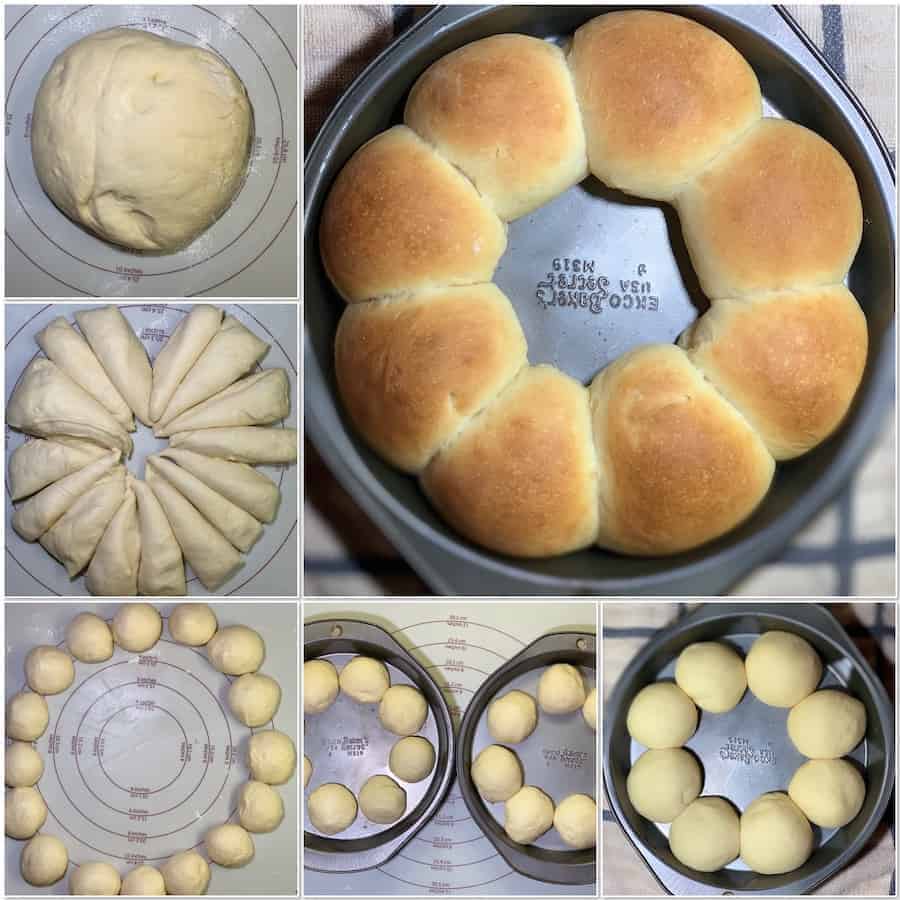 These rolls are a hit!
These soft sourdough rolls were A-M-A-Z-I-N-G!! A soft, butter-flavored roll with just a tang of sourdough notes at the end.
Using unfed sourdough starter discard didn't measurably impact the flavor (although to be fair, I haven't made these rolls using King Arthur Flour's exact recipe with fed starter...would they have more sourdough flavor or just more rise? Inquiring minds want to know...).
All I know is that these would better be called "Sourdough maybe-they'll-make-it-to Dinner Rolls"...they were that good. Oh, others can experiment by adding cheese or herbs or other whatnot. For me, just leave them plain and leave them with me...they might even make it to dinnertime.
Slainté! L'chaim! Cheers!
Tammy
Recipes using sourdough starter discard
When you maintain a sourdough starter, you have a dilemma. What do you do with your unfed sourdough starter discard? I've got lots of suggestions for sweet and savory ways to use your fed sourdough starter and the sourdough starter discard. Here are a few samples...
Sourdough Starter Maintenance
Here's all you need to know about feeding your sourdough starter. Whether you're new to sourdough or just need a refresher, this is the place to start!
Recipe
Sourdough Dinner Rolls
Ingredients
2¾

cups

all-purpose flour

,

or more as needed, see Recipe Notes

1

cup

milk

,

warmed between 100°F to 110°F, see Recipe Notes

½

cup

sourdough starter discard

,

unfed, at room temperature, see Recipe Notes

¼

cup

potato flour

1

large egg

,

at room temperature

6

Tbsp

unsalted butter

,

at room temperature

2

Tbsp

granulated sugar

1½

tsp

yeast,

instant or rapid rise, see Recipe Notes

1½

tsp

kosher salt
Instructions
Combine all ingredients together in the bowl of a stand mixer fitted with a dough hook or paddle attachment. Beat on low speed for 30 seconds, scrape down the sides of the bowl with a rubber spatula, then beat on medium speed until the dough comes together and pulls away from the sides of the bowl, about 2 minutes. (If you do not own a mixer, you can mix this dough with a large wooden spoon or rubber spatula).

Keep the dough in the mixer and beat for an additional 2 minutes or knead by hand on a lightly floured surface for two minutes.

Lightly grease a large bowl with canola oil spray. Place the dough in the bowl, turning it to coat all sides in the oil. Cover the bowl with aluminum foil, plastic wrap, or a clean kitchen towel. Allow the dough to rise in a relatively warm environment for 1 to 2 hours or until double in size. An oven with the light on works wonderfully.

When the dough is ready, knead it gently to deflate it. Divide the dough into 14 to 16 equal pieces. Shape each piece into a smooth ball. Arrange in prepared baking pan.

Cover shaped rolls with aluminum foil, plastic wrap, or a clean kitchen towel. Allow to rise until puffy, about 1 hour.

Adjust oven rack to a lower position and preheat oven to 350°F. It's best to bake the rolls towards the bottom of the oven so the tops don't burn.

Bake for 20 to 25 minutes or until golden brown on top, rotating the pan halfway through. If you notice the tops browning too quickly, loosely tent the pan with aluminum foil

Remove from the oven and allow rolls to cool for a few minutes before serving.

Cover leftover rolls tightly and store at room temperature for 2 to 3 days or in the refrigerator for up to 1 week.
Notes
Using fed sourdough starter can give you a better rise (depending on how vigorous your starter is), but using unfed sourdough starter discard works just fine. If you do use fed starter (and it's active and bubbly), you can omit the yeast, but the rising times can be longer.
If you use Active Dry yeast, then you might want to sprinkle yeast on to the warmed water with a teaspoon of sugar and allow it to sit for a few minutes before proceeding with the recipe. Letting it foam "proves" the yeast is active and ready to go to work.
Overnight Preparation: Prepare the recipe through step 5. Cover the shaped rolls tightly and refrigerate for up to about 15 hours. At least 3 hours before you need them the next day, remove the rolls from the refrigerator, keep covered, and allow to rise on the counter for about 1 to 2 hours before baking. Alternatively, you can let the dough have its 1st rise in the refrigerator overnight. Cover the dough tightly and place in the refrigerator for up to 12 hours. Remove from the refrigerator and allow the dough to fully rise for 2 more hours. Continue with step 4.
Freezing Instructions: Prepare recipe through step 5. Place shaped rolls in a greased baking pan, cover tightly, and freeze until firm. Once frozen, the dough balls won't stick together anymore and you can place them in a freezer bag if needed (they will keep for up to 3 months). On the day you serve them, arrange the dough balls in a greased baking pan, cover tightly, then let them thaw and rise for about 4 to 5 hours. Bake as directed. You can also freeze the baked dinner rolls. Allow them to cool completely, then freeze for up to 3 months. Thaw in the refrigerator or at room temperature, then reheat as desired.
Baking Pan: You can bake the rolls in a glass 9- x 13-inch baking pan...just bake the rolls on a lower oven rack and keep your eye on them to keep them from over-browning.
Flour: You can use all-purpose flour or bread flour. All-purpose flour is convenient for most, but bread flour produces chewier dinner rolls. The rolls are still soft and fluffy no matter which you use. Either flour is fine and there are no other changes to the recipe if you use one or the other. If your dough seems a little too wet, add additional flour by 1 Tbsp increments until you have a soft dough (but it doesn't make a sticky mess on your hands). Remember, the amount of flour you ultimately need will depend on the humidity of the day and the hydration of your sourdough starter.
Milk: Use any type of milk you have on hand, be it whole, low-fat, non-fat, or even an unsweetened plain non-dairy milk. If you prefer, you can substitute in 1 cup hot water (8 oz, 227g) + ¼ cup nonfat dry milk (1¼ oz, 37g) instead.
Potato Flour: Potato flour helps keep the rolls light and fluffy. If you choose not to use it, increase the amount of all-purpose flour to compensate.
Nutrition
Serving:
1
roll
Calories:
153
kcal
Carbohydrates:
22
g
Protein:
4
g
Fat:
5
g
Saturated Fat:
3
g
Cholesterol:
23
mg
Sodium:
231
mg
Potassium:
76
mg
Fiber:
1
g
Sugar:
2
g
Vitamin A:
173
IU
Vitamin C:
1
mg
Calcium:
25
mg
Iron:
1
mg