Mini Chocolate Raspberry Jam Tarts come together in a flash when you use mini frozen tart shells that you've made from leftover pie dough!
There was an old song, "If I knew you were coming, I'd have baked a cake," the idea being that having a tasty dessert on hand for last minute guests was a daunting challenge.
Well, I'm here to tell you that's not true...with a little prep work. Yes I understand that "last minute" and "prep work" may seem contradictory, but hear me out.
I'm a saver. Growing up, my 1st-grade teacher mother saved everything to reuse in her classroom ("Don't rip the wrapping paper!" was a common refrain around gift-giving times). I absorbed her penchant for not letting things just go to waste.
Using leftover pie dough to make a quick mini jam tart is a great example.
Jump to:
Making use of everything
In the kitchen, saving means freezing chicken or beef bones and vegetable scraps to make stock. Or thinking up creative ways to use my weekly sourdough starter discard. I like to freeze unbaked pie crust or biscuit scraps even if there's just a little bit left (believe me, it can add up).
I also employ the shape-and-bake-half-and-freeze-the-rest method for cookies and scones. Mocha Chocolate Truffle cookies and Cream Scones really lend themselves to this technique.
Yes, my freezer fills up quickly, but it pays off when I want to make last minute treats.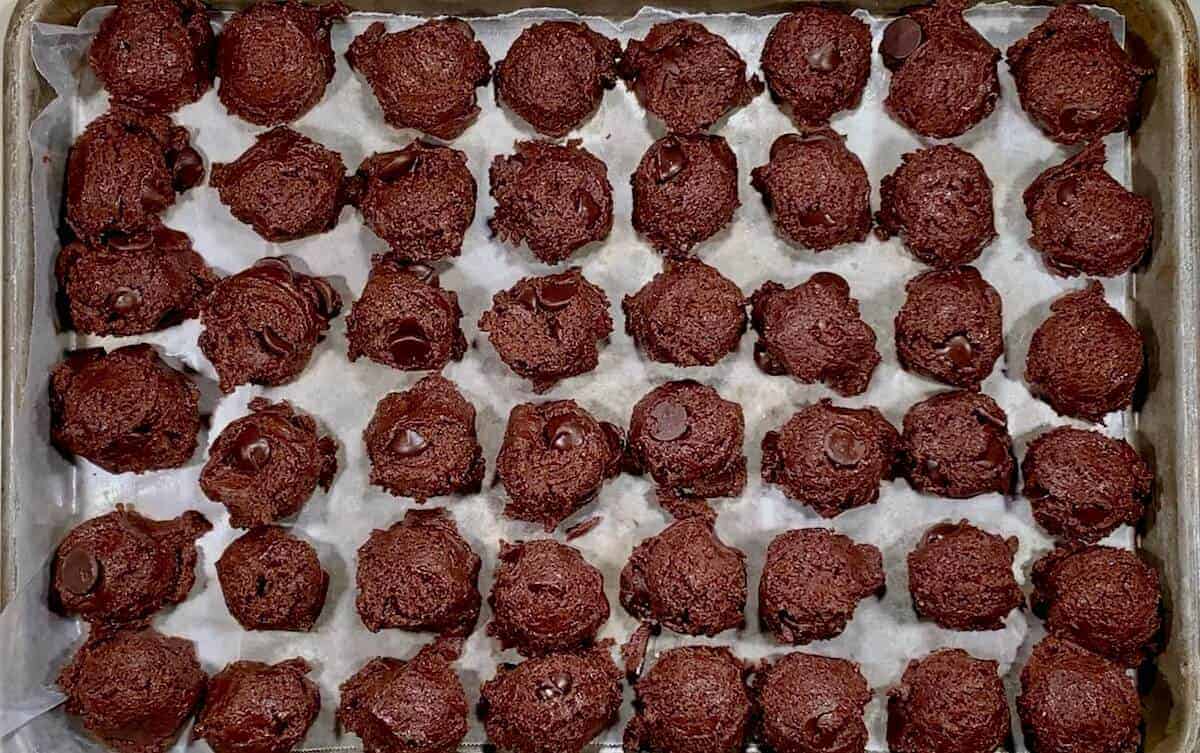 Scaling back recipes
Christina Lane, cookbook author and blogger of Dessert for Two touts the idea of making small batch desserts. She scales down many dessert recipes and shares them on her blog.
I love this idea. First, since my husband and I are empty nesters, I don't really want a full batch of something sitting around tempting me from the counter, only to have it go stale.
I bought some small baking pans, a 6-inch cast iron pan, a couple of 6-inch cake pans, some 4-inch mini tart pans, and a 7-inch pie pan just for this purpose.
I also get ideas on how to use leftover pie dough to create small desserts that can feed unexpected guests quickly.
Now when I make a pie crust, I can bake off a couple of small tart shells with the leftovers and freeze them. Or I'll defrost the frozen pie crust scraps and bake them in the small pans as needed.
Use the freezer to waste less and save time
Now using my freezer stash is a matter of getting creative when I want a last minute treat. Here are a couple ideas:
Pre-made tart shells are great for jam tarts, one of my favorite quintessentially British desserts
Un-baked cookie dough can be baked off either as cookies (duh!), or a few baked together in the 6-inch cast-iron pan for a cookie pizza that can then be topped with ice cream. Just use a lower oven temperature and a slightly longer baking time
Scones always taste better the day they're made, so take just what you need from the freezer. Again, use a lower oven temperature and longer baking times.
If you have a little more time, you can defrost frozen pie dough leftovers on the counter for a few minutes then...
Make a quick fruit-filled galette (essentially a free-form pie) baked on a cookie sheet using leftover pie dough.
Using the 7-inch pie pan, bake a mini Shoofly pie (aka Molasses Pie) or Butterscotch Pie
Treacle Tarts (another British import and a favorite of Harry Potter!) can be made in a 4-inch mini tart pan
And I neglected to mention that because these items are small, I can bake them in a toaster oven rather than my big oven that takes 15 minutes just to pre-heat. Score!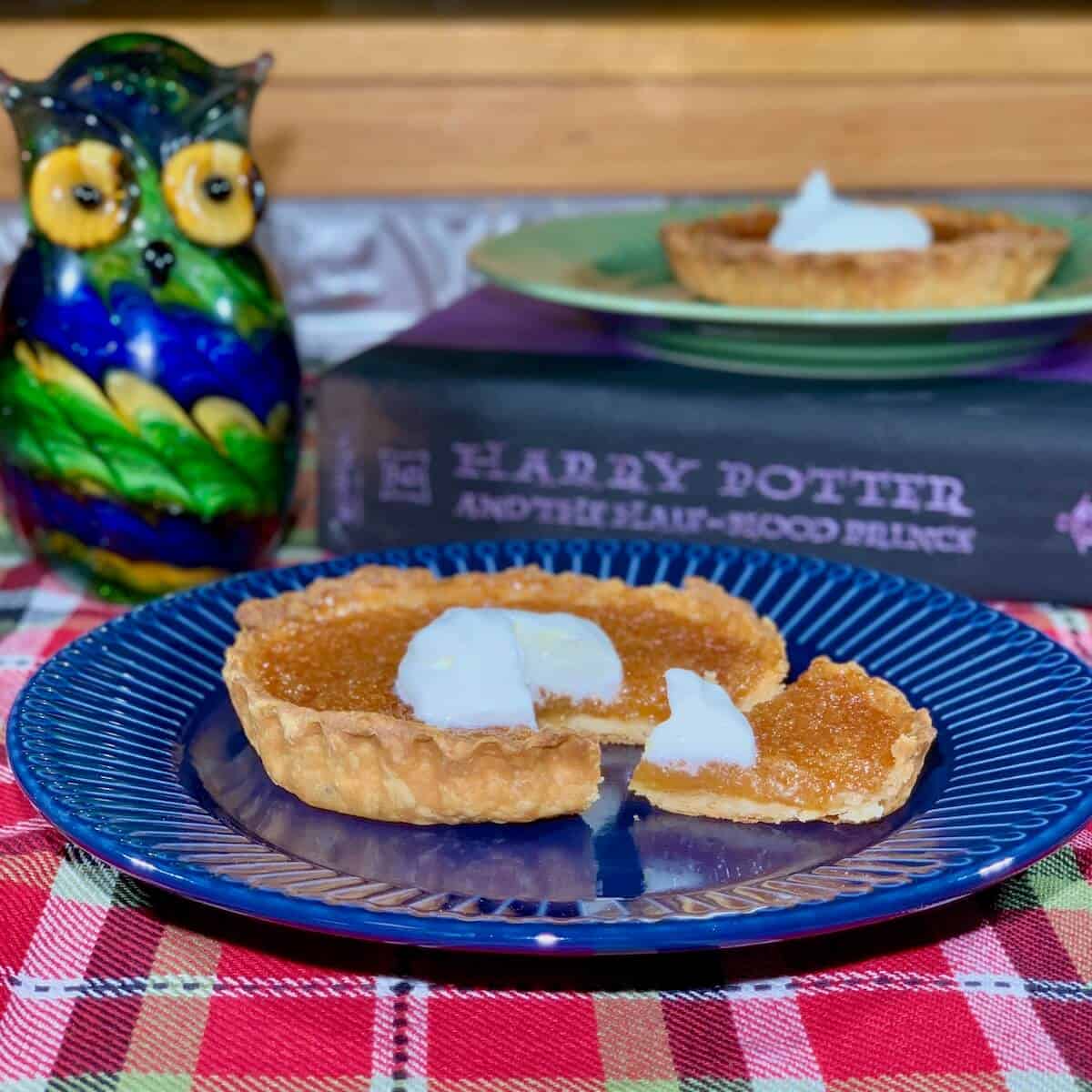 Jam Tarts are quick and easy
I mentioned jam tarts in my list of examples above as being a British treat. Remember the English nursery rhyme, "The Queen of Hearts, she made some tarts..."? I always envisioned the tarts to be jam tarts, which are simply some sort of jam warmed in a tart shell.
(As if the name doesn't give it away already...)
The tart shell can made from leftover pie dough, shortcrust pastry, or even a graham cracker crust. I make last minute jam tarts using those mini tart shells I have in the freezer.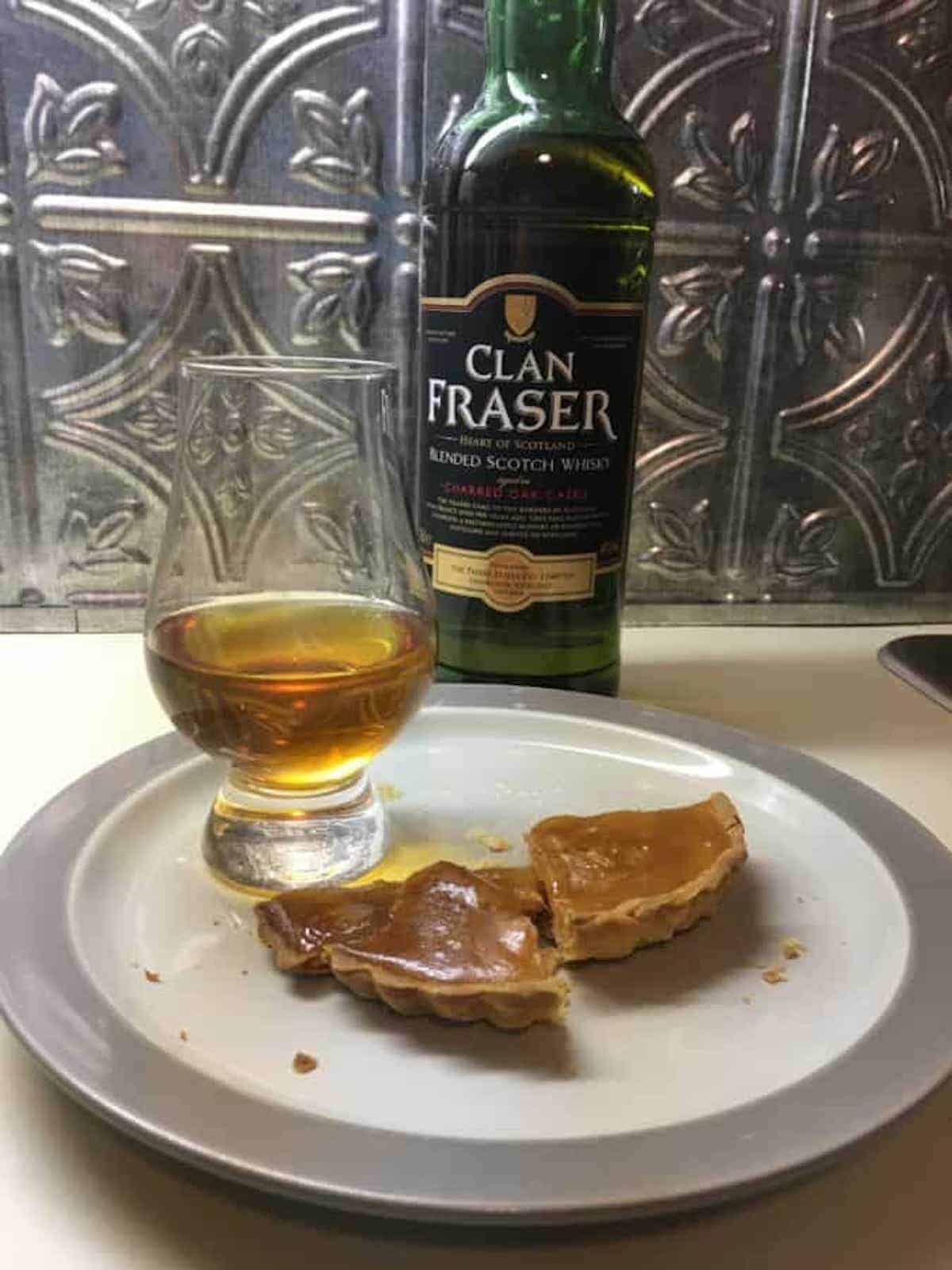 I'd love to hear your ideas about how you prepare last minute treats. What shortcuts do you take when you bake? What do you prep and store?
Here's to a prepped freezer, people to feed, and the creativity to make it happen!
Slainté! L'chaim! Cheers!
Tammy
Related Recipes
Pies and tarts can be sweet or savory, and there are so many fillings from which to choose. From fruits to nuts and custards, there's bound to be a pie or tart that catches your fancy! Here are a few choices to try.
Love this recipe? Please leave a 5-star ⭐️ rating in the recipe card below ⬇️ and/or a comment further down the page.
I'd love to hear from you! Stay in touch on Facebook, Instagram, Pinterest, and please tag me using the hashtag #scotchandsconesblog. You can also sign up for my mailing list. I can't wait to see your creations!
Recipe
Quick Mini Chocolate Raspberry Jam Tarts
Mini Chocolate Raspberry Jam Tarts come together in a flash when you use mini frozen tart shells that you've made from leftover pie dough!
Ingredients
2

frozen mini tart shells

,

baked and defrosted, see Recipe Notes

2

Tablespoons

chocolate

,

semi-sweet or dark, chopped or chocolate chips

¼ to ⅓

cup

raspberry fruit spread

,

see Recipe Notes
Instructions
Defrost the tart shells for ½ hour on the counter or overnight in the refrigerator.

Preheat the toaster oven to 350ºF.

Warm the tart shells on a baking sheet for about 5 minutes until hot, but not starting to brown.

Remove shells from oven and sprinkle with 1 tablespoon of chocolate. Return to oven another 5 min, then remove and spread melted chocolate over bottom of shell.

Spoon the preserves into the warm shells, filling to just below the rim and leveling as best you can with a small offset spatula. Don't overfill because the jam will bubble up as it bakes.

Increase the oven temperature to 400ºF, return the tarts to oven, and bake 5 to 10 minutes more until jam is bubbling.

Remove tarts from oven. Be careful as the jam will be HOT!

Cool to room temperature, then serve and enjoy!
Notes
Press leftover pie crust in a 4-inch mini tart pan, bake, then freeze until you're ready to make the tarts.
I use jam only sweetened with fruit juice, but any type will work.
Other jam flavors to try could be apricot, strawberry, or mixed berries. Use what you like!
Nutrition
Serving:
1
piece
Calories:
152
kcal
Carbohydrates:
30
g
Protein:
2
g
Fat:
3
g
Saturated Fat:
2
g
Cholesterol:
7
mg
Sodium:
125
mg
Potassium:
62
mg
Fiber:
1
g
Sugar:
15
g
Vitamin A:
21
IU
Vitamin C:
2
mg
Calcium:
16
mg
Iron:
1
mg